Pipe Tracing and Freeze Protection Systems
Versatile, Easy-to-Use Pipe Trace Solutions
Protecting pipes from freezing and rupturing during the cold winter months can save businesses and homeowners from thousands of dollars of water damage. ProLine Radiant offers industry leading pipe trace solutions that can be installed quickly and easily.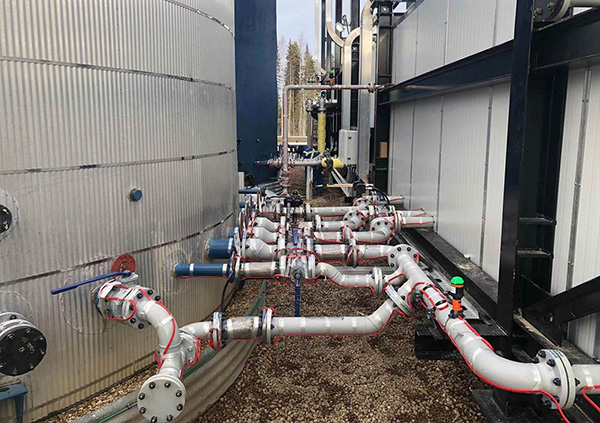 ProLine Radiant's pipe tracing systems utilize self-regulating parallel circuit heat cables to provide the best solution for basic freeze protection applications. The cable's self-regulating characteristics mean that when the ambient temperature rises, the electrical resistance increases and the consumption of electricity decreases, ensuring energy-efficient operation. And the cable will not overheat or burnout - even when touching or overlapping.
Also, because of the self-regulating properties, a thermostat may not be necessary in some applications. With the optional outer jacket, the heating cable is resistant to watery and inorganic chemicals and protected against abrasion and impact damage. The self-regulating properties exist throughout the length of the cable, thereby allowing the pipe tracing cable to adjust the power output to the varying conditions along the length of the pipe. Contact ProLine to learn more about the pipe freeze protection options that are available (866.676.9276).
Self-Regulating Heat Cable
The ProLine HTM self-regulating pipe tracing heat cable features advanced technology that results in highly effective, energy efficient operation. The UL listed cable provides safe, reliable heat tracing for freeze protection or temperature maintenance of pipes, valves, flanges, etc. It is suitable for use on small plastic or metal pipes and instrument tubing in residential or light commercial and similar applications.
Pipe Trace Heat Cable Features Include:
Energy Efficiency – Automatically varies its power output in response to pipe temperature changes.
Easy Installation - Can be cut to any length required on site (up to max circuit length) so there's no wasted cable. The power connection, splice, tee and end seal kit will reduce installation time.
Low Cost – Less installation cost than steam tracing; less maintenance expense and less downtime.
Safe / Durable – Does not overheat or burn out, even when touching or overlapping.
Versatility – Suitable for use in non-hazardous, hazardous and corrosive environments.
Top Performance – The certifications and requirements achieved by ProLine pipe tracing cable ensure top performance and rugged durability.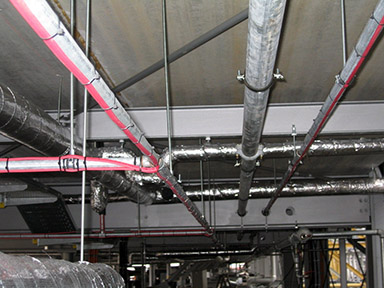 Commercial and Industrial Pipe Tracing
Large commercial and industrial buildings are especially susceptible to the damaging effects of cold temperatures on piping. Often, industrial facilities are unheated throughout the winter months, raising the chances of broken pipes, which can dramatically impact productivity and revenue. Heat tracing is the most reliable and affordable pipe freeze protection method available on the market today.
The hospitality industry relies on properly functioning, well-maintained piping. A break in a pipe can result in lost customers, lost revenue, and long term damage to the company's reputation and public image. ProLine's energy-efficient, custom-designed pipe tracing systems provide reliable pipe freeze protection, process temperature maintenance and other heat trace solutions for your business. Don't leave things up to chance. Dealing with burst pipes is not something that anyone should have to experience. Keep your business running smoothly by installing a reliable pipe trace system from ProLine Radiant. It's an investment you'll be grateful for.
Long Line Heating
Commercial and industrial facilities incorporate long line heating to ensure the proper flow of fluids through piping over long distances. Piping outside of heated areas are the most susceptible to the effects of cold weather. Much of the same technology employed in industrial long pipe systems is used for commercial applications.
ProLine Radiant includes free installation training and expert installation support, as well as industry-leading products and support services. For more details or information about ProLine Radiant's pipe tracing solutions, contact us at 866.676.9276 today.