ProLine Snow and Ice Melting Solutions
Fully Automated Electric Snow Melting Systems
Versatile, Easy-to-Customize Radiant Heat
ProLine Radiant carries the highest quality heated driveway and radiant snow melting systems available. From large heated driveways and parking areas to custom sized walkways, ramps and loading docks, ProLine snow melting systems offer the premier snow and ice melting solution for both commercial and residential applications. Featuring fully automated, energy-efficient operation, the radiant snow melting system is virtually maintenance free, easy to install and can be customized to meet the needs of just about any project. The systems can even be installed to retrofit existing driveways with radiant heat.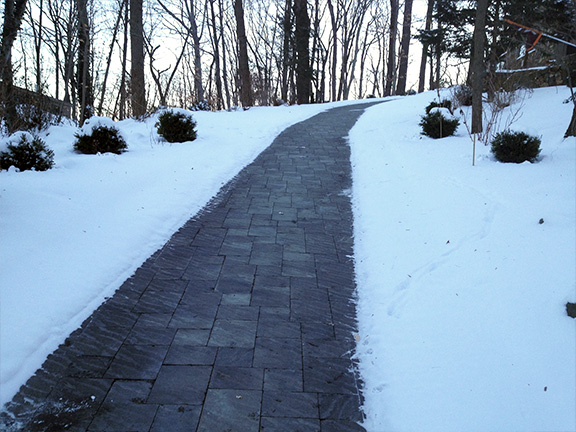 ProLine Snow Melting Cable
The ProLine electric snowmelt system can be utilized for a variety of radiant heating applications, making it a popular snow and ice melt solution among homeowners and professional builders alike. The heat cable is available in mats and on the spool, making it a versatile, easy-to-customize solution for all types of custom snow melting applications. The cable can be installed in a variety of mediums, including concrete, under pavers, and even in hot asphalt applications.
Electric heated driveways are fully automated, activated by a high-tech snow sensor that activates the snowmelt system when it detects precipitation and the temperature is below 39° Fahrenheit. Installing a radiant heated driveway not only eliminates the time consuming, arduous task of manual snow removal, but enhances safety and increases the value of your property. ProLine Radiant carries industry leading electric heated driveway systems that come with a 10-year manufacturer warranty and can be customized to meet the unique requirements of your driveway's layout.
Radiant Heated Sidewalks and Walkways
ProLine snowmelt systems are built from top quality materials and capable of performing under the harshest winter conditions. The convenient design, versatility and durable construction of ProLine electric radiant heat cable and mats make them a favorite among professional concrete, asphalt and paver installation professionals.
ProLine snow melting mats feature industry-leading heat cable that is pre-spaced in mats that can be easily rolled out during installation, simplifying and expediting the installation process while ensuring proper cable spacing for optimum performance. Unparalleled in performance and user-friendly design, ProLine snow melting mats and cable have proven to be valuable components of the most reliable and easy-to-install radiant heating systems on the market.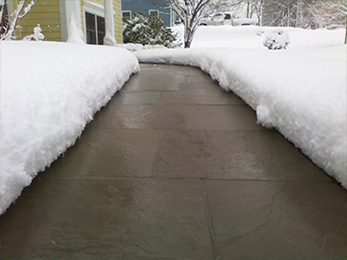 Whether you plan on heating entire sidewalks, porches, driveways or small spaces, the ProLine radiant heating system can be tailored to meet the unique needs of most any snow and ice melting application. ProLine custom designs each system and even provides personal installation support to ensure your customers' satisfaction and your success.
Electric and Hydronic Snow Melting
ProLine Radiant offers both electric and hydronic snow melting solutions. Hydronic snow melting systems use a mixture of water and propylene glycol (anti-freeze) that is pumped through a closed loop of PEX tubing.
The boilers used for hydronic radiant heating systems can operate on a variety of different fuel sources; therefore, owners can use the fuel source that is the most affordable in the area, such as propane, natural gas, electricity, or oil. This can reduce the operating costs, making hydronic systems popular for heating large commercial areas.
Roof Gutter and Downspout Heating
ProLine roof de-icing and gutter trace systems are the best available radiant heat systems for preventing hazardous ice dams and icicles from forming. ProLine offers roof de-icing systems and the industry's top self-regulating heat cable for all types of applications, including new construction, remodeling and existing roofs.
Roof heating systems provided by ProLine Radiant are at the top of their class in performance, efficiency, and ease-of-installation. These proven, energy-efficient electric de-icing systems provide reliable, maintenance-free operation to discreetly protect your home and enhance safety. Visit ProLine's roof heating web page to learn more.
---
Radiant snow melting systems are only as good as their installation. When you work with ProLine, you're assured of receiving the system design and techinical support you need for a successful installation. You can also receive free installation training from ProLine. Call a ProLine radiant heat expert today at 866.676.9276 to learn more.