How ProLine Radiant Snow Melting Systems Work
ProLine snow melting systems are among the most trusted systems available. Featuring top-of-the-line components and unmatched manufacturer warranties, homeowners and professional contractors know they are installing the best when dealing with ProLine Radiant.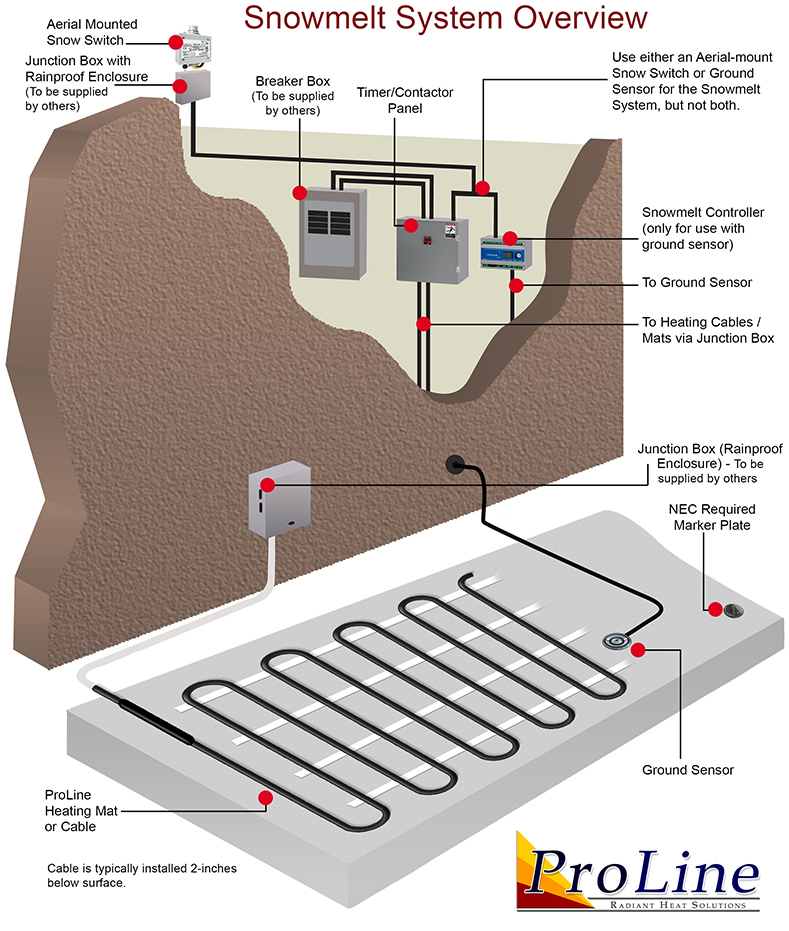 Snow Melting System Overview
Heating cable is laid down prior to the concrete pour (or hot asphalt). ProLine cable is available in mats that can be easily rolled out during installation. Because the cable is pre-spaced, the mats ensure optimum performance, as well as quick and easy installation. The durable cable can be installed in concrete, asphalt, mortar bed, pavers, or thinset.
Snow Melting System Components:
Radiant Heat Cable (on Spools or in Mats)
ProLine's radiant snow melting system uses a high quality and very durable cable that can withstand nature's worst conditions and installation in hot asphalt. The heat cable is UL listed and consists of a twin conductor with FEP/XLPE insulation, polyolefin jacketing (providing flexibility and UV protection). The cable is rated at 220°F and has a minimum 10-year warranty. ProLine radiant heat cable is designed to produce 30-50 watts per square foot and has the quickest response time of any snow melting system on the market. The heating cable is installed in concrete, asphalt, or under pavers.
Radiant Heat Cable
The ProLine radiant snow melting mat is among the most convenient and easy-to-install radiant heat solutions available. The durable heating mat comes with radiant heat cable that is pre-spaced, ensuring simple and proper installation.
Designed for easy installation of heated driveway systems and walkways, the durable radiant heating mat is an ideal solution for virtually any rigorous outdoor snowmelt application. The pre-spaced cable can be quickly rolled out across the area to heat and then secured to the remesh, making ProLine snow melting mats a popular choice among homeowners and contractors alike.
Activation Device (Snow Sensor)
An activation device (such as a pavement or aerial mounted snow sensor) automatically triggers the controller, which then activates the snow melting system when it senses moisture and cold temperatures. The master control unit is what sends power to the heat element (cable) underneath the concrete, which distributes heat evenly to the surrounding medium, effectively melting snow and ice.
Snowmelt Control Unit / Contactor Panel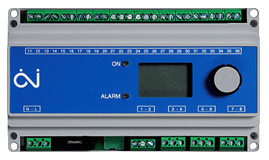 Snow melting systems utilize either an aerial-mount snow sensor or an in-ground mounted sensor. Systems featuring an in-ground mounted activation device use a small NEMA 1 control unit. These controllers are typically mounted on a wall in the garage. The approximate size of the control unit is 6x3.5 inches. It is even possible to operate the controller from an external signal (day/week timer, GSM-module or other signal source). The compact ProLine control unit can be switched on/off (standby) and the heating system can be forced on in cases when the wind blows snow on the driveway or ice forms in areas due to wind or shade.
Despite the control unit's advanced technology, compact size and ease of use, it also represents a breakthrough in that the unit is significantly cheaper than most other industry controllers. The ProLine Radiant master control unit offers a maintenance-free, UL listed snowmelt system for residential and commercial business owners. The control unit features manual override capability and energy-efficient, under-pavement heating to safely and effectively provide reliable snow and ice melting for sidewalks, driveways and other outdoor applications.