ProLine Adds Even More Enhancements to its State-of-the-art Snow Sensor
If you haven't heard, like ProLine Radiant's snow melting cable, the WS-2 snow sensor has undergone some striking enhancements, resulting in the WS-2C snow switch. This latest marvel in sensor technology was the result of research, technological advancements, and your feedback. For more than a decade, we've been forging relationships with and receiving feedback from some the most trusted professionals in the business. This insight is of great benefit, and one of the big reasons ProLine is able to develop and deliver some of the most advanced snow melting technologies in the business.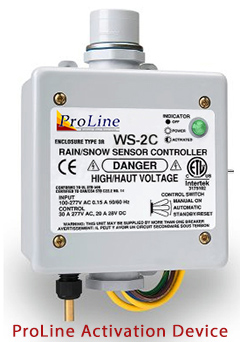 Some of the new features of the WS-2C snow sensor include:
Universal Input Power Supply (Auto Select Input Voltage) – The universal power supply auto selects the input voltage (100 to 277 volts AC). This simplifies the installation process, eliminating the need to install voltage jumpers to select the operating voltage. The sensor can be operated without any additional adjustment to existing electric or hydronic snow melting systems.
Sensitivity Control – Greater moisture control sensitivity allows for optimum calibration of snow melting systems. This feature not only enhances efficiency, but eliminates false trips – which can ultimately lead to energy cost savings.
Greater After-run Delay Options – The WS-2C offers after-run delays of 30-90 minutes as well as 2-6 hours. Specifically, after a storm, the "after-run delay" function helps to dry the driveway and eliminate ice from forming. A minimum 2-minute closure to reduce cycling of an external controller or feed blower is provided in all the "sensor" modes. When in "Controller" mode, the Delay Off time can be adjusted from 30 to 90 minutes or 2-6 hours by using the DELAY ADJUST control.
Power Indicator Light –The small light on the front cover indicates when the system is on AND when it is activated.
Redesigned Case – In the past, some installers over tightened the screws, warping the cover. The redesign greatly reduces the chances of warping from over tightening the screws, helping to ensure proper long-term operation of the unit.
One of the chief reasons ProLine Radiant attracts professional builders and retains so many repeat customers is simple. ProLine Radiant works closely with construction professionals by providing personal support services during the installation process – ProLine listens to installers and addresses their needs to ensure proper installation and customer satisfaction. Through its relationships with contractors, ProLine Radiant stays current on all the issues facing today's modern builder. When you purchase from ProLine Radiant, you partner with an experienced, trusted professional whose goal is your success. In addition to receiving industry leading products, you gain the expertise and dedication of ProLine Radiant's highly experienced system design and installation support teams.
It's this passion to provide customers with the most advanced and efficient snow melting solutions that has made ProLine Radiant an industry leader for more than a decade. For more information, contact a ProLine Radiant representative at 866.676.9276.
---
Radiant Floor Heating Systems
The Best Solution for Heating Tile Floors
The ProLine Radiant tile floor heating system is one of the most popular radiant floor heating options on the market. Compatible with all standard sub-flooring materials, ProLine Radiant floor heating systems offer the premium performance expected from the industry leader.
The systems are easily installed under all types of floor surfaces to provide comfortable, even floor heat. ProLine floor heating systems provide efficient room heating and reduce the transmission of dust, allergens and other airborne particulate matter associated with forced air systems.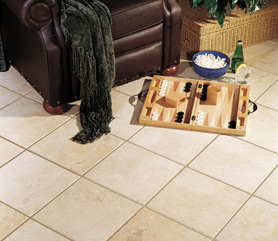 Heating Element
The heating element consists of heat cable on the spool or pre-spaced and woven into an adhesive-backed fiberglass mesh, depending on your preference. The floor warming mats are pre-terminated for use with 120 and 240V, and are available in various lengths (24-inch width). While both cable systems are easy to install, the cable off the spool is particularly convenient for custom shaped floor heating projects.
Thermostat
The ProLine Radiant electronic thermostats are specifically designed to control electric radiant floor heating systems for maximum comfort while minimizing power consumption. Each thermostat also includes an integrated Ground Fault Circuit Interrupter (GFCI, Class A).
ProLine Radiant Heat Cable Features Include:
| | |
| --- | --- |
| Easy to Install | The floor heating mats can be rolled out for quick, easy installation, and feature an adhesive backing to secure them to the subfloor. |
| Energy Efficient | The energy efficient system has virtually no heat loss. |
| Complete System Design | ProLine Radiant design experts provide complete, system design services. |
| Installation Support | ProLine Radiant provides free installation training; and you receive personal installation support with your system. |
| Requires no Floor Buildup | The cable is extremely thin (only 1/8 of an inch thick), so virtually no floor buildup is required. |
| Smart Control | 7-day programmable thermostat to accommodate your schedule. |
| Premier Construction | Twin conductor cable / single-point connection |
| Approvals | UL and cUL (U.S. and Canada) |
To learn more about the many options available, or to receive a free quote, call ProLine Radiant today, at 866.676.9276.