ProLine has the Products, Services, and Expertise
Contractors looking for the best prices and best radiant heat solutions for their commercial or residential construction projects need look no farther than ProLine Radiant. With one of the largest selections of trusted radiant heat systems available, all at wholesale prices, construction professionals are assured of having a variety of proven, industry-leading solutions to choose from. But the diverse product offering and wholesale pricing are only a part of the advantage that professional builders enjoy by working with ProLine.
Unlike other wholesale providers, ProLine complements its many products with unmatched customer services. Whether you're installing a heated driveway, a heated floor, or a roof deicing system, ProLine's experienced design team provides a detailed layout of the system prior to the installation. These professional drawings include the layout of the heating elements and components as well as the proper load calculations for the system, the breaker sizes, number of breakers, etc. This helps to eliminate any unwanted issues during the installation and helps to ensure that the system is properly installed according to the warranty requirements.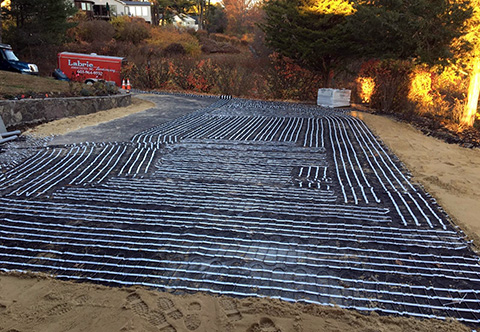 Having experienced designers at ProLine layout your system helps to eliminate any surprises during the installation. ProLine's design and AutoCAD® layout services provide all the information necessary, and make things easier on your electrician and installer. Having your system professionally designed helps to ensure that your system is installed correctly and performs as intended.
Heated Driveways and Snow Melting Systems
Easy to customize and install, fully automated snow melting systems from ProLine have proven to be the ideal solution for businesses looking for reliable snow melting. ProLine snow melting systems have been installed in a wide variety of commercial and residential applications throughout the country.
While some homeowners view the installation of a heated driveway as an added safety feature and convenience that eliminates the need for manual snow removal, other home and business owners look at an automated snow melting system as more of a necessity. Driveways built on inclines and in areas that are frequently shaded can produce hazardous (icy) conditions. For homeowners the added safety of a radiant heated driveway is crucial.
Businesses are particularly attracted to automated snow melting systems because of the round-the-clock safety they can provide. Needless to say, businesses cannot afford to have their customers negotiate icy sidewalks on their premises, so rather than paying employees to periodically shovel and salt walkways and parking areas, an automated snow melting system ensures that the walks are clear when the business opens in the morning – or during a snowstorm.
ProLine Radiant has the trusted heat cable that can be installed in concrete, under pavers, and even in hot asphalt applications. ProLine products have withstood the test of time, and are relied upon by businesses and homeowners throughout North America today.
Roof Deicing
ProLine also offers the most advanced and proven roof deicing and gutter heat trace systems. Several types of self-regulating heat cable are available for heating gutters and downspouts. The heat cable can also be run along the roof edge in a serpentine to help eliminate ice dams.
The advanced low-voltage roof heating system is one of the most popular roof deicing solutions. These effective systems utilize a thin, flexible polymer heating element that is installed directly under the roof shingles. (It can also be safely used to heat metal roofs.) The heating element can be stapled and nailed through, facilitating quick and easy installation. Thin strips of the heating element are also available to install in roof valleys to facilitate runoff.
ProLine is also your wholesale floor heating system provider. With several different systems available, customers are assured of finding the ideal solution for their heating needs. To speak to a floor heating expert today, call ProLine at 866.676.9276.
Remember, as a wholesale provider of radiant heat solutions, ProLine Radiant is unique. ProLine not only carries industry leading products, but complements those products with unparalleled customer services. Free installation training is provided as well as professional system design and installation support. ProLine includes customer services that are second to none. For more information, call ProLine Radiant today at 866.676.9276.