If the steady snowfall we've experienced this season is any indication of future winter events, it's a great time to offer radiant heat solutions to your customers. Radiant heat is a growing trend among home and business owners for top-down heating and snow removal solutions. Efficient, environmentally friendly and very versatile, ProLine residential and commercial radiant heat systems offer you the chance to expand your offerings and win repeat business.
What makes this trend in heating so attractive to home and business owners alike? As you might expect, radiant heat works exactly as it sounds—it radiates through surfaces (think sidewalks, driveways and wood floors) to warm a specific area of a residence or commercial property quickly and efficiently. ProLine offers several choices for radiant heat systems; the two most common being:
Electric radiant heat—uses electric heat cable configured beneath a floor or driveway to warm it up
Hydronic radiant heat—relies on hot water delivered through a network of pipes underneath an indoor or outdoor surface to heat it
ProLine radiant heat solutions are designed to deliver consistent, even heat and can be easily configured according to client-specific preferences. Indoors, radiant heat generates a feeling comparable to the warm, enveloping heat of a stove or fireplace. These systems depend largely on heat transfer from one object to another, eliminating the draftiness and duct loss associated with traditional forced air, making them much more efficient.
A switch from forced air to radiant heat also improves air quality within a home, eliminating the constant blowing and belching of air ridden with dirt, dust and allergens that can compromise indoor environments. These clean systems are also very green options in more ways than one. Thermostats can be programmed heat to heat an entire home, or timed to heat specific areas, from kitchen, to living room and bedroom, conserving energy for pennies on the dollar. They're also flexible enough to install under a variety of surfaces, including wood, laminate, tile and carpet.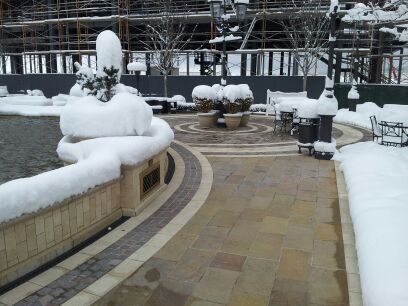 Of course this same science works wonders outside to keep snow and ice away from residences and commercial properties. ProLine offers several easily-configurable options, from electric cable right off the spool, to preconfigured mats or RauPanels (hydronic systems), depending on client preferences and overall needs. Electric cable, for example, is great for smaller, hard to reach or unusually shaped areas, while the demands of a larger commercial footprint may be better served with hydronics because of the possibility of lower operating costs. Either way, these applications mitigate risk by keeping pavement clear and dry, before snow and ice can accumulate. And they're equally effective under brick pavers and stone as well as concrete and asphalt pours or overlays.
Fortunately, whatever client demands come your way, ProLine offers radiant heat professionals on-demand installation services, and an extensive inventory of products to match every job. We can walk you through a project from conception to completion. When you do business with ProLine, you'll appreciate not only access to the pros, but free installation training and our vast library of materials, including articles and schematics to help you along the way. To learn more about ProLine products and services, including how to become a preferred ProLine professional, please contact us at 1-866-676-9276.