Ensuring Successful Installation of a Radiant Heat Snow Melting System
Installing a radiant heat snow melting system is not particularly difficult. While choosing top quality components is one way to ensure optimum performance, the most important aspect is making sure the system is installed correctly. Even the best heating cable, controllers and snow sensors cannot perform as intended if the system is not installed properly. This includes everything from proper cable spacing to the proper placement of the sensor(s).
Because the proper installation of a heated driveway or roof deicing system is crucial, ProLine Radiant includes free installation training and technical support with each system. This way, customers are not only assured of receiving proven, industry leading products, but they also receive the support and knowhow of experts for installing the system correctly.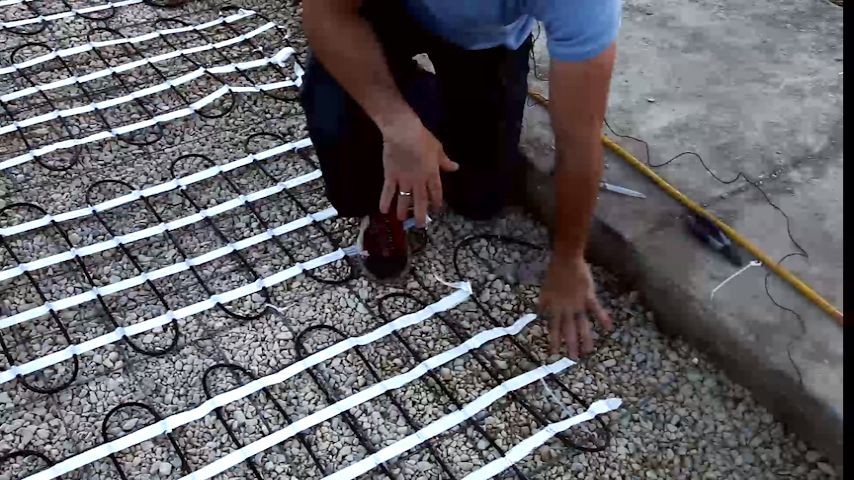 The training is conveniently available online or in person at our corporate headquarters. Free training at rep locations throughout the country is also available. Installers may also set up special training sessions at their convenience. ProLine instructors will cover all the necessary topics and answer any questions you may have to give you the knowledge and confidence necessary to install interior and exterior radiant heat systems. These courses will help to ensure that the system performs as expected and your customers are satisfied. Contact ProLine to learn more about our free training services at 866.676.9276.
To further ensure proper installation, ProLine also provides complete system layout and design services. The professional design includes the proper layout and materials, load calculations, breaker sizes, and number of breakers, etc. ProLine's detailed system designs ultimately save time and money. And its industry leading customer services provide contractors with the support they need to confidently install radiant heat.
ProLine also has an extensive collection of installation videos online. Visit the website to view ProLine's instructional radiant heat videos.
Snow Melting System Installation Options
Heat tire tracks: Save money by heating two 24-inch wide heated tire tracks rather than heating an entire driveway.
Heating the Center Strip of High Traffic Areas: Heat only an 8-foot wide strip up the middle of the driveway. Instead of heating an entire sidewalk, just warm a 3-foot wide strip in the middle of your sidewalk.
Heat specific/custom areas: Heat the sloped or shaded areas of a sidewalk, or just the steps. Heat dog runs or kennels to keep outdoor pets comfortable, or only heat the.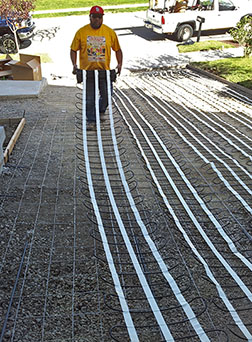 Basic Heat Cable Installation Tips
Be sure to measure the ohm reading of the cable at different times during the installation and record the results in the space provided on the warranty card.
In concrete and asphalt applications, the heating cable should be 2 inches from the finished surface. (The heating cable should never be resting on the ground prior to the pour.)
Always maintain proper cable spacing. (Cables must be spaced no closer than 2 inches apart (center-to-center) and no more than 4 inches, center to center. (Minimum spacing: 2 inches. Maximum cable spacing: 4 inches.)
Never allow the cables to cross or touch each other.
Do not cut the heat cable. (Adjust cable spacing accordingly if you have extra cable.)
Avoid excessive bending, kinking, or stressing of the cable. Doing so can cause the insulation to "bubble" and pull away from the cable.
Contact ProLine Radiant today at 866.676.9276 to sign up for your installation training course. You'll find that working with ProLine offers peace of mind, knowing that you'll have a partner – from beginning to end – for each of your radiant heat projects.