October is here, and that means cooler weather is coming. Fall doesn't have to mean business slowing down for contractors and wholesalers. A great way to keep business busy throughout fall is to help customers prepare their homes or businesses for the upcoming winter. One crucial part of winter preparation is a biannual roof inspection. Water is the number one enemy of a house. Water damage to the roof or interior of the home can be costly and dangerous. Helping customers understand the steps of a thorough roof inspection and how to prevent roof leaks with a de-icing system will keep business flowing all winter.
The first step in a good roof inspection is checking gutters and downspouts. These areas are often neglected and can become blocked with debris. Without proper drainage, ice and snow can build up and cause damage. Next, homeowners should carefully check the roof. Careful inspection should find any missing, worn, or loose shingles. To be sure that there will be no water seepage into the home or business, it is also crucial to check the attic. Surveying for signs of water damage is vital. Another important part of a roof inspection is checking the insulation. Doing this can prevent heat from escaping the home into the attic. If heat escapes into the attic, it can warm the roof and melt the bottom layer of snow. The snow then trickles down the roof to the eaves. The water will then re-freeze into a ridge of ice. Eventually, the ice ridge forms a dam that traps water on the rooftop. Pools of standing water can be the worst enemy to roofs. The trapped water can lead to seepage and cause interior and exterior damage to the building.
After a roof inspection, installing a roof de-icing system is the easiest, most efficient way to enhance protection for the roof and home, as well as pedestrian traffic below. ProLine offers a wide range of roof de-icing systems for residential and commercial applications. The roof heating systems can be combined, or easily customized to meet the customers' specific needs. ProLine also includes industry-leading support services to back its premier products.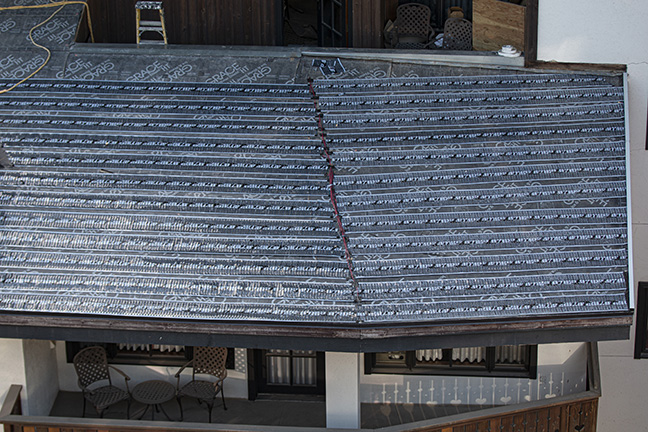 ProLine's most popular and highly recommended system is the STEP low-voltage roof de-icing system. This low-voltage system features a semi-conductive polymer heating element. The panels can be installed discreetly under shingles or metal roofs and cut or stapled onsite. The de-icing system steps from high-voltage down to low-voltage (60v or less), while monitoring the self-regulating heating element's output. This function allows for safe, efficient operation. With 3, 6, 9, or 12-inch widths available, installation in large areas, roof valleys, or roof gutters is possible. ProLine's low-voltage roof de-icing system also comes with a 10-year manufacturing warranty against defects. This rugged product is used all over the country in a wide variety of applications.
Self-regulating heat trace cable is another versatile product that can save a roof from water damage. Installation of self-regulating heat trace cable is easy and flexible. Custom de-icing solutions are a great option, and creating them to fit any area is easy. Running cable through roof gutters, downspouts, or placing in a zigzag pattern along roof eaves can prevent ice dam formation. This sturdy cable makes a prudent choice for any home or business. Installing a self-regulating heat trace cable system is also an affordable option for those on a budget. ProLine's self-regulating heat cable is one of the most popular industry-leading de-icing solutions available. ProLine's roof heating products provide efficient, reliable de-icing during the harsh winter months.
Combining ProLine's low-voltage roof de-icing system with self-regulating heat trace systems is also possible. The ability to combine products assures that wholesalers have a product to meet any customer's needs. There are even options for retrofitting roofs or new construction. ProLine's self-regulating heat trace cable embedded in attractive aluminum panels is another de-icing option. Each state-of-the-art panel is engineered for maximum heat transfer and energy-efficient operation. The panel's design creates an efficient, stylish solution for de-icing.
Whatever products you need to help your business thrive this fall, ProLine has them. Helping customers upkeep the integrity of their roofs and protect their homes from water damage is a valuable service that contractors can offer. While you're providing top-notch service to your customers, ProLine is providing it to you. Along with industry-leading products, all customers have access to professionals who can answer questions about products or installation. Installation videos and help are also available online at any time. Free training is also provided, and can be completed online with an instructor or in person with a ProLine professional. Adding ProLine products to the arsenal of your business is smart and easy. Call ProLine today at 866-676-9276 to get started!