Boost Your Bottom line by Offering Radiant Heat
ProLine Radiant has been providing the components and designing radiant snow melting systems for a variety of applications over the years. From installing radiant heat in commercial parking structures and residential driveways to sidewalks, steps, loading docks, and even runaway truck ramps, we've provided radiant heat solutions for just about every snow melting application imaginable in just about every cold weather region in the U.S.
Consumers choose to install snow melting systems for several reasons. Some are business owners who realize that installing an automated snow melting system makes good business sense. Many commercial installations are intended not only to eliminate the need for manual snow removal, but to enhance safety for the clientele. Being fully automated, radiant snow melting systems provide reliable snow removal whenever needed, 'round the clock. This way, patrons are assured of having clear walkways to and from the business entrance and parking areas.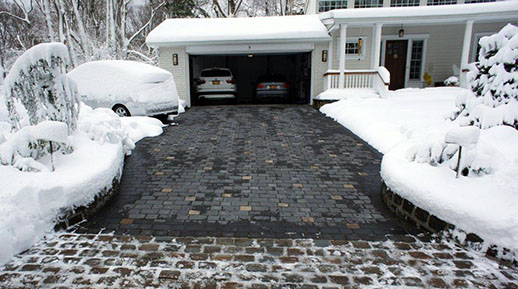 Other customers opt for radiant heat because they are unable to manually shovel the snow due to physical/medical limitations. Others need to heat their driveway because it is on a steep incline. Doctors and emergency response personnel need to be able to exit driveways quickly, regardless of the weather, and radiant heat has proven to be ideal under those circumstances. And of course, there are some projects that fall into the "luxury" category.
Regardless of the customer's need, ProLine customizes each snow melting system to best meet the customer's specific needs. We do not take a "one size fits all" approach. And every system is designed to ASHRAE standards to ensure that customers receive the most effective and efficient snow melting solution for their location, layout, and snow melting needs.
ProLine also provides industry leading system design services. The AutoCAD drawings not only show a detailed layout of the cable and components, but include all the necessary electrical information, such as the proper load calculations, breaker sizes, number of breakers, etc.
In addition to its unmatched customer services, ProLine uses the industry's top controls for its snow melting systems. Typical heated driveway systems utilize the WS-2C aerial-mount snow sensor (activation device). The small unit features a moisture sensor at the top and a temperature sensor at the bottom. When the activation device senses precipitation and the temperature is below the designated set point (usually 38°-39°F), the unit signals the contactor panel and power is sent to the heating cable. (The UL listed contactor panels are available with or without GFEP included. This is an excellent cost – and time – saving option for electricians.) As power is sent to the resistance cable the driveway surface is warmed, preventing any snow buildup.
The advanced WS-2C snow sensor is mounted outside in the open where it is exposed to the weather. To ensure that the sensor is able to make accurate temperature readings, it is important to mount it away from the house where furnace vents, dryer vents and other sources of heat can affect the sensor's temperature reading.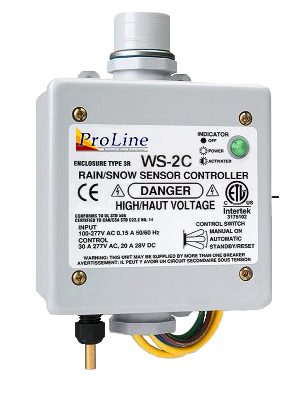 Maintenance Free Snow Melting System
ProLine electric snow melting systems have no moving parts so they are maintenance free; however, it is recommended that the sensor be powered down and the small sensor grid be wiped clean with clear water once every 4 months.
Electric radiant snow melting systems can be easily customized. This way, regardless of the consumer's needs, the system can be designed to accommodate just about any layout, snowmelt demand, and budget. While each snow melting system is tailored for its specific installation, some general layout options include:
Heat the Most Trafficked Areas – Rather than heating the entire driveway, some owners choose to heat only the areas that receive the most traffic. An 8-foot strip in the middle of the driveway or a 2-foot strip down the middle of a sidewalk may be all that the customer needs/wants. This still allows clear access for vehicles and/or pedestrian traffic, but brings down the installation cost as well as operational costs.
Heat Two Tire Tracks – Another affordable option (that also requires considerably less power) is to heat two 24-inch wide tire tracks. This is a popular solution for customers with limited power or a limited budget. Not only does this make the installation more affordable, but the layout also demands less power, making it more affordable to run.
Heat Problem Areas – Some areas are prone to ice buildup or are on a steep incline. Radiant heat can be installed to keep the incline (or shaded areas) clear of snow and ice to enhance safety as well as convenience. This is especially beneficial for those with driveways that run downhill and into a busy road.
ProLine radiant snow melting systems are fully automated, so business owners can be assured that customers can safely enter and exit the premises during snowy days. There's no need to have employees shovel or go outside at odd hours to clear and salt the walks. When a snowstorm hits, the radiant heat system will activate and keep the walks clear. After the storm passes, the system will remain on for a short time, drying the area and preventing ice buildup before shutting off. Because this "after run" feature provides safe walking areas for customers, it greatly reduces the chances of business owners being on the receiving end of personal injury lawsuits.
Support Services
Don't forget, ProLine is the innovative wholesale leader when it comes to prices, products, and customer service. Installers not only receive premier products and a detailed layout with all the necessary technical information, but they can talk with a radiant heat expert any time and receive technical support whenever they have a question during the installation. ProLine Radiant also hosts a library of helpful installation videos on its website. Check out ProLine's Installation Videos here.
ProLine also provides free installation training. Installers receive personal training and can complete the installation course at our facility or online (via Webex™) at their own pace. Electrical and design experts are on hand to personally train you and answer any questions you may have during the training and/or the installation. ProLine believes in long term relationships and stands by its customers to ensure that the system is installed correctly and according to warranties, and that the customer is satisfied.
For more information, or a free quote, contact ProLine today at 866.676.9276.