Install a Radiant Snow Melting System early in the Summer
As contractors well know, the late season rush to complete projects can be hectic – to say the least. That's why it's important to encourage homeowners to begin their radiant heat installation projects as early as possible. Spring and early summer is the ideal time for construction projects, and it makes lives for professional builders a little less stressful as cooler weather looms on the horizon. Completing projects early in the summer also allows contractors to take on more business later in the season, increasing the earning potential for the year.
Completing a project in the spring and early summer is beneficial to home and business owners as well. Having a radiant heat system installed well before the arrival of Old Man Winter allows consumers to get familiar with their systems and troubleshoot any issues if necessary.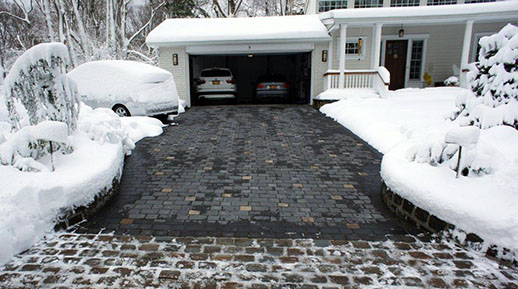 Whether your customers are looking to pour new concrete or repair existing pavement, radiant heat installation is an excellent way to increase value and lengthen the lifespan of driveways from harsh snow melting chemicals and snow removal equipment. It's a smart investment that can also benefit business owners by eliminating slick walkways and parking areas to greatly reduce the chances of injury liabilities from pedestrian "slip-and-fall" accidents. Radiant snow melting systems also eliminate the need for time consuming manual snow removal and the possible injuries and lost work time from shoveling.
With radiant heated driveways and walkways, you get energy-efficient, round-the-clock snow removal to keep areas clear of snow and safe for pedestrians. These automated systems operate silently on renewable energy and are maintenance free.
Radiant heat applications are extremely flexible and adaptable, offering homeowners many options to achieve their goals. ProLine will custom design each system to best meet the specific needs of the customer. Consumers have the option to heat entire areas, a strip in the middle of the driveway, or just two 24-inch wide tire tracks. The layout options are virtually limitless.
Snow melting systems can also be installed in existing concrete or asphalt driveways. Saw cut technology can be used to cut grooves in concrete driveways where the cable is placed. A special epoxy is then placed in the grooves, over the cable. To heat existing asphalt driveways, the heat cable is laid out over the old asphalt and then a new layer of asphalt is applied over the cable. ProLine offers special heat cable that is designed to withstand the extreme temperatures of hot asphalt applications.
To better understand the options available, contact ProLine for free consulting or a free estimate. ProLine has the experience and resources to provide contractors with top tier solutions at preferred pricing, all backed by industry leading customer services. And once you've installed one ProLine system, we can refer you for future projects in your area. Call 866.676.9276 today to learn more.