Year of the Atmospheric Rivers
Winter of 2022-23 has raged across the U.S. like a thundering avalanche, socking the western states particularly hard with record rain and snowfall. Just days after the official start of winter, record precipitation bombarded areas in California and Oregon, and a parade of storms continues to line up over the Pacific. January is expected to see a series of intense storms that will dump tropical moisture throughout the entire western region. Never before has the old expression "when it rains, it pours," rung with more truth.
But the West isn't alone in its wet winter woes, as residents of Buffalo, New York know all too well. While the West Coast was being slammed by storms, Buffalo was being suffocated by a "once in a generation" snowstorm that left 52 inches of snow at the Buffalo-Niagara International Airport. Less than one month into the winter season, Buffalo's airport has already tallied 101.6 inches of snow. According to records dating back to 1884, that's Buffalo's snowiest start to any winter – by over a foot.
Meteorologists attribute most of the extreme storms and heavy precipitation to atmospheric rivers, a phenomenon featuring flowing columns of condensed tropical water vapor. So far this winter, one column has followed another, and states that were experiencing "exceptional" drought conditions are now under flood watches. The storms are bringing much needed relief to the parched western states, but the intensity of the rain and snowstorms has overwhelmed many residents.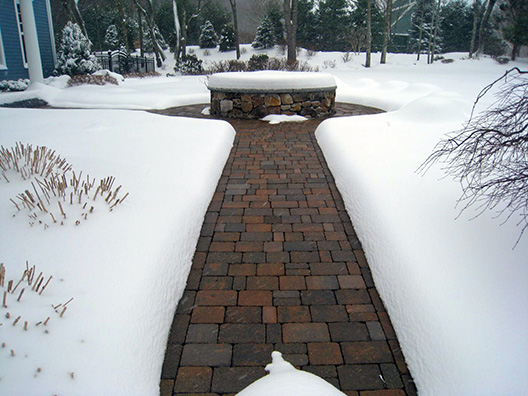 It seems that winters are becoming more extreme and unpredictable nowadays, so we can only do our best to be prepared and deal with the cards that nature deals us. For businesses, staying open to serve their communities during major winter storms is a challenge. While most residents hunker down and avoid going out during a storm, sometimes chores or errands can't wait, and a run to the store has to be made. Whether it's a run to the grocery store for a gallon of milk or a trip to the music store for a set of guitar strings, we all have our own "emergencies" that just can't wait. It's during these times that consumers are searching for convenience – and safety – more than anything else. That's why it's vital for storefronts and businesses to provide an open invitation to prospective customers by having clear parking lots and snow-free walks and entryways.
ProLine radiant snow melting systems are reliable and fully automated, which makes the systems appealing to business owners. Many ProLine snow melting systems are installed in commercial applications. Business owners rely on automated snow melting systems to provide 'round the clock protection to keep parking lots, walkways and steps free of snow and ice. Good business owners understand how vital it is to keep their storefronts safe and accessible.
ProLine automated snow melting systems utilize state-of-art components, including an aerial-mount, or pavement-mount snow sensor, a small controller or control panel, and premium heat resistant cable.
Automated snow melting systems rely on either an aerial-mount or a pavement-mount snow sensor (activation device). These sensors detect temperature and precipitation. When the temperature is below the sensor's adjustable set point, and precipitation is detected, the sensor signals the system controller or contactor panel. Power is then sent to the heat cable embedded beneath the surface. The area is warmed to prevent the accumulation of snow. After the snowstorm, the system remains on for a short time to dry the pavement to prevent thin sheets of "black" ice from forming.
In addition to providing premier snow melting systems and components at wholesale prices, ProLine also includes industry-leading customer services. ProLine system designers custom design each system, and a detailed CAD layout of the system is available to the installer / electrician.
ProLine also offers free installation training. Installers can arrange a time and complete the training online with an instructor at their convenience. The instructor will cover every aspect of the installation, and answer any questions. Technical support is also available during the installation. Even after receiving the installation training, one may encounter an unforeseen issue during the installation. The installer can call a support professional at ProLine, and the support expert will be happy to assist. (ProLine may be the only wholesale provider that also includes such comprehensive customer support services.)
For more detailed information about radiant snow melting, floor heating, or roof de-icing solutions, call a radiant heat expert today, at 866-676-9276.