Be positive and Investing in a snow melting system for residential or commercial property is an important decision that can increase property values. ProLine radiant heat systems are easy to customize, and can be installed in most mediums, including concrete, asphalt and brick or stone pavers. These energy efficient snow melting systems are fully automated, and can add a level of safety and convenience during the cold winter months.
When considering the installation of a snow melting system, the process begins with the design. This is where working with experienced professionals pays off. ProLine's design and engineering services are unmatched, which is one more reason why construction professionals regularly turn to ProLine when it comes to installing radiant heat.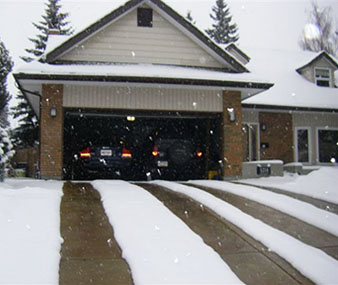 When looking for a radiant heat solution, selecting the proper components for the system is only one small part of the process. Radiant heating systems are only as good as their installations, so proper design is crucial. Successful installations are made easier with well thought out and planned designs, which are key to the system's proper performance.
There are important factors that must be taken into consideration when designing a snow melting system. Some of the initial factors that should be considered are the available power and the square footage of the area to be heated. These factors can help determine the operating cost of the system, which is usually less than hiring a professional snow removal service. (A simple formula to determine operating cost has been included below.)
In regards to the power requirements, homeowners should be familiar with the following basic guidelines. One 30-amp breaker supplies enough power to heat a 170-square foot area. To heat a driveway of 350-square feet, two 30-amp breakers (or one 60-amp breaker) would be needed. Homeowners can check their home's main breaker panel to see the power coming into the house. (Typical homes feature either two 100 amp panels or two 200 amp breakers. These are located at the top of the main breaker box above the main breaker panel.) But when looking to install radiant heat, the bottom line when it comes to power requirements is that an electrician is ultimately the one to address all the power issues. If you have questions about available power, contact ProLine and we'll be happy to assist you.
After you have evaluated the power availability and measured the area that needs to be heated, the system's location and weather conditions must then be considered. This includes altitude, average snowfall, and average winter temperature. Using these factors helps determine what layout and components will be best suited to your project. The basic components needed for an automated snow melting system include an aerial- or pavement-mount snow sensor, a heating element, and master controller. A good design will also include all the breaker and power-related information for the system.
The design process can be daunting, but not for the professionals at ProLine who have years of experience designing custom radiant heat systems for all types of applications. At ProLine Radiant, a snow melting system can be designed and installed on virtually any property. And ProLine offers a variety of the industry's most proven and trusted products. Each system at ProLine is carefully custom designed, and includes a detailed CAD that includes layout, load calculations, breaker sizes, number of breakers, and system performance expectations. Having a system designed by professionals at ProLine also gives you options when it comes to your budget. if you don't want to heat an entire area, the system can be designed to heat any size or shape of area. A few options include:
Heating two 24-inch wide tire tracks
Heating only the high traffic areas
Heating the trouble spots, such as the incline of a property
Heating an 8-foot strip down the center of the driveway
At ProLine, industry leading products like ProLine heat cable can be easily laid out in custom configurations to meet the specific needs of your project.
All in all, working with professionals who include system design and layout services will minimize issues that may occur with installation, and can save you money and time. With ProLine's unparalleled customer service and installation support, there is help available at anytime. If you have further questions or are interested in a free quote, please visit our website or contact a trusted professional at 888-488-9276.
Determining the Operating Cost of a Heated Driveway
Determine the total square footage of the area that will be heated. (The average American home has an 800-square foot driveway.)
Multiply the square footage by the heat required (37 watts per sq. ft. for residential). This will give you a total for the watts per square footage required.
Divide this number by 1,000 to convert to kilowatts.
Look up the kilowatts-per-hour rate from the local power utility company.
Multiply the total watts-per-square footage by the watts-per-hour. This gives you the cost-per-hour of usage for the snow melting system.
EXAMPLE (for an 800-square foot driveway): 800 (sq.ft.) x 37 (watts) = 29,600 (total watts).
29,600 divided by 1,000 = 29.6 kw per hour (This is what the power company will charge you per one hour of operation.) The average utility rate is .12 cents, therefore: 29.6 x .12 = $3.55. The cost of operation would be $3.55 per hour.
NOTE: Heating cables and mats are rated in total watts. If the snowmelt system is intended for a commercial application, then you would multiply the total square footage by 50 watts to determine the total wattage required.