An Easy, Affordable Solution for Ground Fault Protection
In accordance with the National Electrical Code (NEC), all electric snow melting, roof deicing and outdoor pipe heating systems require ground fault protection for safe operation. This often results in time-consuming and costly delays for installers because these breakers can be expensive and difficult to find. However, ProLine has taken steps to eliminate this issue and facilitate a quick, safe installation.
ProLine not only offers contactor panels with built-in ground fault protection, but also offers separate ground fault protection units with snowmelt systems and activation devices. These affordable units provide an easy-to-integrate solution to meet the NEC requirements for snow melting system ground fault protection.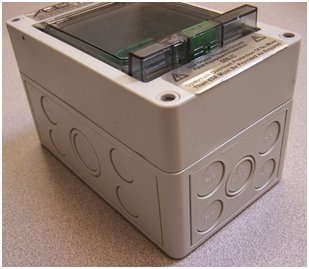 Ground fault protection equipment enclosure.
ProLine offers two ground fault units: the GF-1 and GF-2. The GF-1 unit provides single-circuit protection and the GF-2 provides dual-circuit protection (for 120/208/240VAC circuits up to 60A). Unlike highly sensitive GFCI breakers, ProLine's GF unit maintains a 30mA fault trip point to help prevent nuisance tripping. The unique design of the units allows installation of standard, off-the-shelf overload breakers into the customer load center. Installers simply size the breaker and wiring for the system (15A to 60A), and then install the GF unit between the load center branch circuit and the sensor/controller and heat cable. The overload breaker protects the wiring while the GF unit provides the ground fault protection.
The ground fault unit is housed in a rugged, NEMA 4X/IP65 rated enclosure, making it suitable for indoor or outdoor installation. The enclosure's gasket-sealed front access door allows for easy testing and reset. All internal electronic components are specified for -40°C to +60°C operation. The enclosure is designed so that it can be easily surface-mounted near the load center or near the snow melting system, depending on the installer's preference. The enclosure also features several "knockouts" to provide flexibility for installation and wiring. The base of the ground fault unit's enclosure can accommodate standard ½ and ¾-inch conduit hubs. Four mounting holes outside the enclosure gasket make mounting simple while ensuring weather-tight performance.
Features
Easy installation; convenient access for wiring
Compatible with inexpensive, off-the-shelf overload circuit breakers
Provides true 30mA trip point GFPE protection
Meets NEC Article 426.28, 427.22, and CEC 62-300 requirements
Protects 120/208/240VAC systems up to 60A (#14-#6 CU-only conductor capacity)
Not Compatible With 277VAC or L-N-L 240VAC
UL listed (U.S. and Canada) NEMA 4X enclosure for indoor or outdoor installation
Sealed, hinged front cover that latches for easy testing and reset access
No overload rating means only two part numbers for simple stocking
Weatherproof and corrosion resistant enclosure
Operating temperature range of -40°F/C to +140°F/+60°C
The GF-1 and GF-2 can be used directly with the WS-2C, WS-5C and WS-8C aerial mount snow sensors. The ground fault units can also be used with ProLine contactor panels, switches, and any system up to 60A. Since the overload protection is provided by the load center breaker, only two GF models are required to cover the full range of 15A to 60A, one or two circuits. This allows ground fault protection with kitted systems without having to identify the customer's load center type or researching whether a combined overload/GFPE breaker is available and how long it will take to receive.
Including a ground fault unit gives installers all the components necessary to complete the snow melting system so that it is ready to install. And the GF unit provides a ready-made solution when installing or retrofitting a snow melting system in an older facility that was wired well before the term "GFPE" was coined. It's an easy upgrade to help bring an existing system into compliance with modern code requirements. As your radiant heat partner, ProLine makes the process of installing a snowmelt system as easy as possible.