Managing a construction business can be difficult and time consuming. Finding quality products coupled with great customer service can be a game-changer for large and small business owners. ProLine Radiant offers all the radiant heat solutions that contractors need. With competitive wholesale pricing, proven products, a wide selection of offerings, and premier customer support services, it's easy to see why ProLine is a radiant heat industry leader.
Radiant heat is versatile, effective, and efficient, making it a sought-after solution that customers love. Contractors can rest assured that working with ProLine Radiant will decrease their stress and increase their bottom line. Offering radiant heat products and services gives contractors the competitive edge needed to take their business to the next level, and ProLine is there with unmatched customer support services every step of the way.
Electric radiant floor heating systems offer maintenance free operation, superior efficiency and comfort, and easy installation. These features make heated floor installations a good option for contractors working in new residential areas or remodeling. ProLine's proven floor heating products are state-of-the-art. ProLine TileHeat radiant heat cable can be installed under almost any type of flooring. This includes laminate, slate, marble, and even hardwoods. ProLine's floor heating products also include industry-leading warranties to ease contractors' and customers' worries. ProLine's other floor heating products range from the uncoupling, waterproofing Prodeso membrane (for indoor or outdoor areas) to advanced FilmHeat and FoilHeat floor heating systems. FoilHeat is an easy roll-out mat with a heating element between two layers of specially reinforced aluminum foil. Like TileHeat, FoilHeat is a practical, flexible heating choice for a variety of residential flooring applications. FilmHeat is an ideal solution for heating under floating floors, and requires no mortar or thinset. ProLine also offers hydronic radiant heat systems.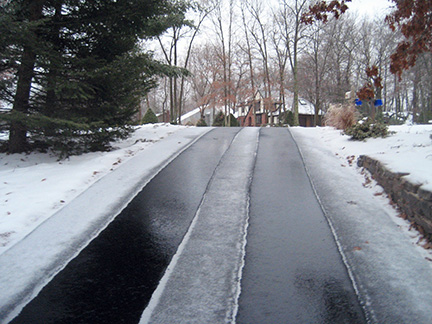 ProLine is a market leader when it comes to outdoor heating solutions. In residential and commercial situations, keeping roofs and driveways clear of ice and snow is key. Automated ice and snow removal means avoiding back-breaking snow shoveling, as well as avoiding the liability that comes with falling icicles or slick walkways.
Self-regulating heat trace cable from ProLine is an affordable, easy-to-install solution for roof de-icing. Heat roof edges or gutters and downspouts, or only heat problem areas that can cause serious roof damage. Self-regulating heat trace cable is easy to install and customize. With ProLine, all customers receive in-depth customer services that include custom system design by an expert. Design services are invaluable to contractors and customers. Professionals from ProLine make sure that each system meets the performance needs and budget of each customer. These detailed layouts include all of the components and electrical information for installers and electricians. ProLine is committed to making the installation of radiant heat as easy as possible for contractors.
Custom designs are essential for top-performing snow-melting systems. Residential and commercial customers can benefit from clear, safe walkways and driveways. ProLine offers radiant snow-melting systems for any situation with heat cable that is available on spools or mats. Spools are a more versatile option and are perfect for problem areas or odd-shaped areas. ProLines electric snow melting g systems are also great for retrofitting asphalt or concrete driveways. A ProLine specialist will work closely with contractors to help determine what the best radiant heat solution is for every customer and situation.
ProLine also offers industry-leading self-regulating pipe tracing heat cable. Sub-freezing temperatures can lead to broken pipes during the winter months. The damage caused by broken pipes can drastically affect productivity and revenue. ProLine's self-regulating pipe tracing heat cable is a low-cost, highly effective way to avoid costly, time-consuming pipe damage. It can be used on flanges, pipes, valves, or even small plastic or metal pipes and instrument tubing. Using pipe tracing heat cable will ensure that all fluids continue to flow through any piping, no matter the temperature. ProLine's top-performing pipe tracing cable is rugged and durable, and safe for hazardous and corrosive environments.
ProLine is truly a full-service company. A vast selection of quality products at wholesale prices, combined with the best customer support service in the industry set ProLine apart from competitors. Other wholesale suppliers cannot match the comprehensive service that comes with working with ProLine. ProLine understands that time is valuable to contractors and focuses on assuring that all the legwork is done.
Professional custom designs include the exact layout of each system with the precise location of the heating elements and other system components, as well as all the electrical information, including number of breakers, their sizes, load calculations, etc.
To help ensure that every installation is successful, ProLine offers free installation training to installers. This training can be attended online via video conference, or in-person, and the training typically takes no more than an hour. Every aspect of the installation is covered by a knowledgeable instructor, and installers can stop at any time to review or ask questions. Training like this gives installers the confidence and skills they need to complete the installation quickly, easily, and successfully. Installation support is also available anytime during installation if need be.
ProLine's long history with builders has helped to establish a comprehensive customer service platform that makes adding radiant heat to your business easy. Combined with the vast state-of-the-art product offerings and wholesale prices, ProLine is a great partner for contractors who want to accommodate all of their customers' needs. For more information about Proline's products and services, call and talk to an expert today at 866-676-9276.