When homeowners think of installing a heated driveway, they are likely thinking about the convenience of not having to shovel and salt their walks. The other obvious benefit is the safety that radiant heat systems provide. This feature is of paramount importance to business owners who want not only to provide a convenient and inviting environment for customers, but also a safe environment.
Radiant snow melting systems fit the bill when it comes to meeting these requirements. Snow melting systems automatically activate when needed, so if a snowstorm hits during the night businesses can open in the morning – on time – knowing that the sidewalks, entryway, or parking areas are clear of snow and ice, leaving safe and inviting conditions for customers. This is crucial for businesses in order to avoid losing revenue during times of inclement weather. (Not to mention the time and hassle of litigation as a result of slip and fall accidents.) By installing a radiant snow melting system business owners don't have to hire a plowing service or ask employees to come in early to shovel and salt the sidewalks.
Winter time can present a host of challenges for business owners, so keeping the facility safe and functional is crucial. The morning after a big snowstorm, there's nothing like arriving at work and seeing the sidewalks, ramps, and/or parking areas completely clear of snow and ice.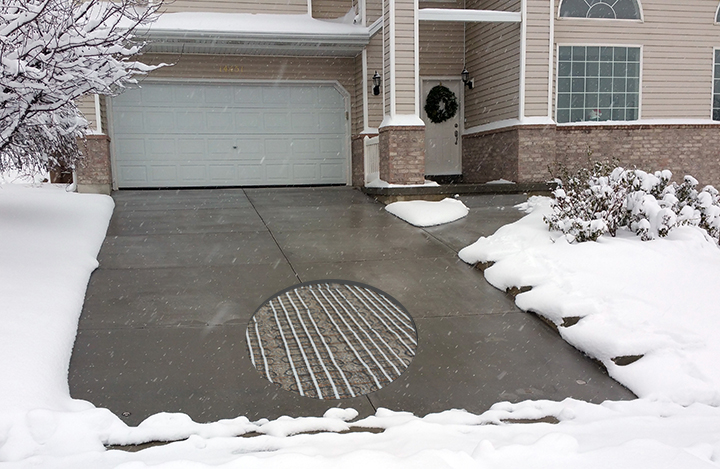 ProLine snowmelt solutions are among the very best in class. The automated snow melting systems utilize an advanced sensor that detects temperature and precipitation. (These sensors can be mounted above the roofline or in the pavement of the driveway.) When the temperature is below the sensor's adjustable set point (usually set at 39°F) and moisture is present, the sensor signals the controller. Power is then sent to the embedded heat cables, warming the driveway to prevent any snow accumulation.
For added safety, the systems also include an "after run" function. This allows the system to remain on for a short period after each storm to dry the surface, preventing any melted snow from remaining on the driveway and turning into a thin sheet of dangerous "black" ice.
An Additional Benefit
One of the lesser known benefits of a radiant snow melting system is that it can extend the life of your driveway. In addition to eliminating the need for salt and other corrosive materials as well as plowing and shoveling, radiant heat can be particularly beneficial for concrete driveways. Concrete driveway surfaces tend to last longer when they're not exposed to sub-zero temperatures. In cold weather climates with ample snowfall, it's not uncommon for concrete driveways to fall victim to spalling. Concrete is naturally porous, so water from melted snow can seep into every tiny crevice, and refreeze. The damage usually occurs when the ice expands. Over time, as this process (known as spalling) repeats, it can eventually deteriorate the finished driveway surface and lead to cracking in the cement.
Seal coating your driveway can also help to extend your pavement's life span, but nothing can compete with the benefits offered by a radiant snow melting system. You'll not only enjoy the convenience and enhanced safety provided by the system, but you'll likely boost your equity as well as add a few years to the life of your driveway. Heated driveways can be a smart investment.
For more information about radiant snow melting systems, heated floors, or roof de-icing solutions, contact a friendly professional at ProLine Radiant today (866.676.9276).