Heat Cable Designed for Hot Asphalt Applications
Snow-melting systems are a popular product among construction professionals. They provide valuable benefits to customers and help professionals grow their businesses. Radiant snow-melting systems are often used in concrete and paver driveways and walkways, but some commercial and residential customers prefer other paving mediums, like asphalt.
ProLine offers specially designed products like ProLine's heating cables for asphalt. These specially designed products give ProLine and your business a leg up over competitors. ProLine also provides top-notch customer service and training so that installing a radiant heat system for your customers is simple. No matter which ProLine product you choose, there are a few essential installation tips to ensure each system functions at maximum efficiency.
Perhaps the most important tip is this: Take advantage of ProLine's free installation training. It is important for installers to be prepared and confident when installing a snow-melting system. A system is only as good as its installation, which is why ProLine offers comprehensive installation training and technical support. Taking advantage of these services can help installation go smoothly and ease the stress of working with new products. Training is delivered online via web conference. Knowledgeable, experienced instructors will cover all aspects of the installation and answer any questions throughout the training.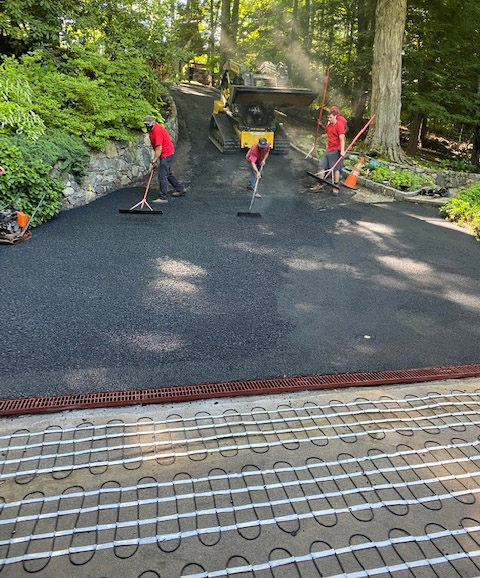 ProLine's technical support staff is also available to answer any questions that may come up during installation. ProLine also includes professional system design and a detailed AutoCAD for every project. AutoCAD layouts contain all the information needed for a successful installation. With the precise layout of the heating elements, proper load calculations, number of breakers, and breaker sizes, it is a vital tool for electricians. Installers should refer to it often. Avoid costly and time-consuming mistakes and ensure a system operates at peak efficiency using ProLine's support services.
When you're confident and ready to begin the installation, the first step is clearing the area of any debris or issues that may impede system function. Once the area is clear and you have checked that all of your components are available and functioning, it's time to start laying out the cable. There are a few vital rules when working with ProLine's industry-leading heating cables. First, never cut the actual cable. Cutting the cable will damage the system and prevent proper function. If you have extra cable, you can reduce the spacing slightly, or cut the tape backing and route the cable around the perimeter within the heated area. But remember, the minimum cable spacing is 2-inches. The heating cable cannot touch, cross, or overlap at all. Touching cables can lead to excessive heat and cause burnout. The heating cable also must never pass through an expansion joint. Proper installation also requires that the splice and at least 6-inches of the power lead be embedded in the paved surface.
Once the cable is laid out (and tested) it is time to install the medium on top of the cable. With a medium like asphalt, it's vital to find a product that can withstand the heat and pressure of a hot asphalt pour. ProLine's heating cable for asphalt is a state-of-the-art product specially designed to withstand the extreme temperatures required by asphalt applications. Asphalt heating cable is rated at 464 degrees Fahrenheit (260 degrees Celsius) for up to 10 minutes.
ProLine's asphalt heating cable is available in mats or loose coiled in a box. Individual cable is often utilized for small or odd-shaped areas. Mats are the first choice for standard-sized areas, such as heating an entire driveway.  Popular layouts include two 24-inch wide tire tracks, an 8-foot strip in the middle of a driveway, or installing the cable is specific "problem" areas. Driveway inclines or shaded areas that collect run-off are often overlooked and benefit from a snow-melting system.
As you are shoveling the asphalt, take special care when using tools such as shovels, trowels, or rakes. Be sure to never dig straight into the asphalt with a shovel. This will damage the cable. Skimming the top layer of asphalt carefully will ensure your cable isn't damaged, and functions appropriately. Finally, all heating cables should be embedded under at least 2-inches of asphalt.
A ProLine snow-melting system is fully-automated. The system's snow sensor can be aerial or pavement mounted and must be mounted correctly. It may seem obvious, but make sure the sensor is mounted where it will be exposed to the weather. Without a 360-degree view of the sky, it will not detect snow. If snow is not detected, the system will not be triggered or will experience a delay.
Retrofitting an existing asphalt driveway is as easy as a new construction installation. ProLine heating cable for asphalt is simply laid out on the existing driveway and a new layer of asphalt is then applied. Retrofitting is also available for other mediums, including concrete. For more details, contact a ProLine radiant heat expert.
Installing a snow-melting system under asphalt or any other medium doesn't have to be a concern for your business. Working with ProLine means you'll receive superior products and outstanding customer service that keeps you and your customers happy. If you're ready to utilize ProLine's advanced products for your business, reach out to a customer service specialist today at 866-676-9276.