Installing a snow melting system can be one of the best investments a home or business owner can make, and offering them to your customers is a great investment in your business. ProLine offers versatile snow melting systems that can be installed in almost any medium and application, and consumers all around the country have used ProLine for their snow melting needs. Here are just a few of the places where ProLine snow melting systems have been installed to keep homes and businesses clear of snow and ice during the winter seasons:
Driveways
Walkways
Public transit stations
Outdoor steps
Wheelchair ramps
Churches
Outdoor shopping malls
Winter resorts
Loading docks and ramps
Pedestrian bridges
Airport aprons
Runaway truck ramps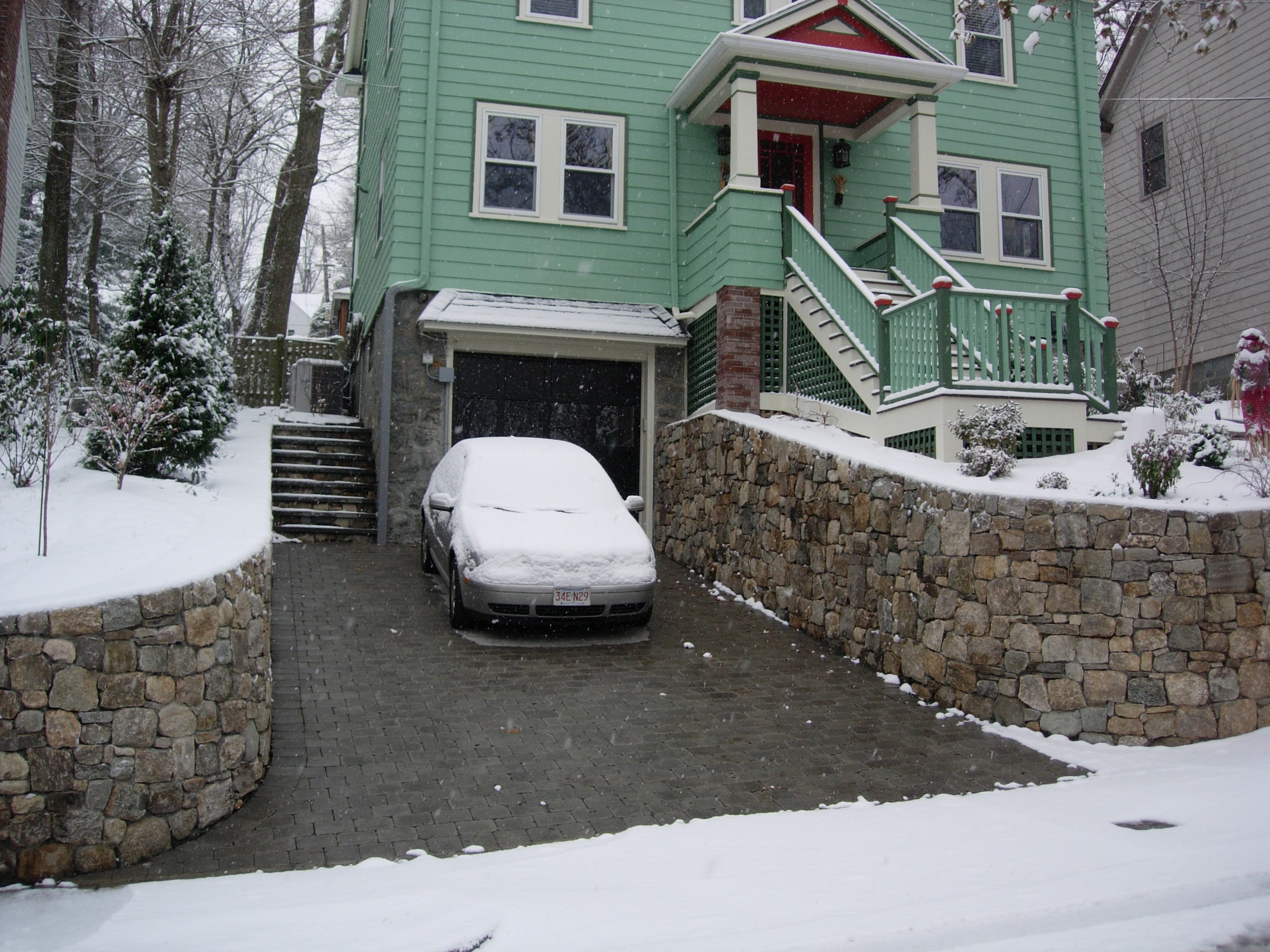 Whether customers are looking to install snow melting systems for residential applications, commercial businesses, or even industrial applications, ProLine has an option to ensure that the specific needs of each customer are met. ProLine systems offer an array of heating elements for interior and exterior applications, creating almost endless customization options that can fit any area, no matter the shape or size. ProLine's snow melting system heating elements can be set in any medium: concrete, brick or stone pavers, and even freshly poured asphalt.
The most popular residential layout is to heat an entire area (such as a driveway), but options such as heating a strip in the center of the driveway, 24-inch wide tire tracks , or only high-traffic areas are also great ways to utilize the flexibility of ProLine's radiant snow melting systems. ProLine systems are also well suited for industrial or commercial buildings to prevent dangerous ice from forming on ramps, steps and loading docks. ProLine also offers the best customer service in the industry that includes custom designing of each snow melting system, as well as providing free installation training and technical support to facilitate quick and efficient installation of every system.
The benefits of a custom designed snow melting system can't be beat, with the first obvious benefit being that of time saved. With a ProLine snow melting system, customers will no longer have to worry about back-breaking shoveling or slick ice patches after each storm. Snow melting systems can also prolong the life of mediums like concrete, as plowing, salt and other chemicals typically used for snow melting can cause degradation.
Perhaps the most important benefit – especially for business owners – is safety. A ProLine snow melting system is an investment in safety that can pay for itself year after year. When winter hits any business, snow, ice, and icicles become major safety concerns. Not only is shoveling and clearing ice hard work, it is also dangerous for workers and pedestrians. Accidents can lead to costly litigation due to injuries onsite. Snow and ice clearing also takes away from the productive time of workers, and slows business during the important winter months and holiday season. With an automated snow melting system, business can continue as normal with no wasted manpower, helping to ensure a busy and productive winter season. This is especially true for businesses with outdoor loading docks, truck ramps, accessibility ramps, or other areas that are typically hazardous during winters.
When looking at snow melting systems, customers often ask two questions. The first is usually "How do they work?" In general, a snow melting system works by using an activation device (sensor) that detects temperature and precipitation. When precipitation is detected and the temperature is below the "set point" (usually 39°F), the sensor triggers the controller and power is sent to the embedded heating element, warming the driveway or ramp. (ProLine snow melting systems are fully automated, but also include manual override capability to melt snow drifts that may have formed after a storm.) This also means that the system will only run when necessary, and shut off as soon as the snow or ice is cleared and the driveway is dry. Automated snow melting systems from ProLine feature rapid response times to ensure that no snow accumulates on the heated area. This makes ProLine's system extremely energy efficient, with 99 percent of energy used going directly to clearing snow.
Energy efficiency relates directly to the second question: "How much does a snow melting system cost?" With an energy efficient system operating only when it is needed, the costs remain low. On average, a 300-square-foot area can be hated for around $1.52 for each hour of continuous use. (Cost may vary depending on local utility rates.) Running a snow melting system is often less than hiring someone to remove snow. When it comes to initial cost, ProLine's custom options accommodate for snow melting needs and each customer's budget. ProLine's experienced system designers will take each customer's needs into consideration. Customers will be matched with the best products, system design/layout, and support services, assuring that each snow melting system is up and running at peak levels in no time. With top notch customer service, including installation support and free training, ProLine is with you every step of the way. Offering snow melting systems from ProLine will ensure that your business is thriving this winter season.
Extend the Life Span of Your Driveway
Installing a radiant snow melting system can also extend the life of your driveway by preventing concrete spalling. Spalling occurs as a result of melted snow refreezing on the porous concrete over time. Eventually, this can even lead to cracking of the cement. Automated driveway heating systems dry the surface, so no water remains. This added safety feature is what helps to prolong your driveway's life span. By drying the surface the chance of spalling is greatly reduced.
If you're ready to learn more about snow melting products from ProLine for your business, call us today at 866-676-9276.