While ProLine Radiant may be best known for its heated driveways and roof deicing solutions, the radiant heat provider also offers a variety of the industry's most proven floor heating systems. Some contractors are taking advantage of ProLine's wide selection of products and discount prices, but many are still unaware of ProLine Radiant's offering of floor heating systems.
Emphasizing radiant heated floor installations during the winter months is a great way for professional builders to supplement their income at a time that is traditionally slow. But consistently offering radiant floor heating installation can also help to grow your business.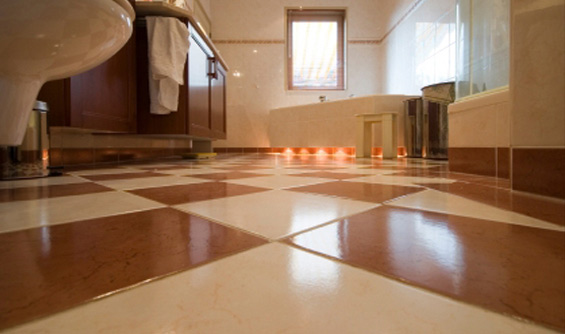 ProLine offers a wide selection of trusted, industry leading solutions. From its own trusted heat cable to the innovative low-voltage polymer heating element, ProLine carries the top floor heating solutions for any custom commercial or residential radiant heat project, designed to heat virtually any type of flooring.
The floor heating systems offered by ProLine are compatible with all standard sub-flooring materials, and provide the superior performance you'd expect from an industry leader. ProLine's large selection of premium quality floor heating systems ensures that customers receive the ideal system for heating their specific type of floor.
Some Floor Heating System Options:
ProLine TileHeat: TileHeat floor heating cable is the most trusted and popular floor heating system and can be used to heat just about any type of floor. Though it is particularly effective for heating tile and marble floors, TileHeat is also commonly used to heat laminate flooring as well.
The heating cable is available off the spool or in flexible mats with an adhesive backing for easy installation. ProLine floor heating mats feature ProLine heat cable that is pre-spaced and placed on a mesh backing. They can be installed directly under tile, natural stone and a variety of hard surfaces. The mats' low 3/16-inch (3 mm) profile results in very little floor buildup, making them a popular choice for renovations. They're also pre-terminated for use with 120V and 240V, and available in various lengths (heating a width of 24-inches).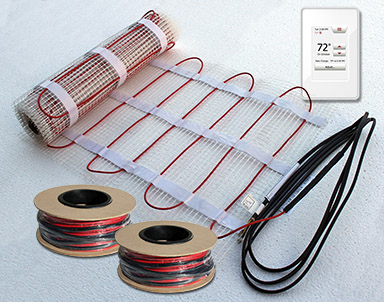 The floor heating cable's twin conductor design is matched with premium materials to provide the most effective and efficient heating. The system also includes built in ground fault (GFCI) protection and emits no measurable electromagnetic fields (EMF).
ProLine floor heating systems also come with a GFCI protected thermostat. (Strapping to secure and properly space heating cable is provided when purchasing heat cable off the spool.) To simplify installation and final hookup, the cable is harnessed with a single lead. And all ProLine cable is UL/CSA approved and is covered by a 10-year manufacturer warranty.
Slab/Storage Heat  – ProLine's rugged Storage heat cable heats concrete slabs under a variety of floor types. Because the cable is installed in concrete pours, the rugged cable is designed to withstand the stress of heavy concrete pours. The cable has a larger diameter than other floor heating cables, allowing it to be lower in cost and higher in heat output. Once installed, this affordable heating solution efficiently distributes and stores heat within the slab.
Prodeso® Floor Heating Membrane – A recent addition to ProLine's floor heating product offering, the Prodeso floor heating membrane is a polypropylene uncoupling, crack isolation, waterproofing membrane. The flexible membrane features channels for the TileHeat cable to be routed. The system can be used to heat a variety of floor surfaces.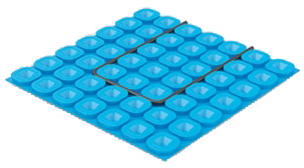 Using the Prodeso membrane can speed up the installation process. The membrane is placed over the floor and then heat cable is installed in the channels and then the flooring can be applied directly on top. There is no need to use self-leveling cement to cover and protect the heat cable before installing a tile floor. This can result in a significant savings of material, time, cost and overall weight.
FoilHeat – FoilHeat is a thin electric radiant floor heating system designed primarily for heating laminate, engineered wood, and other floating floors. The system can also be used to heat carpeted floors.
The floor heating mat consists of fluoropolymer insulated heating cables sandwiched between two layers of specially reinforced aluminum foil. The uniform spacing of the heating elements, and the conductive aluminum foil, ensures even heat distribution. FoilHeat mats can be cut and shaped on site to meet the specific demands of the project.
The heating element is connected to a power-supply cable, which exits the laminate mat from one corner. The power lead is a flat thin two core flexible cord, consisting of two insulated conductors with a metal sheath and an outer sheath. Depending on your heating requirement, FoilHeat is available in nominal heat outputs of 80 W/m² and 140 W/m² at 230 V. The mats are available in predetermined lengths with cold tail and are prefabricated and tested in a carefully controlled factory environment.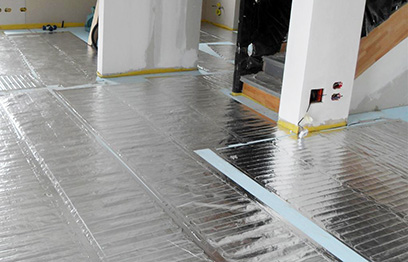 In addition to providing industry leading floor heating elements, ProLine also offers the most advanced system controllers and thermostats, including the state-of-the-art WIFI Touch Thermostat.
The electronic thermostats are designed to control electric radiant floor heating systems for maximum comfort while minimizing power consumption. Each thermostat includes an integrated Ground Fault Circuit Interrupter (GFCI, Class A).
Free Installation Training, System Design and Technical Support
The proper installation of radiant floor heating systems is vital, which is why ProLine provides free installation training and installation support services. We stand by our customers throughout the installation process to help ensure that the system is properly installed and performing as it should.
Prior to the installation training, it's helpful for installers to take advantage of the online product documentation and illustrations. A vast resource of instructional videos is also available on our website. This valuable resource can help installers gain a better understanding of the systems, how they are installed, and how they function.
Be sure to sign up for free training. Call 866.676.9276 today to set up a time that is convenient for you. Training can be completed in less than an hour and can be done at our offices or online, via WebEx.
For more information about ProLine snow melting, roof deicing or floor heating systems, contact a ProLine radiant heat expert today at 866.676.9276.