Heating Gutters and Downspouts with ProLine Self-regulating Heat Trace Cable
Homeowners often discover problems with roof and gutter ice after the first storm or two during the early weeks of winter. With summertime in the distant past, the roof is no longer out of sight and out of mind. Old Man Winter has arrived, and roofs and gutters are feeling the effects.
ProLine Radiant's self-regulating heat trace cable is the ideal solution for heating gutters and downspouts. The cable is specifically designed for roof and gutter deicing applications. While ProLine offers a variety of commercial and industrial roof deicing and pipe trace heat cable, the SRL cable is the cable of choice for roof heating and gutter trace applications. The cable features a flexible outer jacket and durable carbon core, providing consistent performance, long lifespan, and easy installation in cold temperatures.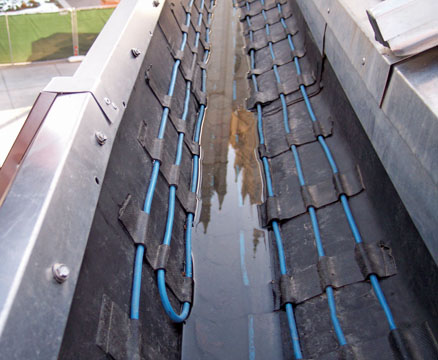 The heat cable can be installed to heat roof edges and eliminate ice dams by providing channels for runoff. Most commonly, the cable is routed through gutters and downspouts to reduce heavy ice buildup that can lead to water damage, frost erosion and dangerous falling ice.
Self-regulating roof and gutter heat trace cable is an affordable solution for preventing ice and snow from building up in roof gutters and downspouts. Plus, the systems are maintenance free and energy efficient. The durable UL listed cable meets the requirements of the NEC (National Electric Code) Section 426, and can be used to heat roof valleys and edges in addition to gutters and downspouts.
The self regulating feature of the cable means that the irradiated conductive core increases the heat output as the outside temperature falls and decreases the heat output as the temperature rises. Thus, it "self regulates". This effective and proven construction makes the cable tough, safe, and energy efficient.
Roof heat trace systems are also fully automated, so they're easy to use. The systems feature ProLine's trusted heat cable and a controller/activation device that automatically initiates power to the system.
The WS-8C aerial-mount activation device (precipitation sensor) is the premier roof deicing controller. This advanced sensor is designed primarily for gutter, downspout, and roof ice melting and small satellite antenna deicing.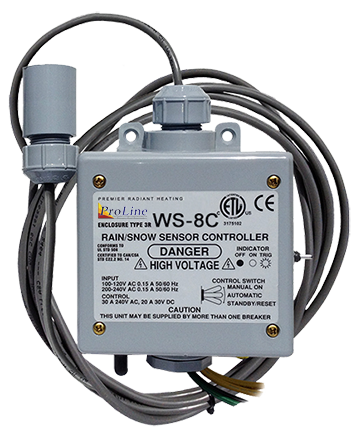 The sealed low-voltage rain/snow controller features a separate remote mount precipitation sensor with a 10-foot cord for remote placement. This allows the small sensor head to be placed in a gutter, downspout, or at the end of an antenna boom while the control unit itself is placed in a more convenient or protected position.
ProLine's industry leading heat trace systems provide an affordable solution for heating gutters, downspouts and roof edges. Once the system is installed the owner seldom has to think about it again. Fully automated and maintenance free, roof heat trace systems provide a clean, hassle free solution for winter snow and ice.
ProLine roof heating and gutter trace systems have been installed throughout most cold regions around the country, and are still operating today. Chances are, we can recommend an experienced installer in your area.
And don't forget to sign up for our free installation training. Call 866.676.9276 today to set up a time that is convenient for you. Training can be completed in less than an hour and can be done at our offices or online, via WebEx.
For more information about ProLine roof deicing, snow melting, or floor heating systems, contact a radiant heat expert today at 866.676.9276.