Efficient, Reliable and Easy to Customize
Radiant heat is the most efficient technology available for keeping driveways clear of snow and ice. Electric snow melting systems feature a network of heat resistance cables that is installed in concrete, asphalt or under pavers to efficiently heat the surface. (Hydronic systems use a closed loop of PEX tubing that specially treated hot water is pumped through.)
The reason why radiant heat provides the most efficient means for melting snow is because there's virtually no heat loss. Heat radiates from the heating element and warms the surface to prevent any snow from building up.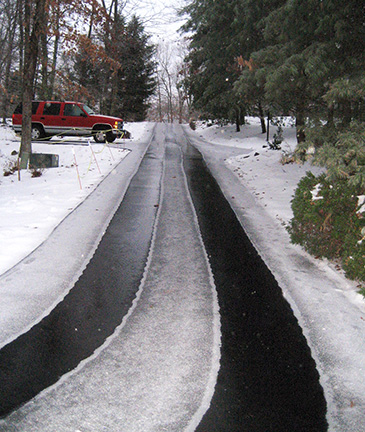 Many consumers don't realize how easily electric driveway heating systems can be customized. The heat cable can be installed to heat uniquely shaped areas, steps, bridges, ramps, loading docks, etc. The systems are easily adapted to meet the specific demands of the user. The needs of each customer are carefully evaluated and then the ProLine snowmelt system is custom designed to best meet the unique needs of the project in the most efficient and cost effective way possible. Several popular options are available to accommodate various budgets and available power.
Some Heated Driveway Layout Options Include:
Heat the entire driveway: If you have the available power and budget heating the entire driveway surface and / or parking area is a popular option.
Heat only the most trafficked area: Instead of heating the entire driveway, only heat an 8-foot wide strip in the middle to allow access in and out of the garage.
Heat two tire tracks the length of the driveway: Installing two 24-inch wide heated tire tracks offers homeowners considerable savings when compared to installing a snow melting system to heat the entire driveway surface. Heated tire tracks are a practical option for long or dual driveways, as well as for homeowners who do not have the budget or the power necessary to heat the entire surface. This option utilizes less power, which lowers the operating costs as well.
Heat the trouble spots: Some homeowners may have a section of driveway that is particularly problematic during the winter. For example, a driveway on a hill or an area that receives a lot of runoff that often turns to ice.  A radiant snowmelt system can be easily designed and installed to heat the specific area. This is particularly beneficial for driveways that run downhill and open up into busy public roads.
Heat walkways and areas that receive foot traffic: Snow melting systems can give home and business owners peace of mind by enhancing safety to protect pedestrians from slipping when walking to and from vehicles during the winter months. This is particularly valuable for business owners by providing clear, snow and ice-free entryways, sidewalks and parking areas. Nowadays, businesses simply can't afford to overlook the safety of their properties. Protect customers and minimize the chances of slip-and-fall injuries – and subsequent litigation with radiant heat.
ProLine Radiant offers both electric and hydronic snow melting systems. Both technologies utilize three basic components for automated heated driveways:
The heating element – Heat resistance cable or PEX tubing.

Activation device (snow sensor / controller) that detects weather conditions to trigger the system when needed (and shutting it off afterwards).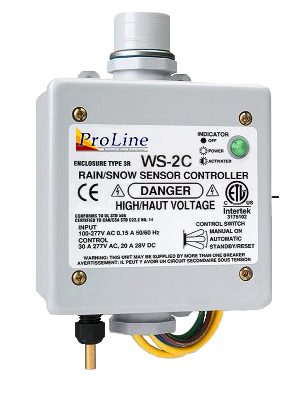 A UL listed contactor panel. The UL listed panels are available with or without GFEP included. (This is an excellent time and cost savings option for electricians.)