Snow Melting Mats Designed to Accommodate Concrete Pours
The best snow melting systems not only consist of the best components, but also include the best design/layout and installation. Because of its wide selection of affordable, industry leading products and unmatched services, ProLine has scored high marks with professional installers. Its reputation as a trusted leader in radiant heat comes not just from its quality products, but also from its unparalleled customer services.
Radiant heated driveways offer many benefits; however, each snow melting system is different, and must be designed and installed correctly to meet the specific needs of each customer. The experts at ProLine understand that a radiant heating system is only as good as its installation. That's why ProLine commits so much of its expertise to professional system design, installation support, and free installation training. When it comes to complete service – and a company that "walks the walk", you won't find a more reliable provider than ProLine Radiant.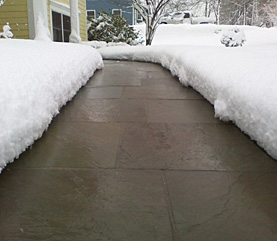 ProLine products are designed with the installer in mind. This is especially evident with ProLine Radiant's snow melting mats – which feature tape backing rather than mesh backing, utilized by ProLine competitors.
Some concrete installation professionals have expressed reservations about using radiant heating mats in concrete pours. When non-ProLine snow melting mats are installed, the mesh backing tends to impede the flow of the concrete pour. Small pockets of air can form, which can ultimately spell doom for the concrete as well as the heating cable.
However, ProLine snow melting mats are designed for concrete pours. The versatile heating cable is spaced in mats using durable tape strips that allow concrete to flow freely and fill all the space around the heat cable. This ensures the proper lifespan of the concrete as well as peak performance of the snow melting system.
ProLine is a favorite among construction professionals because of the responsiveness and "installation friendly" systems offered. In addition to providing the industry's premier snow melting, roof deicing, floor heating, and pipe trace systems, ProLine includes unbeatable customer support services.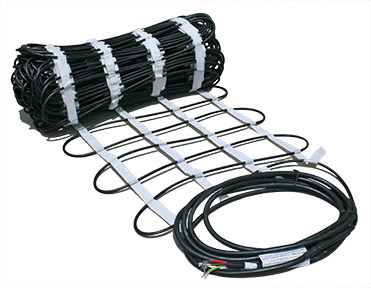 ProLine's radiant design team provides AutoCAD drawings of each system that includes all the power requirements and technical specs. Customers will know all the information you need prior to any installation taking place, including load calculations, number of breakers, breaker sizes, and so on. ProLine is committed to your success.
Installers are also taking advantage of ProLine's free installation training services. Installers can complete installation courses in roof deicing, snow melting and floor heating. A certificate is awarded upon completion and ProLine can then refer the installers to customers in their area. Needless to say, this is smart business for installers throughout the country.
Contact a ProLine representative today to learn more about your radiant heating options (866.676.9276).
---
Extreme Winter Weather Predicted
The Winter of 2014-15 was Just the Beginning – Brace for Colder Temperatures and Record Snowfalls
According to weather experts, we're in for a long string of extreme winters. As residents in the Northeastern U.S. can attest, the past couple of years have seen a dramatic increase in snowfall and unusually cold temperatures, but according to scientists, that's just the beginning.
Climatologist John Casey, a NASA consultant and former space shuttle engineer, stated that we can expect unusually harsh winters for the next 30 years. Noted Russian astrophysicist Habibullo I. Abdussamatov not only agrees with Casey, but makes an even bolder claim. "We're at the dawn of a mini-ice age," Abdussamatov stated.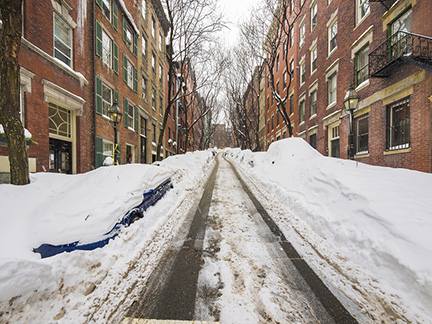 While Casey may be more conservative in his weather prognosis, he said these striking claims are based on facts. Weather experts are stating that a decline in solar activity has kick-started a significant change in the global climate, which is projected to last at least 30 years. In a recent interview with Newsmax, Casey stated, "All you have to do is trust natural cycles and follow the facts, and that leads you to the inevitable conclusion that the sun controls the climate, and that a new cold era has begun."
While we're enjoying spring, it's not pleasant to imagine digging out from another winter with record snowfall; but there are some things we can do now to prepare for the winters ahead. Installing a ProLine automated snow melting system can help homeowners and businesses avoid losing time and money by being snowed in during the heaviest snow days. The systems ease the physical burdens considerably, and can even save money in the long run.
Needless to say, the benefits of a heated driveway are many, including increased safety and fully automated snow removal. Snow melting systems can reduce lost time and business because of heavy snow accumulation. And waking up to a clear driveway after receiving nearly a foot or so of snow can be a wonderful feeling. It's a great way to give your back a rest while you enjoy your morning coffee.
And with so many roofs suffering damage from the record snow storms last year, roof deicing systems are spiking in popularity as businesses and homeowners repair their roofs. ProLine roof deicing systems can play a vital role in protecting roofs and reducing the chances of water damage by eliminating ice dams from forming at roof edges.
ProLine snow melting systems are easy to customize, so whether you have customers who are interested in heating an entire commercial parking area or ramp, or a homeowner looking to heat a driveway, ProLine experts can design the ideal system to meet your specific needs. Each system includes an AutoCAD layout, complete with all the technical specs, so installers know everything they need to know prior to any installation taking place.
In addition to designing radiant heat systems, ProLine also provides installation support and free installation training. Contact a ProLine representative today to learn more, at 866.676.9276.