Premier System Components, Support and Customer Service
ProLine snow melting systems are among the best in the industry. These fully automated systems are easy to customize to meet the individual snow melting and budget needs of your customers, and will provide efficient, maintenance free performance.
ProLine electric snowmelt systems can be utilized for a variety of radiant heating applications, including concrete, hot asphalt, pavers and more. These snow and ice melt systems are commonly used for a variety of residential and commercial snowmelt applications.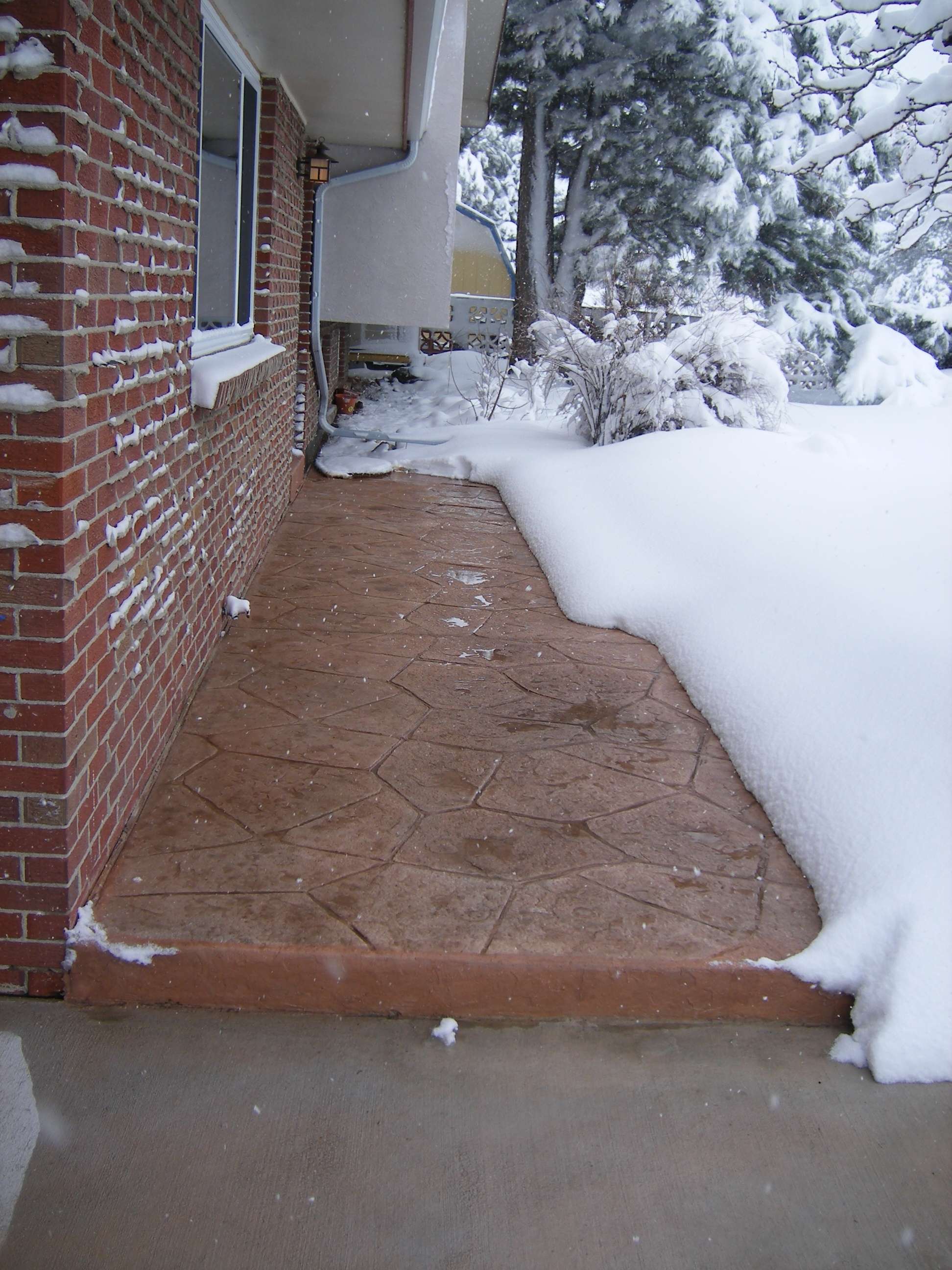 ProLine snowmelt heat cable is available pre-spaced in mats and on spools, making it a versatile, easy to customize and install for all types of custom snow melting projects. These fully automated electric heated driveways are activated by a high-tech snow sensor that detects moisture and temperature. When it detects precipitation and the temperature is below 39° Fahrenheit, the sensor signals the master controller. The controller then sends power to the embedded heat cable to warm the driveway, ramp or sidewalk. After the snow stops falling, the system remains on for a short time to dry the surface before shutting off automatically.
ProLine snowmelt systems are built from top quality materials and capable of performing under the harshest winter conditions. The convenient design, versatility and durable construction of ProLine electric radiant heat cable and mats make them a favorite among construction professionals throughout the country.
ProLine snow melting mats feature industry-leading heat cable that is pre-spaced in mats that can be easily rolled out during installation, simplifying and expediting the installation process while ensuring proper cable spacing for optimum performance. Unparalleled in performance and user-friendly design, ProLine snow melting heat cable (in mats or on spools) has proven to be one of the most reliable and easy-to-install radiant heating systems on the market.
Whether you plan on heating entire sidewalks, porches, driveways or small spaces, the ProLine radiant heating system can be tailored to meet the unique needs of most any snow and ice melting application. ProLine custom designs each system and includes personal installation support if you need to ensure your customers' satisfaction – and your success. Contact a ProLine radiant heat expert today to see the options available.
Learn more about ProLine Radiant's professional design/layout services and installation support, as well as ProLine's free installation training by calling a ProLine radiant heat expert today at 866.676.9276.
---
ProLine Radiant Installation Tips
Important Guidelines for Preparing and Installing Radiant Snow and Ice Melting Systems
Although ProLine Radiant offers the industry's premier radiant heat products and system components, it is important to remember that a radiant heat system is only as good as its installation. That's why it's so important to work with a radiant heat provider that offers complete radiant heat services, including professional system design and expert installation support services.
While many radiant heat providers claim to offer installation support, the fact is that most do not have a dedicated support staff of electrical and installation experts. Some unscrupulous businesses can be very persuasive to get consumers to buy, but after the purchase, the customer's nightmare often begins. When you work with ProLine, you can count on having access to experienced pros to help you through the installation process.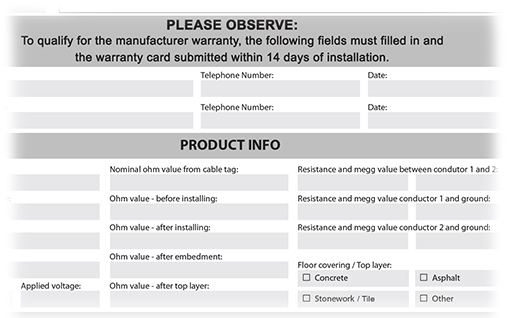 Here are some important tips for installing radiant heat systems:
Record Resistance Values in Warranty Card – First and foremost, keep your warranty valid by following the installation instructions and using a megohmmeter to measure the cable readings before, during and after the installation process as outlined. (The megohmmeter is a special type of ohmmeter used to measure the electrical resistance of insulators.) Measuring the cable's ohm reading during the installation process provides the required warranty information and can reveal if any cable has been damaged during the install.
 ►
Check the ohm value shown on the cable tag as soon as you receive the cable. Write the value in the space provided on the warranty card.
 ►
Measure the ohm reading of the cable and record the results in the space provided on the warranty card.
 ►
Lay the cable out and secure it so that it is ready to be embedded (under concrete, asphalt or pavers) and then measure the cable's ohm reading. Record this value in the space provided on the warranty card.
 ►
Apply the top layer (concrete, asphalt or pavers) and measure the ohm reading. Record the results in the space provided on the warranty card.
     Cable Installation Tips
 ►
Always maintain proper cable spacing. (Cables should be spaced no less than 2 inches apart (center-to-center) and no more than 4 inches, center to center. Minimum spacing is 2 inches. Maximum cable spacing is 4 inches.)
 ►
Never allow the cables to cross or touch each other. (Keep a cable spacing of at least 2 inches.)
 ►
Never cut the heating cable.
 ►
In concrete and asphalt applications, the heating cable should be 2 inches from the finished surface. (The heating cable should never be resting on the ground prior to the pour.)
 ►
DO NOT run heating cable through an expansion joint. (Make sure the joint is tooled or cut no deeper than 1¼-inches. The cable must be ¾ to 1-inch below the bottom of the joint.)
 ►
Do not flex or strain the heat cable splice by pulling on the cable. Be sure to embed all of the cable, including the entire splice and 6-inches of cold lead.
 ►
Do not kink or bend the cable sharply. Doing so can cause the insulation to "bubble" and pull away from the cable.
 ►
When installing under pavers, make certain that there is ½-inch of compacted paver sand or stone dust on top of the heating cables or mats. (Cables must be completely encased with no air gaps.)
Installation Training
Knowing that a radiant heating system is only as good as its installation, ProLine offers free installation training, conveniently available online as well as in person at our corporate headquarters. ProLine also provides free training at rep locations throughout the country. Special training sessions may also be set up at your convenience. Our personal instructors will cover all the necessary topics and answer any questions you may have to give you the knowledge and confidence necessary to install interior and exterior radiant heat systems. These courses will help you gain the confidence you need to install radiant heated driveways, heated floors and roof deicing systems.
Contact ProLine to learn more about our products and installation support, free training, and professional design and layout services.
Call ProLine today at (866.676.9276).