Proven Floor Heating Solutions
Did you know that ProLine Radiant offers several of the industry's most proven and trusted radiant floor heating systems? It's true. In addition to ProLine's popular snow melting systems, ranging from heated driveways, ramps and sidewalks to roof and gutter heat trace solutions, ProLine carries premier quality floor heating systems.
And with the emphasis on cost savings and energy efficiency in our homes nowadays, it makes sense to explore ProLine's floor heating offerings. Unlike many providers, ProLine Radiant offers floor heating systems from different manufacturers, so customers can be assured of finding the ideal floor heating system for their needs.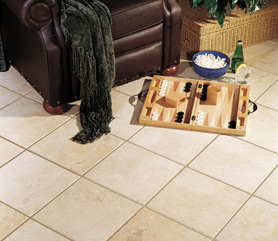 Radiant floor heat provides luxurious warmth and is extremely efficient both because of the nature of radiant heat and the ability for the system(s) to be precisely controlled. Installing a radiant heat system in your home not only can enhances cost savings and comfort, but can also significantly boost the value of your home. Radiant heated floors boast a near 100% efficiency, as there is virtually no heat loss with the systems. So it makes sense then that radiant heat is fast becoming the heating choice for new home construction.
Radiant floor heating systems consist of a heating element, a control center and an activation device (thermostat, timer, etc.). ProLine offers a variety of the industry's most advanced thermostats with its floor heating systems. Some feature simple on/off controllers and 7-day programmable thermostats that can be controlled by an external sensor (embedded in the floor), a built-in sensor, or a combination of the two. By installing heated floors, homeowners can turn a small investment into considerable cost-savings that also increases the value of your home.
Floor Heating Options
ProLine offers several different floor heating systems, each offering its own set of unique features and benefits. The various systems utilize different types of heating elements, ranging from thin heat resistance cable to unique "foil heating mats" and low-voltage heating panels.
ProLine's TileHeat system is the most popular and versatile floor heating system and features thin heat cable that is available on spools or mats. The mats feature cable that is pre-spaced with a flexible mesh backing for easy "roll out" installation. The heat cable itself has a diameter of only about 1/8-inch. ProLine's TileHeat cable is twin-conductor cable with a single point connection to further simplify the installation. As one of the most trusted and commonly used floor heating solutions, ProLine's TileHeat comes with a 25-year limited warranty, and is UL listed in the U.S. and Canada.
The heat cable can also be used with the Prodeso® floor heating membrane, an uncoupling, waterproofing membrane that is laid out over the subfloor. The membrane has channels in it where the heat cable is accurately spaced. This also simplifies and shortens the installation time. The flooring is then installed directly over the membrane and heat cable. The Prodeso membrane system with TileHeat can be used to warm a variety of floor types.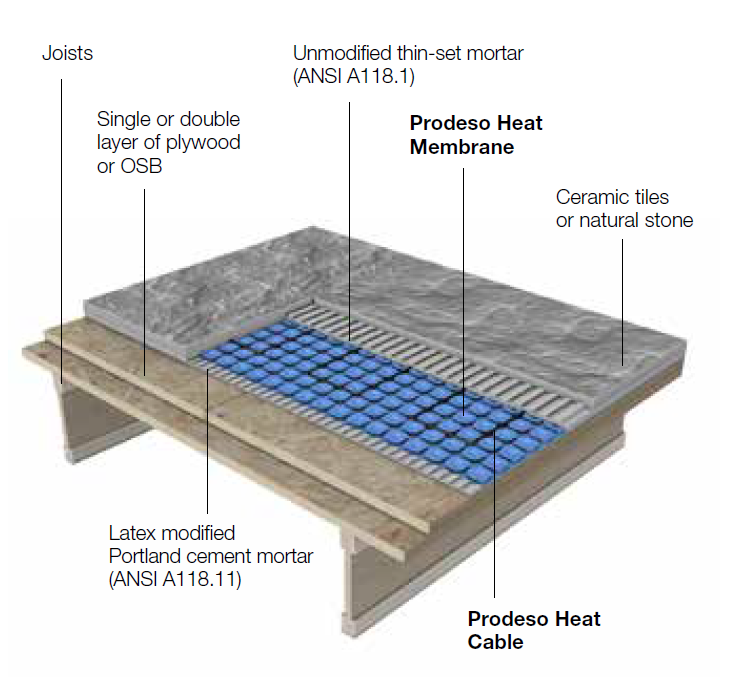 ProLine also offers a rugged heat cable that is designed for installation in concrete slabs. This slab heating cable provides an efficient and highly effective means for heating basement floors or any that are installed over concrete slabs. The heat cable is spaced and secured to remesh (with zip ties) and then the concrete is poured. The twin conductor, single point connection heat cable features a 10-year manufacturer warranty.
Another popular floor heating system consists of a near paper thin "film" heating element (only 0.016-inch thick) that can be cut to length on site and then floating it on top of an underlayment and floating the floor covering on top of the element. One advantage of this system is that the thin, lightweight heating element can also be stapled up between floor joists to heat existing floors. No alarms, special tools, or self-leveling compounds are needed to install this system, and because it is so thin there is no floor buildup.
FoilHeat floor heating systems feature fluoropolymer insulated heating cables sandwiched between layers of specially reinforced aluminum foil. Featuring superior design, quality construction, and energy efficient performance, FoilHeat is an excellet option for heating laminate floors. And because the heating element is quite thin, there is minimal floor buildup.
The element's power lead is a flat, thin two-core flexible cord, consisting of two insulated conductors with a metal sheath and an outer sheath. The uniform spacing of the heating cable, backed by the conductive aluminum foil, ensures that there are no problems of "hot-spots" or localized heating. FoilHeat mats can be cut and shaped onsite; however, take care to avoid cutting the actual heating cables within the mat.
For more information about our indoor and outdoor radiant heat systems, call 866.676.9276 today.