Snow melting systems are great for contractors looking to expand their business and add a new level of convenience for their customers. But adding a new service offering and learning to install it can be overwhelming. With ProLine Radiant's top-of-the-line components and free installation training and technical support, providing snow melting systems for your customers is easy.
Snow melting systems from ProLine are professionally designed by an in-house team of designers. Then, the detailed layout of the system is provided to the contractor to serve as the  installation's "road map" to help assure that the layout is correct and the components are installed correctly. These layouts also contain all the needed electrical information for your installer as well, including, proper load calculations, breaker sizes, number of breakers, etc. Proper installation of a snow melting system is key for a reliable, efficient system, which is why ProLine offers such robust customer support services.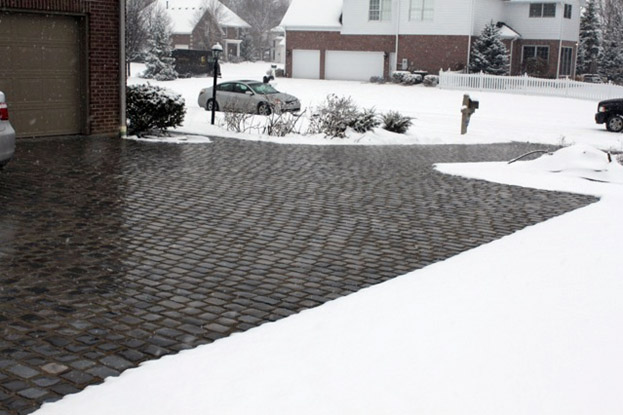 It's also important to use reputable, quality components. Installing a snow melting system begins with three main components; the heating element, and activation device, and a control unit/contactor panel. At ProLine, the heating element for snow melting systems is a heavy duty, high-quality cable designed to produce 30-50 watts per square foot. ProLine heat cable is one of the most trusted and efficient in the industry. ProLine twin conductor heat cable features single-point connection, and is rated at 220°F for easy installation in almost any medium, from pavers to concrete and asphalt.
For hot asphalt applications, ProLine offers a special version of cable that is rated at 460°F for up to 10 minutes. ProLine's UL listed heat cable has a copper metal sheath, and uses a polyolefin jacketing for rugged durability, UV protection and flexibility.
ProLine heat cable comes on spools ready for installation, or pre-spaced in mats. These mats are available with 3 and 4 inch cable spacing and heat a 2-foot wide area. ProLine radiant heating mats simplify installation, and are ideal for heating standard shaped areas that may need less customization. The tape backing of the mats can be cut to facilitate turns and layout in custom shaped areas. (Note: Never cut the actual heating cable.) Mats are easily rolled out over the area to be heated, making installation quick and easy. The snow melting mats are a durable, versatile choice, and are especially popular for large applications.
Next, a snow melting system must have an activation device. These advanced snow sensors detect temperature and precipitation. When the temperature hits a certain point (usually set at 39°F) and precipitation is also detected, the sensor signals the contactor panel, which sends power to the heating cable. ProLine has state-of-the-art sensors, and both in-ground and aerial-mount sensors are available for commercial and residential applications. ProLine's aerial-mount sensor allows for automatic activation and manual override capability for times if the system needs to be activated to melt a snow drift or when a patch of ice has formed. This sensor can be upgraded for remote activation and is compatible with smart systems.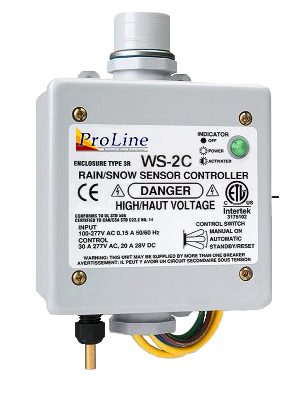 Finally, a snow melting system must have a contactor panel or control unit. This component sends power to the embedded heating element after it receives a signal from the sensor. When installing a snow melting system, the aerial sensor utilizes a contactor panel. At ProLine, contactor panels are available with or without ground fault equipment protection (GFEP). This option can save contractors a great deal of time and money.
In-ground sensors differ from aerial sensors as they rely on a control unit instead of a contactor panel. ProLine systems use a NEMA 1 control unit that is compact and easy to use. These units can be operated from an external signal and be switched on/off or even to standby. ProLine's control unit not only has advanced technology, but a great price not found at competitors. Control units are energy efficient and allow for sidewalks, driveways, or any outdoor area to be snow free.
ProLine snow melting systems are versatile enough to be installed in almost any application, ranging from residential driveways to large commercial applications such as parking lots, loading docks, runaway truck ramps, public transit platforms, and so on.
ProLine's trusted systems and low pricing also come with industry leading customer services, including, free installation training, technical support and professional system design. These services are geared to make it easy for contractors to expand their businesses by providing radiant heat to their customers.
ProLine's dedicated customer service professionals are available to help you with every aspect of the installation. Design and engineering specialists will work with you to create the most efficient system and provide you with and accurate layout that includes all the electrical information. This serves as the road map for your installer and electrician, and helps to ensure a successful installation.
The installation training can be completed online with an instructor at your convenience. If you ever have a question, installation support professionals are available over the phone to assist you during installation if you need. ProLine's customer service is with you throughout the installation process. When looking to give your customers the efficient option of radiant heat, ProLine is truly the best choice for contractors. For more information, call 866.676.9276.