Business and homeowners are continuing to recognize the importance of roof de-icing systems nowadays. While keeping roofs well maintained and free of ice dams during the winter months is beneficial for the structural integrity of residential and commercial buildings, preventing ice dams and large icicles from forming can also enhance safety for pedestrians. As day turns to night, the water that dripped from the icicles onto the sidewalk can freeze, resulting in dangerous sheets of virtually invisible ice. Needless to say, conditions like these can be a nightmare for property owners, especially those with commercial properties.
ProLine offers several roof de-icing solutions, but one in particular has become a favorite of professional roofers. Low-voltage RoofHeat™ STEP® system has come to be the de-icing system of choice for hotels, resorts, and businesses in cold weather climates. This advanced roof heating system features a unique semi-conductive, self-regulating polymer heating element that can be installed directly under asphalt, shake, and tile shingles, as well as metal roofs. The automated system operates on low voltage and does not require a ground fault switch. ProLine's low-voltage roof heating system is one of the most trusted and comprehensive roof de-icing solutions available. The system's remarkable performance and ease of installation are just a few reasons why it is favored by roofing professionals.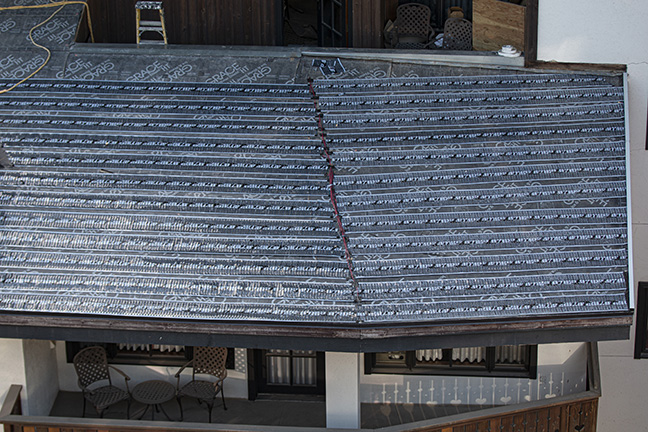 The most common reason for home and business owners to install a roof de-icing system is to prevent the potential costly damage that can result from ice dams. Ice dams form as a result of warm air escaping from the home into the attic. The warmer air causes the bottom layer of snow on the roof to melt. The melted snow runs down to the roof eaves, but because there is no warm attic under the eaves, the water slowly refreezes near the roof's edge. As more melted snow reaches the eave, it refreezes and causes a ridge of ice to form. Eventually, the growing ice ridge causes the water to pool behind it, resulting in areas of standing water on the roof. The water in these pools can seep into every tiny crevice and imperfection in the roof, and as it refreezes and expands, it can create potentially serious problems in the future.
About the System
ProLine's low-voltage roof de-icing system is powered by transformers. The transformer steps down high voltage to low voltage (60 V or less), and monitors the power and output of the heating element to ensure safe, optimal performance.
The thin heating element is just 3/64-inch thick, and features an impermeable membrane that is polypropylene fused during fabrication to achieve water proofing and protection from alkaline or salt damage. It is available in widths of 3, 6, 9 or 12-inches, making it versatile enough to be installed to heat large areas, roof valleys, intricate trouble spots, and even in roof gutters.
ProLine's lightweight panels are easy to install and can be cut to size on the job site. During installation, the heating element can also be nailed or stapled through, making installation quicker and easier than other traditional roof heating systems. (However, be sure to avoid nailing through the bus braids.) The roof heating system is self-regulating, so when the ambient temperature rises, the electrical resistance increases and the consumption of electricity decreases, preventing the element from overheating and ensuring energy-efficient operation.
Some basic features and benefits of ProLine's low-voltage roof de-icing system include:
Low-voltage and self-regulating
Thin, flexible heating panels: 3/64-inch (1.2 mm) thick
Lightweight: 0.23 lb/ft (0.34 kg/m)
Operates quietly and efficiently
Versatile: Can be installed under asphalt, shake, and tile shingles, and metal roofs. The system can be used to heat roof eaves, valleys, gutters, or even the entire roof.
The heating element can be nailed or stapled through. (Avoid nailing through the bus braids.)
Discreet: The heating element is installed out of sight, under the roofing.
Construction: Rugged positive temperature coefficient (PTC) semi-conductive polymer with an impermeable membrane outer coating that is polypropylene fused
Proven performance
10-year limited warranty against manufacturing defects
ETL (NRTL) listed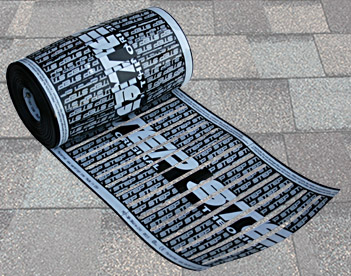 The low-voltage roof heating system is typically controlled by the advanced STEP Touch Thermostat (activation device). The thermostat is designed for simple two-control functionality for ease of operation and features a 3-digit, auto-dim LED display. The Touch sensor controls are maintenance free and capable of working seamlessly with all ProLine radiant heat systems, and can interface with smart home systems as well. All settings are stored in permanent memory for instant recovery in the event of a power failure (no batteries are needed).
While the STEP Touch Thermostat is the recommended activation device, the low-voltage de-icing system can also utilize ProLine's advanced aerial-mount activation device. Customers have a variety of options to choose from, so call and talk with one of our radiant heat experts today and we'll be happy to help determine the best configuration and controls for your system.
ProLine Radiant custom designs each roof heating system according to the specific needs of each customer. Professional roof heating system designers will work closely with you to ensure that you receive the best roof de-icing solution possible for your demands.
In addition to professional system design and layout services, ProLine also includes free installation training for installers as well as technical support during the installation. We are available to assist your installer if they have any questions during the installation. Our goal is not only to ensure that you receive the best system, but that your system is installed correctly and performing as advertised.
For more details about ProLine's industry-leading roof de-icing solutions, call ProLine and speak to a customer service professional today at 866-676-9276.