With many businesses on hold and people staying at home, now is a prime time for contractors to help clients update their businesses and homes for the winter. Snow melting systems from ProLine are a great option for any contractor looking to increase business during the spring and summer. The convenience of a clear driveway at any home or business is something that will keep customers happy, safe, and comfortable all year long.
ProLine electric snowmelt systems are perfect for almost any application, making them a great offering for residential and commercial construction. They can be used in new construction, but snow melting systems can also be installed to heat pre-existing asphalt, concrete, or even pavers. These fully automated systems are quick to install and simple to use. Each ProLine snow melting system comes with three main components: the heating element, an activation device (snow sensor), and a contactor panel. When the activation device detects specific weather conditions, it signals the contactor panel, which then sends power to the heating cable to prevent the buildup of any ice or snow.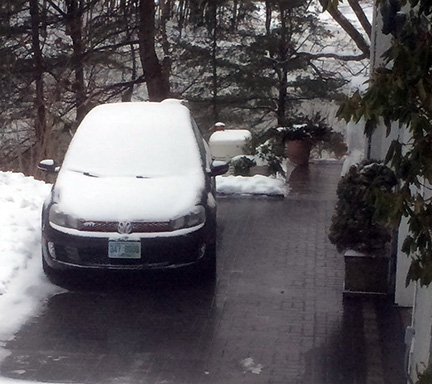 The heating element is crucial with any snow melting system, and ProLine's electric radiant heat cable features premier quality and is trusted by contractors everywhere. ProLine cable is a single point-connection, twin-conductor cable that measures ¼-inch in diameter. The cable is housed in fluoropolymer insulation, followed by a copper metal sheathing, and an outer sheath made from polyolefin to protect the cable from corrosion. ProLine's heating cable is CSA listed in U.S. and Canada and comes with a limited 10-year manufacturer warranty.
The construction of this cable makes it durable, as well as versatile. ProLine's heating cable can be installed under almost any medium, including concrete, pavers, and asphalt. The cable is available on spools, which allows it to be rolled out and installed (generally at 3-4 inch spacing). Cable off the spool is perfect for custom shaped areas and spacing. ProLine heating cable off the spool is a great option for unique areas or to heat outdoor staircases and steps.
Another great option for commercial, industrial, or residential projects is ProLine's specially designed heating cable that is designed for installation in hot asphalt applications. This rugged cable is rated up to 460 degrees Fahrenheit for up to 10 minutes in hot asphalt. The asphalt is laid out directly over the top of the cable, leaving your customer with a discreet, maintenance free way to keep their asphalt area safe and clear in the winter months.
ProLine also offers its state-of-the-art cable in mats. These mats come with the cable pre-spaced (3- or 4-inch options available) on a two-foot-wide mat. These mats also include a 10- year warranty against manufacturing defects, and can be placed under any medium. Mats are also available for hot asphalt applications. Their rated voltage is 120-600 Volts, and their output is 37 or 50 watts per square foot, depending on the application. ProLine's snow melting mats and cable have been proven to be reliable and easy to install, making them a great option to offer to your customers.
ProLine not only offers top of the line snow melting systems, but also has industry-leading, comprehensive customer service.  A ProLine professional will help you determine which products best suit your project, and work with you to ensure you are given the best solution for your customer. This includes a professional system design which has a detailed AutoCAD that will show all the power requirements and specifications so that you and your customer can be assured their system will be functioning efficiently.
ProLine's services also include free installation training and personal installation support. Whether you need help locating an electrician, or have questions during installation, ProLine will be glad to assist you. Installation instructional videos are also available online. The videos can be a valuable tool as you begin your installation. ProLine also has a support team of professionals on staff to help guide you and answer any questions that arise during installation. With top-of-the-line products and complete customer service, choosing ProLine for your business is easy.
If you have any questions or are ready to get started with radiant heat for your business, call ProLine Radiant today at 866-676-9276.