ProLine Radiant Customers Share Their Thoughts
To all potential ProLine customers,
I am a landscape designer, located on the seacoast of New Hampshire. We get plenty of snow in the winter, and I truly believe that heated driveways and walkways are the next big thing for our area, as in some of the more dense residential areas there is often no place to put the snow. However, before recommending radiant heat to my clients, I needed to try it and live with it myself.
This fall, we installed ProLine heating cables in our driveway. So far we have had two storms, one mainly snow, and the other rain and ice. The driveway performed beautifully. During the snow storm, it melted the snow effortlessly. We had forgotten to put it on automatic so it was off during the first part of the storm. After realizing this, we turned the system on, but not before a couple of inches had already fallen, but it still managed to make up for lost time.
During the ice storm, the driveway was DRY, while everything else was covered in a skin of ice. Great success! I'm not much of a snow lover, but I'm actually looking forward to the next storm!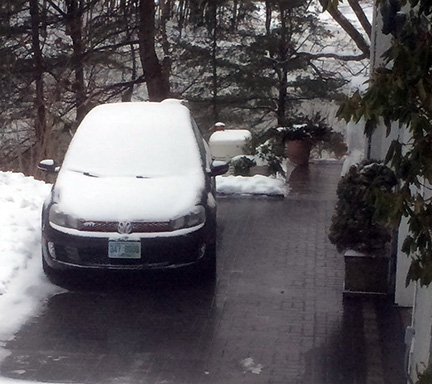 Although I am thus far completely sold on the product, the purpose of this letter is really to rave about ProLine's customer service and support. These days, good customer service is rare, and great customer service is almost nonexistent. ProLine's service is in the "great" category. For a new customer, with limited experience in outdoor heating, their technical support was crucial. Having a video web chat with Jim and looking at the schematic of the job before we began was one of the reasons for the success of the project. But the step-by-step instruction was only a part of the support that ProLine provided. Throughout the process they were always in touch. Larry, the account manager, was always there to answer questions, even when he was on vacation!
Brandon visited the site twice to answer questions and offer support, and Jim was always on the other end of the phone to talk to my electrician when it was necessary. They seemed to anticipate our needs and fulfill them before we even knew what they were ourselves.
In my years as a homeowner and landscape designer I have dealt with all sorts of people on all sorts of projects, and the service and support that we experienced from ProLine was among the best. It was a breath of fresh air, and I look forward to hopefully doing a lot of business with them in the future.
          – Wickie R., Owner of Drawing Room Ink
Learn more about ProLine Radiant's professional design/layout services and installation support, as well as ProLine's free installation training by calling a ProLine radiant heat expert today at 866.676.9276.