Industry Leading Pipe Trace Cable and System Design
ProLine Radiant is a trusted, leading provider of pipe trace solutions. Having designed systems that have been installed in large refineries and commercial facilities, as well as custom residential applications, ProLine's expertise is a valuable asset to professional builders seeking to provide reliable pipe trace solutions.
ProLine heat trace cable is designed for pipe freeze prevention as well as process temperature maintenance installations on either plastic or metal pipes, valves and tanks. The self-regulating heat cable is approved for hazardous and non-hazardous applications. The ease of installation and reliable performance have made ProLine pipe trace systems a popular choice for industrial and commercial applications.
The self-regulating characteristics of the heat cable means that it automatically varies its power output in response to pipe temperature changes. When the ambient temperature rises, the electrical resistance increases and the consumption of electricity decreases. This ensures energy-efficient operation. The cable will also not overheat or burnout – even when touching or overlapping.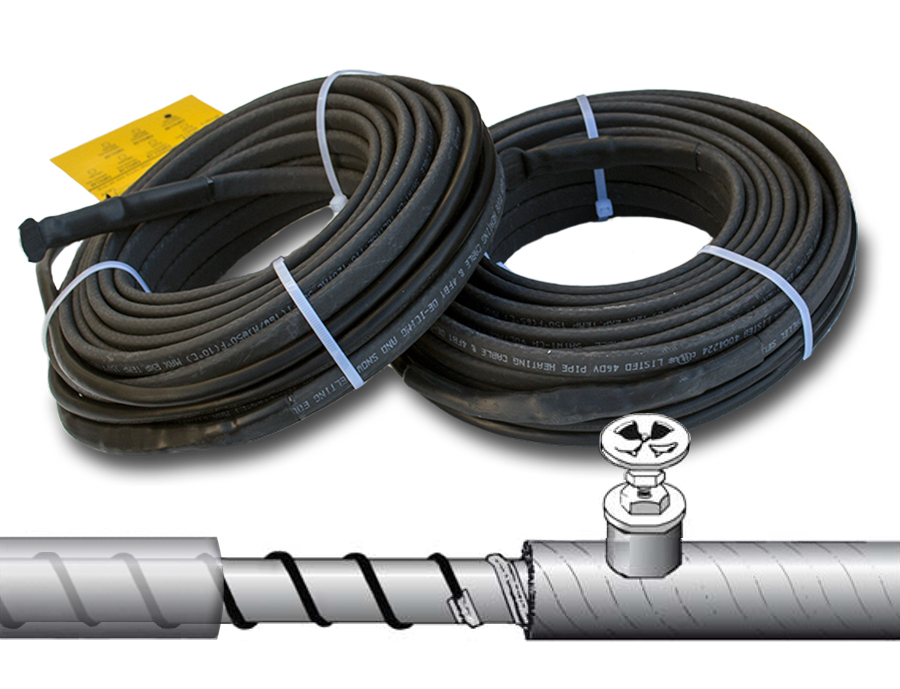 Because of the cable's self-regulating properties, a thermostat may not be necessary in some applications. With the optional outer jacket, the heating cable is resistant to watery and inorganic chemicals and protected against abrasion and impact damage. The versatile pipe trace cable is suitable for use in explosion-hazardous areas up to a maximally admissible work-place temperature of +149°F (65°C).
Heat Cable Features Include:
Energy Efficient Operation (Self-regulating Cable) – The self-regulating cable automatically varies its power output in response to the pipe temperature changes, resulting in energy efficient operation. When the ambient temperature rises, the electrical resistance of the cable increases, resulting in a decrease of electricity consumption.
Maintenance Free – ProLine pipe trace systems are virtually maintenance free.
Low Cost – Electric pipe tracing systems are more reliable and less costly to install and maintain than steam tracing systems.
Safe / Durable – The cable will not overheat or burn out, even if/when it is touching or overlapping.
Versatile – The cable is approved for use in non-hazardous, hazardous and corrosive environments. The design of the cable allows it to be used for plastic or metal pipe freeze protection as well as flow maintenance of pipes, tanks, and valves.
Easy Installation – The cable can be cut to any length required on site (up to maximum circuit length) so there's no wasted cable. And the termination, power connection, splice, tee, and end seal kit reduces installation time and requires no special skills or tools.
ProLine Heat Cable Options Include:
Tinned Copper Braid – Provides additional mechanical protection and a positive ground path.
Flame Retardant Outer Jacket – Protects against certain inorganic chemical solutions, abrasion and impact damage.
High Temperature Fluoropolymer Outer Jacket – Used in applications where there may be exposure to organic or corrosive solutions, or vapors may be present.
---
Industry Leading Roof Deicing Systems
ProLine is a Trusted Provider of Roof Deicing and Gutter Trace Solutions
ProLine offers roof deicing systems and heat cable for all types of roof heating and gutter trace applications, including new construction, remodeling and existing roofs. ProLine radiant heat experts can design a roof heating system for virtually any type of roof.
ProLine Radiant's low-voltage roof heating system has become the preferred solution for many professional roofers. These proven electric deicing systems can be discreetly installed under shingles as well as metal roofs to provide energy-efficient, maintenance-free roof heating.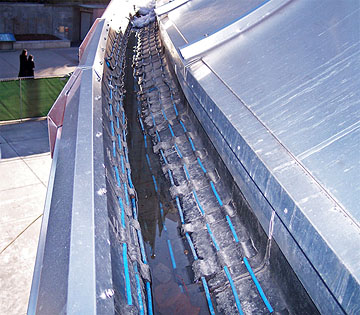 One of the most popular and affordable ways to protect roof edges and gutters is by installing ProLine self-regulating heat cable. This premier heat cable is installed to keep gutters and downspouts free of ice and facilitate runoff, helping to prevent any potential problems from heavy snow and ice buildup. Roof gutter trace systems are professionally designed by the experts at ProLine Radiant. ProLine also includes installation support for installers. So if your installer has any questions during the installation process, a radiant heat expert from ProLine will be on hand to assist with any issues. This helps to ensure that the system is installed correctly and that the customer is happy.
ProLine prides itself on not only offering superior products, but by offering unparalleled customer services, which include system design and technical support. ProLine also offers free installation training services as well, awarding installers with a certificate upon successfully completing the course. Installers who have completed the installation course(s) can then be referred by ProLine if a customer in their area is in need of a radiant heat installation.
ProLine gutter melt and roof heating systems are fully automated, but "plug-and-play" manually operated gutter melt systems are also available. However, it is highly recommended to utilize the automatic sensor and controller for a roof deicing system. These fully automated systems are much more efficient and operate only when needed. The snow sensor activates the system only when it detects precipitation and the temperature is below a set point (usually 39°F).
ProLine roof heating systems have been installed in cold regions throughout the country and are still the most effective and discreet solution for roof deicing and gutter melt. Contact ProLine today to learn more about your roof heating and gutter trace options at 866.676.9276.