Winter can pose some unique challenges for home and business owners. For businesses, the weather can often impact the bottom line, and is especially impactful to retail storefronts that are dependent on customers visiting their facilities. Keeping businesses that are reliant on physical foot traffic safe and inviting isn't always easy during the snow season.
While many businesses continue to rely on snow removal services, or tasking employees to clear sidewalks and parking areas of snow, more and more business owners are turning to reliable radiant heat systems to keep winters profitable.
Radiant snow melting systems are fully automated, so when a storm hits, the system activates to prevent the buildup of snow and ice. After the storm, the system remains on for a short time to dry the surface to eliminate surface water from refreezing into thin sheets of "black" ice. These electric systems are also maintenance free, so once the system is installed, business owners can focus on what they do best – without having to worry if the plowing service is on time or their employees are salting and keeping the walks clear throughout the day.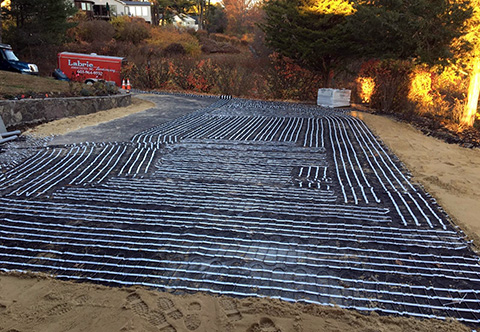 As the demand for radiant heat increases, installers are looking for providers that go the extra mile. In addition to offering top quality products and affordable pricing, contractors want to work with professionals that make their installations as seamless and easy as possible.
For many, ProLine Radiant has become the provider of choice – for both residential and commercial radiant heat installations. Why are so many professional builders turning to ProLine for their snow melting, roof de-icing, and floor heating needs? The reasons are simple: ProLine backs up their "best-in-class" products with industry-leading customer support services.
Unlike other wholesale providers, ProLine includes the most comprehensive customer support services in the industry. These services include free installation training, technical support, and custom system design. These valuable services help to allow contractors to focus on what they do best, while ProLine does much of the legwork to ensure a successful radiant heat installation.
Each ProLine radiant heat system is custom designed according to ASHRAE standards. ProLine's professional design staff works closely with the customer, the electrician, and installers to design a custom system to best meet each project's specific demands. The design team creates a detailed CAD drawing that includes the proper layout and materials, proper load calculations, breaker sizes, number of breakers, etc. The installer will know all the details and layout of the system prior to one foot of heat cable being installed.
In addition to the detailed custom layout of each system, ProLine also provides free installation training for installers. This important service helps to ensure that there are no surprises during the installation, and gives installers the confidence they need to properly install the system in a timely manner. The courses can be completed online via web conference, and the trainee can stop and ask the instructor questions at any time. The installation training is often referred to as the most valued service by construction professionals.
Despite the thorough training, installers still may encounter an unforeseen issue during the installation. If so, ProLine experts are available to call and talk with. We're happy to assist with any questions during the installation.
If you have customers who are considering radiant heat to warm their homes, keep driveways and walks clear of snow and ice, or to prevent roof ice dams, make it easy on yourself and contact a friendly ProLine representative. (Existing driveways can also be retrofitted with radiant heat.)
We strive to make radiant heat installations as easy as possible for professional builders. Our customer services are second to none, so we'll take care of the legwork so you're free to do what you do best. Contact a radiant heat professional today to learn more about ProLine's wholesale prices, free training, technical support or design services. Call today at 866-676-9276.