Installing radiant snow melting systems offers contractors another way to increase business. Industry-leading systems, backed by unmatched customer support services offer construction professionals a hassle-free way to get in on the booming popularity of radiant heat. As home and business owners all over the country seek radiant heat solutions each year, increasing numbers of installation opportunities in available to contractors.
In keeping with its goal of being the number one provider of radiant heat solutions for contractors, ProLine combines wholesale pricing with customer-friendly services such as free installation training, technical support, and comprehensive system design. With industry-leading products and services like these, ProLine stands alone as the ideal partner for professional builders.
ProLine's automated snow melting systems operate seamlessly to provide snow and ice removal from driveways, walkways, steps, and more. Radiant snow-melting systems consist of three components; heat cable, a snow sensor (activation device), and system controller. For concrete installations, the heat cable (also available pre-spaced in mats) is laid out and fastened to the remesh with zip ties. (Mesh-Up plastic supports are used to keep the remesh elevated so that the heat cable remains about 2-inches from the finished surface.) Concrete is then poured directly over the heating cable. ProLine's snow melting systems can also be installed in asphalt and under pavers.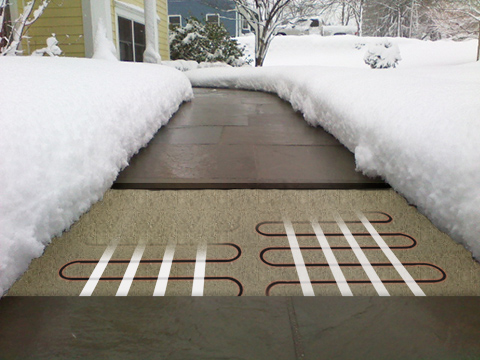 The automated system is activated by an aerial or in-ground-mount sensor and connected to a compact controller, which is usually installed on a wall in the garage. The sensor detects weather conditions, so when the temperature is below a certain point and precipitation is detected, a signal is sent to the control panel and power is then sent to the embedded heating cable.
ProLine's rugged heat cable will then efficiently and evenly heat the surface to prevent any snow or ice from accumulating. When installing the sensor, be sure it is exposed to the elements so that it will detect falling snow. Any obstructions may prevent the sensor from detecting snow, and thereby affect the performance of the system. Most systems utilize an advanced aerial-mount sensor. This WS-2C sensor is a top choice for residential heated driveways, sidewalks, ramps, and other pavement applications.
The WS-2C has a NEMA 3R enclosure that is rated for outdoor use and features a removable front panel to access the electronics. This panel allows the sensor to be easily configured and adjusted to ensure efficient operation. The WS-5C features the same advanced technology as the WS-2C but is designed for heating multiple zones. ("Zoning" is used to heat large areas with limited power. Sections, or zones, are heated separately. The WS-5C "bounces" the power to the different sections, effectively heating the larger area without having to bring in additional power.)
Both the WS-2C and WS-5C sensors feature a universal power supply and sensitivity control. The sensitivity control allows the sensor to be programmed for specific conditions, while the universal power supply allows the sensor to select the input voltage.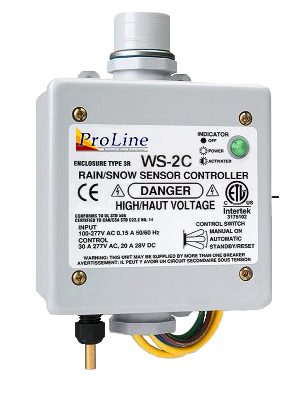 Another great option for large or commercial areas is a pavement-mounted snow sensor. This industry-leading sensor also monitors conditions to provide efficient snow melting. The sensor has an advanced mounting system that accurately aligns it with the pavement surface. This rugged piece of equipment will function accurately and efficiently no matter the conditions. An automatic snow melting system from ProLine helps to ensure that any area will be clear of snow and ice during the winter months.
ProLine snow-melting systems are trusted by professional builders throughout Northern America. The systems can benefit any customer, whether residential or commercial. For residential customers, driveways and sidewalks are the most common installations. ProLine snow melting systems are easy to customize, so customers have a wide range of options. The systems can be designed to heat entire areas, small trouble spots, or two 24-inch wide tire tracks. Whatever needs a customer has, ProLine has the products and expertise to help you meet their needs.
Automated snow melting systems are especially ideal for business owners. Heating steps, sidewalks, and driveways is a great way to avoid potential injuries and costly litigation. Snow melting systems in loading docks, entryways and parking aprons can also prevent employee injuries and keep businesses running smoothly throughout the cold winter. Keeping ramps clear during the winter is essential for business owners, and automated snow melting systems provide the ideal, 'round-the-clock solution. For other non-traditional uses, radiant heat systems are installed in airport aprons, runaway truck ramps, steps, and more. Whatever ideas your customer has, a versatile ProLine snow-melting system can fulfill their needs.
ProLine radiant heat experts are available anytime and will design each system according to the needs and budget of your customers. Power requirements, specs, and all other details are provided to assure installation goes smoothly. ProLine offers complete customer service. A professional will help you identify any challenges that may come with your installation and identify the products that will best suit each job. You will also have expert technical support during the installation process. ProLine also offers free installation training online or in person. These courses are generally completed in less than an hour, but you can take as long as you need and ask the instructors questions at any time. Call a ProLine expert today to learn more, at 866-676-9276.