Working with construction professionals throughout the country, ProLine Radiant strives to offer contractors the most trusted and technologically advanced products available. In keeping with this commitment, ProLine has added the new Wi-Fi Snow Melting System Controller to its vast product offering.
The principle advantage of the Wi-Fi Snow Melting System Control Unit is its Wi-Fi functionality. The Wi-Fi capability allows the controller to communicate the status of the system to the user, who can choose how they would like the system to proceed.
For example, if the system is activated, it sends a notification to an app on the user's phone. The user can then choose to ignore it and allow the system to run, or turn it off if desired. The controller will also send you a notification if a problem with the system's activation device is detected. ProLine adds convenience and efficiency with the innovative Wi-Fi snow melting system controller.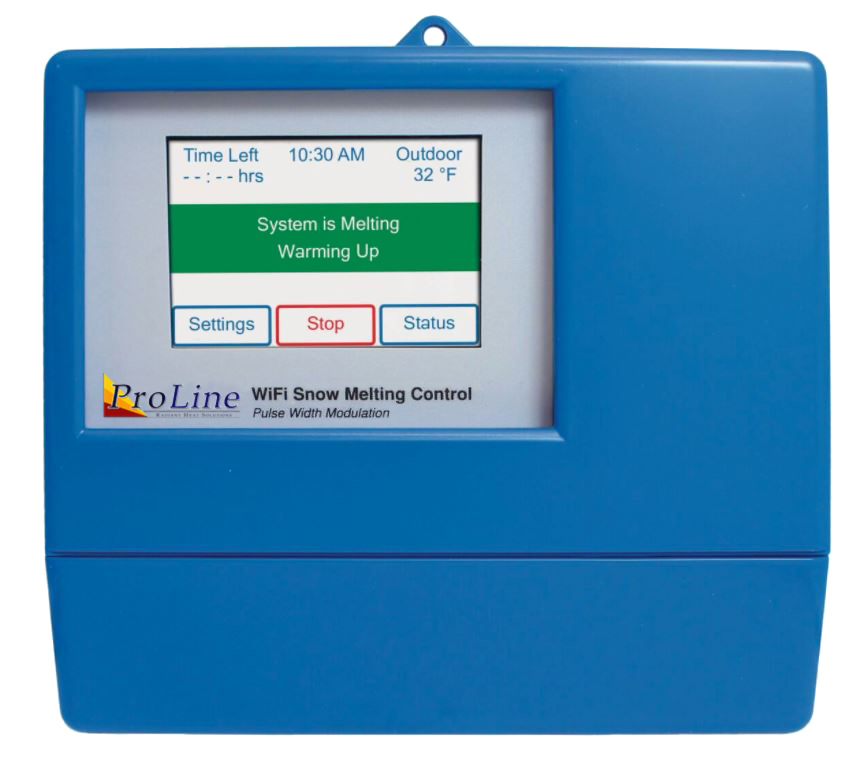 The Wi-Fi snow melting system controller works with an aerial-mount or in-ground snow sensor to automatically detect snow or ice and activate the system to prevent any snow from accumulating. The unit is compact and can be easily installed on a wall in the garage or utility room.
Wi-Fi Control Unit Features:
Automatic snow/ice detection
Operates hydronic or electric on/off systems
Supports multiple zones with priority
Compatible with both in-slab and retrofit aerial sensors
Tandem snow/ice detection
Warm weather shut down
Cold weather cut off
Idling and manual storm for quick response
Automatic software updates
EconoMelt function
ProLine radiant snow melting systems are fully automated, so they operate only when needed to efficiently prevent snow and ice from accumulating on walks, parking areas, driveways, steps and more. The automated systems include an advanced in-ground or aerial-mount snow sensor (activation device) that detects temperature and precipitation. When weather conditions warrant, the system activates, preventing snow and ice from accumulating. ProLine electric snow melting systems are also maintenance free, and can be installed in a variety of mediums, including concrete, brick and stone pavers, and hot asphalt. The versatile snowmelt systems are commonly installed in a wide range of residential as well as commercial snow removal applications.
ProLine offers a wide variety of radiant heat solutions, including snow melting, floor heating, roof de-icing, and pipe trace systems. For more information about ProLine products and industry-leading customer services, call a friendly representative today, at 866-676-9276.