Don't get Mired in the Tar Pit of Stagnant Business
Because We Care
STEP 1: Mark Twain once said, "Denial ain't just a river in Egypt."  Avoid the waters of "denial" and recognize that there may be a problem in maintaining the status quo. Acknowledge the positive that can be achieved by changing simple behaviors to increase your earning potential. Accept that there may be additional options available for you to achieve your financial goals. Stop denying yourself opportunities for growth.
STEP 2: Forgive yourself and let go of missed business opportunities. Understand that you are not a bad construction professional. Look to the future with optimism.
STEP 3: Accept radiant heat into your life and bask in its warmth. Envision the benefits―such as increased profits―of snow melting system installations.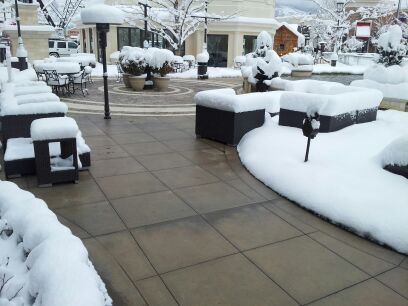 STEP 4: Recognize that you can enhance your services and build your business without investing additional capital.
STEP 5: Commit yourself to include a snow melting option on all of your future bids.
STEP 6: Understand that you are not alone and that professionals are on hand to support you. Take the unnecessary weight off your shoulders by accepting that you don't have to be a snow melting system expert. Be positive and embrace the peace of mind that comes from knowing there are radiant heat professionals who are eager to assist you and provide you with all the tools you need to succeed.
STEP 7: Accept new friends and envision the potential benefits of offering radiant heat. Picture a future of sustained growth alongside a dedicated team of professionals who work with you to assist with all the aspects of a snowmelt system installation and ensure your success. You will be empowered by a wealth of resources to install heated driveways, heated floors, roof deicing systems and more. Rest assured that ProLine will work tirelessly with you and take care of the legwork associated with radiant heat installations.
STEP 8: Believe in yourself. Build confidence by consulting freely with snow melting system professionals and completing the free installation training with ProLine Radiant. Use the tools available to boost your confidence and gain faith in your abilities.
STEP 9: Thoughtfully watch the informative "how-to" videos online, and ponder the greater good that can result from gaining wisdom over your competitors.
STEP 10: Understand that your competitors are not evil – just ignorant. Focus on your own brilliance rather than the demise of the competition.
STEP 11: Always seek enlightenment through ProLine's free services, including consulting, quotes, system design, installation training, and technical support. Use the resources that are available to you.
STEP 12: Share the enlightening message of the 12 Steps with your employees/coworkers and encourage them take the free training courses to ensure a brighter future for you and your company.
Remember, the road to success is always under construction, but finding ways to keep moving forward is the key. This not only keeps you from being run over, but elevates you over your competition. And remember, the professionals at ProLine stand ready and eager to help you succeed – because we care.