Hydronic and Electric Radiant Heat
There are two general radiant heat technologies: electric and hydronic. Both hydronic and electric snowmelt systems are effective and highly efficient radiant heat solutions that can be used for indoor and outdoor applications. ProLine offers both types of radiant heat technologies.
Hydronic systems work by using a water heater (boiler) to heat a mixture of water and propylene glycol (anti-freeze) which is then circulated through a network of polymer pex tubing by a series of pumps. (Hydronic radiant heat systems require a "mechanical room" to house the water heater (boiler) as well as a series of pumps and valves.) The closed loop of flexible PEX tubing can be embedded in most mediums, including concrete, asphalt, and brick pavers, etc.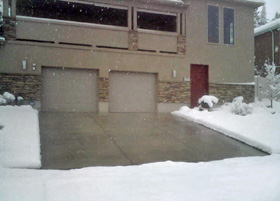 ProLine Radiant's hydronic systems feature efficient condensing boilers with an Energy Star Rating as well as industry leading pumps, valves and tubing. Because the condensing boiler (water heater) can be powered by any energy source, including natural gas, electricity, oil, wood, or even solar collectors, the operating costs of a large hydronic system can be lower than its electric counterpart.
However, the installation costs of an electric radiant heat system are considerably lower because the process is much less complicated – and there is no need for a dedicated "mechanical room". ProLine electric snowmelt systems can also be installed in hot asphalt, as well as in concrete, mortar beds, and paver applications.
Electric radiant snow melting systems feature rapid response times and are extremely efficient. Another advantage of electric systems is that they have no moving parts and are maintenance free. The only evidence of having an electric snowmelt system installed is the snow sensor, marker plate, and a small control unit, which is usually installed on a wall in the garage.
In addition to easier, more affordable installations, ProLine electric snow melting systems are also very easy to customize. These systems can easily be configured to meet the budget and snowmelt needs of a business or homeowner. Entire areas can be heated as well as narrow strips or tire tracks. ProLine's experienced designers can design a radiant heat system to meet your specific needs.
Both systems are fully automated and use an activation device (in-pavement or aerial-mount snow sensor) to activate the system when needed. When temperatures dip below a set point (usually 39°F) and precipitation is detected, the sensor signals the master control unit. The controller then sends power to the embedded heating element to warm the area.
ProLine Radiant also includes professional design/layout services and installation support with each system. And installers can also take advantage of ProLine's free installation training. Contact a ProLine representative today to learn more about your radiant heating options.
---
FoilHeat Floor Heating Systems
Heating Carpet and Other Flooring
ProLine's FoilHeat floor heating systems have proven to be an ideal solution for heating carpeted and laminate flooring. Featuring a durable heat-conducting aluminum material construction, FoilHeat radiant heating mats distribute heat quickly and evenly. Virtually no energy is wasted, making FoilHeat a great alternative to baseboard and forced air, or other conventional heating systems
Featuring a durable heat-conducting aluminum material construction, FoilHeat radiant heating mats distribute heat quickly and evenly. Virtually no energy is wasted, making FoilHeat a great alternative to baseboard and forced air, or other conventional heating systems.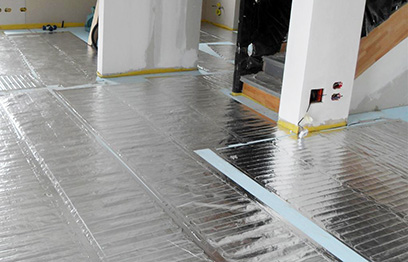 Floors that rest on concrete slabs can be especially cold during the winter months. And regardless of much you turn up the thermostat, it seems that little can be done to remedy the condition of cold floors and feet. Warm air being blown through vents quickly rises to the ceiling, and is not an efficient heating method. Unlike forced air systems, radiant floor heating is an extremely efficient means of warming homes and offices.
One of the most efficient radiant heating systems is the ProLine FoilHeat radiant floor heating mat. The FoilHeat cut-and-turn floor heating mat is a unique electric radiant floor heating system that is designed for use under carpet, laminate, engineered wood and other floating floors. The thin floor heating mats can be cut and shaped on site to meet the specific requirements of the project. The efficient floor heating system is ideal for heating any size or shape room, from basements to bedrooms, offices, etc.
The efficient FoilHeat system is made with fluoropolymer insulated heating cables that are sandwiched between two layers of specially reinforced aluminum foil. The uniform spacing of the heating elements, further backed by the aluminum foil, ensures even heat distribution. The heating element is connected to a power-supply cable, which exits the laminate mat from one corner. The power lead is a flat thin two core flexible cord, consisting of two insulated conductors with a metal sheath and an outer sheath. Depending on your heating requirement, FoilHeat is available in nominal heat outputs of 80 W/m² and 140 W/m² at 230 V. It is available in predetermined lengths with cold tail – prefabricated and tested in a carefully controlled factory environment.
Features and Benefits
Easy "roll out" installation
Installs between the insulation pad and the floor
Virtually no floor buildup with grounded flat aluminum. No thin-set is required.
Completely grounded and safe.
Aluminum construction distributes heat quickly and evenly.
Watertight, even to steam-clean carpets.
12W/sq. ft. or 41 BTUs/sq. ft.
UL-approved
5-year manufacturer warranty
For more information about ProLine Radiant and its products and services, call 866.676.9276 today.