Technology continues to change our world on a daily basis. Some new technologies are being fine tuned to accommodate our needs while others have already established themselves as winners that have won their way into our daily lives. One such refined technology that continues to be adopted across the globe is radiant heat.
Radiant floor heating systems offer the most efficient means for heating homes today. Another popular application for radiant heat is for exterior snow melting applications. Heated driveways and roof de-icing systems are becoming commonplace now.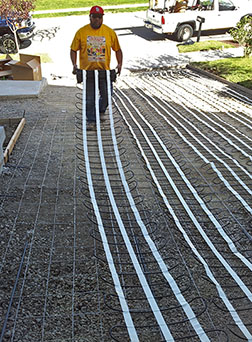 Snow Melting Systems
Maintenance Free and Fully Automated
The advanced technology and components of radiant heat make it a popular addition to new home construction projects. Radiant heated driveways are fully automated, maintenance free, versatile, and reliable. And homeowners have a variety of custom options that are available.
ProLine's electric driveway heating systems are easily tailored to meet your customers' specific requirements. Whether you're faced with unique layout issues or your customer's budget constraints, ProLine can make radiant heat a reality by working with you to custom design the system that best meets the project demands. Some typical heated driveway installations include the following configurations:
Heat the entire driveway – Sometimes there is nothing quite like having the entire driveway surface clear and dry after a snowstorm.
Heat two tire tracks – One option to save homeowners some installation costs as well as operational costs is to design and install two 24-inch wide heated tracks. This is an especially popular solution for homeowners with long driveways and / or limited available power.
Heat an 8-foot wide strip in the middle of the driveway – Another more affordable option is to only heat the middle area, typically an 8-foot wide strip up the middle of the driveway.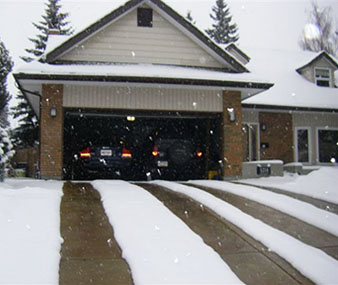 Heat custom areas – For budget minded customers, heating only small sections of the driveway may be an option. For example, only install radiant heat in the driveway where it inclines, or is always shaded. This is especially convenient for driveways that descend to a busy road.
ProLine Radiant – Created for Professional Builders
ProLine Radiant was created to provide professional builders with affordable, premium quality radiant heat systems, backed by unprecedented customer support services. We understand what it takes for contractors to succeed in the competitive world of construction. ProLine makes the process of installing radiant heat systems easy for contractors. We take care of the legwork and details of the system design so you can focus on what you do best.
Support Services
ProLine Radiant provides FREE installation training. This is an invaluable service for contractors, and not only helps to speed up the installation process, but can help to ensure that the system is installed correctly. The training is available online via web conference, and is typically completed in less than an hour.
Even though installers receive training for their installation, sometimes unforeseen conditions can be present, and installers may have questions. That's why ProLine has a dedicated staff of support personnel who stand ready to field any calls from installers. We'll help you in any way we can to resolve the matter at hand.
ProLine also includes detailed system design and layout services. Installers will have the precise layout of the system as well as all of the technical and electrical information, including, the proper layout of the heating element and system components, proper load calculations, breaker sizes, number of breakers, etc. ProLine layouts serve as the road map for installers and electricians.
The professional system design, training, and support services help to make it easier for contractors to offer radiant heat solutions to their customers. We are committed to standing by our customers, and assisting when and where we can. ProLine systems feature the most proven and trusted products on the market, all backed by dedicated service professionals.
For more details about radiant heated driveways, floor heating systems, roof de-icing solutions, or pipe trace systems, call a friendly radiant heat expert at ProLine today, at 866-676-9276. You won't find a better partner for your radiant heat installations.