Snow Removal Ordinances Continue to Sweep Across Nation
With all of the snow removal ordinances that have been passed in recent years, the increased demand for radiant heat snow melting solutions can be a boon for your business. If homeowners fail to clear snow from driveways and walkways in a timely fashion they run the risk of being fined – not to mention the liability issues associated with slips and falls. Investing in a radiant snow melting system can protect your customers from financial and physical harm – as well as increase their property value.
With the conditions brought on by the polar vortex last year, many had to shovel their driveways two or even three times per day to keep up. To keep driveways clear, constant shoveling, snow blowing or plowing was often followed by considerable snow melting chemical and salt usage. In periods of slower accumulation, some homeowners relied on the heavy application of salt and/or chemicals to remove the snow. While this method of snow removal seems reasonable, it's often inconsistent, time consuming, and over the long winter, quite costly.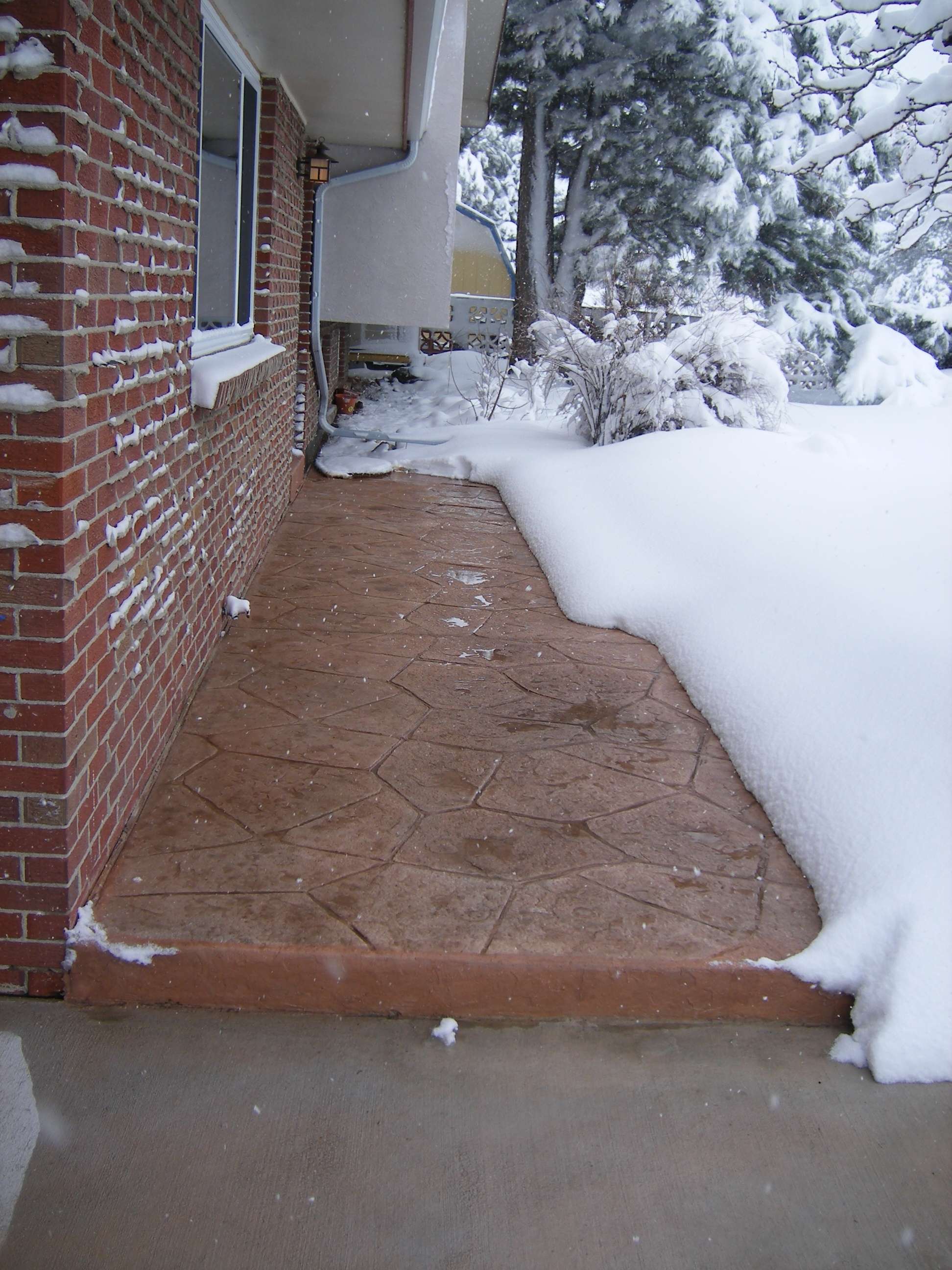 Radiant heated driveways and walkways make snow removal instantaneous, so the benefits for your customers are numerous:
No more shoveling – This is pretty much a no-brainer. If your customers use an automated system to heat their driveways, they can expect to be greeted by clear, dry pavement the minute they step out the door.
Enhanced safety and no risk of fines or lawsuits – Building on the previous point, a real benefit of having radiant heat is that by keeping pavement clear and free of snow before, during and after a storm, the risk of accumulation resulting in ordinance violations and slip and falls is eliminated.
Fully automated – Regardless of the time of the storm, there's no need to get up early or shovel late at night. The driveway heats only when needed, keeping it clear 'round the clock.
No more snow melting chemicals or salt – Shoveling, snow blowing or even plowing requires salting. Without it, blowing snow and variations in temperature can cause cleared areas to ice over. Achieving this requires a lot of salt or snowmelt chemicals, which can be costly for the environment and for families on a budget.
Maintenance free – Electric heated driveways have no moving parts and are maintenance free.
Are you new to the radiant heat game? Intimidated by the installation process? You'll get the design and installation support you need at ProLine Radiant from professionals with years of purchasing and installation experience. After receiving the project specs from you, ProLine Radiant can provide you with a detailed layout of the custom designed system. And these systems can be customized to meet your customers' budgets as well. You'll come out of each consultation with a logistical understanding of any given project from start to finish. In addition to ProLine's expert installation support team, you also have access to free installation training courses. You simply won't find a better, more thorough partner to work with when it comes to installing radiant heat. ProLine Radiant will be at your side from beginning to end.
ProLine also maintains an extensive library of radiant heat documents online. The website includes installation manuals, technical guides, informative articles, illustrations and more. Another great benefit of working with ProLine Radiant is the variety of product offerings available. You can purchase snow melting cable right off of the spool or pre-spaced in mats for easy "roll out" installation. ProLine Radiant's snow melting cable is among the industry's best, and a favorite, trusted snowmelt solution for professional builders.
Of course there's more. Give ProLine a call at 866.676.9276 to find out how you can tap into the demand for radiant snow melting systems and protect your customers from fines and lawsuits too.
---
Enhanced Self-Regulating Roof Heating Cable
ProLine Radiant's Enhanced Gutter Melt Heating Cable Designed with the Installer in Mind
Snow melting installations for roof gutters and downspouts can be tricky. You need a cable that's durable, lightweight and easy to work with when you're installing a roof deicing / gutter melt system. The new enhancements of ProLine Radiant's self-regulating cable for gutters and downspouts were created especially with the installer in mind. ProLine fans take heart—these design changes haven't compromised the performance of the ProLine's industry-leading radiant heat cable. In fact, they've improved its overall effectiveness and efficiency.
Whenever you take on radiant heat installation at the roofline you're often presented with unique challenges. Every customer's roof is configured in unique ways, often involving tight corners and hard to reach places that can make laying cable tough. To meet these conditions, installers have come to us with requests for cable that's more flexible for changes in direction on the roof and in tight places. ProLine Radiant's new self-regulating cable is designed to help you work through these issues to allow you to confidently deliver a radiant snow melting solution that's just right for your customer.
ProLine snow melting cable is one of the most recommended solutions available to keep roof gutters and downspouts clear during the winter months. Valued for its effective, efficient removal of snow and ice, the cable is UL recognized under the Appliance Wire Classification (file E 76498) and meets the requirements of the NEC (National Electric Code) Section 246, for safe, confident installation and use.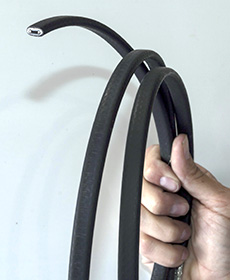 The self-regulating cable features an irradiated, conductive core that increases the heat output as outside temperatures fall, and decreases output as temperatures rise to efficiently and effectively melt snow and ice. A rugged, durable – yet more flexible – outer construction ensures the cable functions safely through years and years of stinging cold winter days. This unique design makes it long lasting, safe and extremely energy efficient. When paired up with a new ProLine activation device, your customers will benefit from faster automated response times to precipitation events that lead to unwanted ice damming and roof damage.
Outstanding performance and greater cable flexibility allows ProLine Radiant roof heating systems to be customized to accommodate just about any roof type and configuration. ProLine's roof and gutter heating cable can also be combined with other recommended roof deicing systems to discover and create a unique solution for your customers. It's the type of flexibility that gives you the freedom to confidently raise your hand for that next big roof heating system installation.
Remember, radiant roof and gutter heating and deicing systems are extremely effective in preventing damage caused by heavy snow and ice that can build up on roofs. Unchecked, these snow events lead to water damage, and destruction of gutters and downspouts. So, when it's time to sell the virtues of installing a radiant roof and gutter heating and deicing system, be sure to sell your customers on the benefits of using ProLine Radiant's enhanced heating cable for the job.
Need more information? Contact ProLine Radiant at 866.676.9276 to find out more about our new radiant heat and roof gutter cable.