Offer Some Floor Heating Options to Your Customers
Parched from years of drought, the Western States have welcomed the steady flow of precipitation from atmospheric rivers this year. While it hasn't been fun for commuters, the dousing brought by the Winter of 2022-23 has been a much-needed blessing. Reservoirs in California are finally reaching respectable levels, and more storms are still lining up off the coast, waiting for their turn to slide across the country.
The conditions outside may be less than inviting, but the comfort of a radiant heated home provides a wonderful vantage point to appreciate the snow and rain. As homeowners become more conscious of their carbon footprint, and energy efficient heating, the popularity of radiant continues to boom.
ProLine Radiant is well known for its trusted snow melting systems, roof de-icing systems, and pipe trace solutions. But did you know that ProLine also offers a wide variety of floor heating systems? Radiant heated floors offer the most efficient heating technology on the market today. With electric floor heating systems, virtually no energy wasted.
ProLine's foremost radiant floor heating system features thin heat-resistance cable, available on spools or pre-spaced in mats. The heating system is ideal for installation under tile, marble, stone, vinyl tile, and a variety of other floor types. The heat-resistance cable is durable, and only about 1/8-inch in diameter, so there is minimal floor buildup.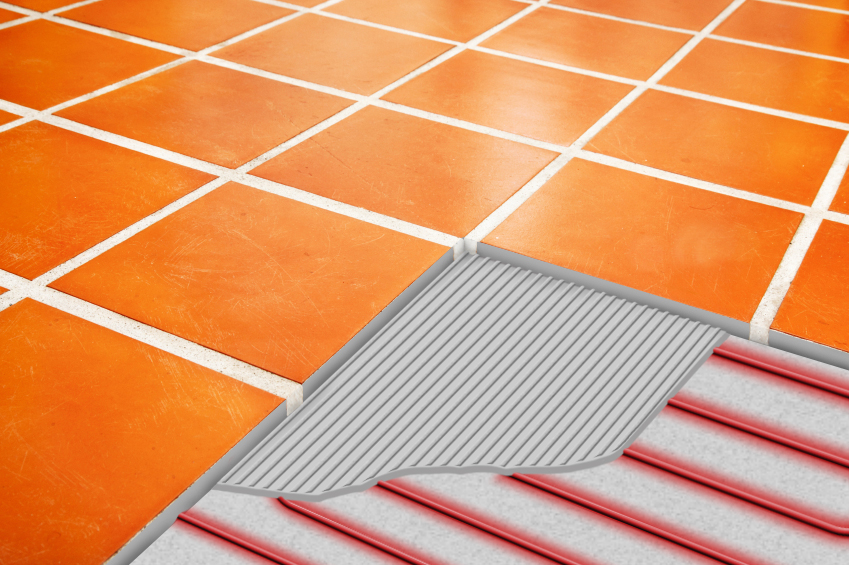 ProLine's TileHeat cable can also be combined with a waterproof underlayment membrane. The flexible membrane features reliefs that provide channels for the heat cable, granting installers with an easy and accurate way to install the heat cable. The membrane is placed over the subfloor, and the heat cable is installed in the channels. This system can be used with most types of flooring, in all types of indoor and outdoor applications.
ProLine also offers the industry's preeminent radiant heat system for heating floating floors. This floor heating system consists of ultra-thin "film" heating panels that are thinner than a credit card (just 0.016-inch thick), resulting in no floor buildup. The heating panel is rolled out directly on top of an underlayment, and the floating floor is then installed over the heating element. No alarms, no special tools, and no self-leveling compounds are needed.
Another type of "film" heating is available to heat existing floors. The thin heating panels are stapled up between the floors joists, and batt insulation is then installed over the element to direct all of the heat up to the floor. This is an affordable option for heating floors without undertaking any major remodeling. However, to use this system, one must be able to access the floor, either through a crawl space or basement.
ProLine offers a variety of other floor heating systems as well, and each system can be customized to meet the specific needs of the customer. Any time you work with ProLine, you'll also be able to take advantage of ProLine's industry-leading customer services.
Unlike other wholesale providers of radiant heat solutions, ProLine includes some of the industry's best customer support services. These services include free installation training, professional system design services, and real time technical support.
ProLine installation training is available via video conference. The instructor will cover all aspects of your installation, and answer any questions you may have. Typically, the course is completed in under an hour, but the instructor will take whatever time is needed, depending on the installer(s). A certificate of completion is sent to those who complete the course.
Professional system design is crucial for installing radiant heat systems. ProLine's design team takes all factors into account to design the system that best meets the specific needs of the customer, including their budget. The system layout/design includes the proper layout of the heating elements, sensor(s), and thermostats, and all relevant electrical information.
Radiant heated floors provide the most efficient heating option today. In addition to offering luxurious warmth, there is virtually no wasted energy with radiant floor heating systems. The systems offer clean, silent operation, that also results in a healthier living environment. Because the systems do not use a blower and vents, dust and other allergens are not stirred up to circulate around the house. This is especially advantageous for homes with small children or the elderly, as well as those suffering from allergies.
For more details about radiant floor heating systems from ProLine, or snow melting systems, call a friendly ProLine representative today, at 866-676-9276.