Radiant roof heating is always a good option for businesses to invest in, especially when it can save them from costly damage and hazardous conditions. ProLine Radiant offers trusted, industry leading roof de-icing systems that are proven and easy to install. Providing roof de-icing installation for your customers is a strategy that can put you ahead of your competitors.
Some of the most dangerous winter hazards a roof heating system can protect home and business owners from are ice dams and ice buildup in gutters and downspouts. Heavy ice buildup not only can damage your gutters, but cause icicles that can drip and create icy walking surfaces that can be hazardous to pedestrians. A roof heating system like ProLine's self-regulating heat cable is an affordable, hassle-free way to prevent this buildup. The systems are reliable and maintenance free, and fully automated.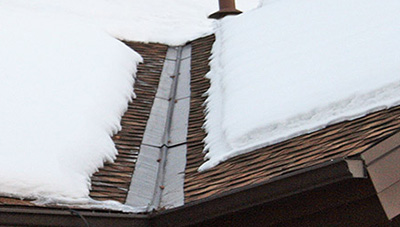 ProLine's self regulating heat cable has an irradiated conductive core that is housed in a UV stabilized flexible thermoplastic elastomer jacket. This jacket protects the core and makes it safe for wet conditions, and protects it from sun exposure. The conductive core allows this cable to adjust its output according to the weather conditions. Because it is self-regulating it will not overheat, even if the cable touches or overlaps. As the outside temperature drops, the heat output will rise, assuring all ice and snow will be clear from the heated area.
Self-regulating de-icing system is activated by a contactor panel that sends power to the cable when the snow sensor detects the appropriate conditions. This heat cable can be installed in most places on your roof, but is particularly useful in gutters, valleys, and downspouts, and is also commonly used in pipe tracing applications. ProLine's self-regulating cable is a safe, reliable, and affordable investment for any contractor looking to provide roof heating options for their customers.
ProLine's self regulated heat cable is also found in another great industry leading roof de-icing product – roof heating panels. These attractive panels are carefully engineered with aluminum to be extremely energy efficient. Self-regulating heat cable is channeled through the panels to provide home or business owners with an aesthetically pleasing, energy efficient solution.
ProLine's roof heating panels also work in tandem with a contactor panel and an activation device. These panels are great for heating areas such as roof valleys, or along roof eaves where ice dams often form. Ice dams prevent runoff, and can cause damage to entire roofs that may lead to leakage into the home where mold and mildew can form.  Roof heating panels are an ideal choice for heating the eaves of residential structures to keep them snow and ice free. ProLine's offers a wide selection of panels, ranging from 4 or 6 inch roof valley heating panels to 48-inch panels for roof eaves. The roof heating panel system is extremely efficient and will prevent any ice dams or other water damage by keeping areas free of snow and ice. Roof heating panels are a versatile, attractive way to prevent ice buildup on residential and commercial roofs.
Perhaps the most popular and highly recommend roof de-icing system is ProLine's low-voltage system. The low-voltage roof heating solution features a thin, semi-conductive, self-regulating, polymer heating element that comes in rolls and is available in different widths. This element is polypropylene fused during its fabrication, to make sure it is water proof and protected from alkaline or salt damage. It can be cut on site and nailed or stapled through, making installation quick and easy. This system also includes an activation device that will efficiently activate the system when the conditions are right. An aerial-mount snow sensor or the STEP Touch thermostat can be used. With ProLine's low-voltage heating solution, each transformer controls a specific section of the roof heating system, and steps down high-voltage to low-voltage (60 V or less).
When working with ProLine roof de-icing systems, there are options for every customer. Any of ProLine's roof de-icing systems can be used together to create a completely individual system that will fit the specific needs of each customer. Whether your customer wants the whole roof heated, or simply wants to protect problem areas, ProLine's roof de-icing systems will get the job done. Roof de-icing systems are also a great solution to offer customers in the summer to ensure they are prepared for the cold winter ahead. Add roof heat installation to your service offerings and build up your bottom line.
If you have any questions, or are ready to learn more about ProLine's roof de-icing options for your business, contact a ProLine professional at 866.676.9276.