When it comes to money well spent, few purchases offer the return provided by installing a heat trace system. By making a small investment, in either a roof de-icing or pipe tracing system, customers can avoid potential disasters, such as damaged roofs or broken pipes – both of which can lead to costly water damage. ProLine offers wholesale pricing and custom design for state-of-the-art heat trace systems. With decades of experience, customers can be assured of being matched with the system that will best meet their specific needs.
As a premier wholesale provider of trusted radiant heat solutions, ProLine has been designing roof de-icing and pipe trace systems for a wide range of customers over the years. Projects range from large commercial and industrial facilities to custom residential installations. Regardless of your heat trace needs, ProLine has the products, personnel, and expertise to fulfill your needs.
Roof De-icing
Some of the most common roof problems during the winter months are large (and falling) icicles and damage caused by ice dams. The most affordable preventive strategy to combat these challenges is to install heat trace cable. Self-regulating heat cable can be installed in "V" patterns along the roof edge to help break up ice dams and provide channels for the runoff. Running the heat tape along the roof eaves and gutters is an effective way to protect the roof, as well as the pedestrian traffic below. If you're looking for affordable, yet effective ways to eliminate ice from trouble spots on the roof, or in gutters, ProLine's self-regulating heat cable is the ideal solution.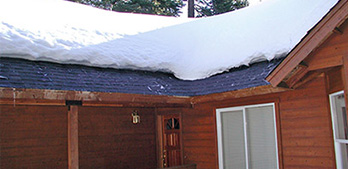 To completely remove snow from the roof edges, ProLine also offers an innovative low-voltage roof de-icing system. The low-voltage RoofHeat STEP® system features thin (3/64 inch), semi-conductive polymer heating panels, in a variety of widths. The heating element can be cut onsite and nailed or staple through, making installation quick and easy for any size project.
The lightweight (.23 lbs per foot) heating element is polypropylene fused during construction, so it's protected from water, alkaline, and salt damage. This versatile roof de-icing system can be installed discreetly under various types of shake and asphalt roof shingles, as well as metal roofs. This system is typically installed along the entire roof eave to keep edges completely free of snow and ice. The heating panels are also commonly installed in roof valleys to facilitate runoff.
The low-voltage STEP heating element is also self-regulating, further adding to the efficiency of the system. When the ambient temperature rises, the electrical resistance increases, resulting in a decrease in the consumption of electricity. This prevents the element from overheating and ensures energy-efficient operation. Transformers power specific sections of the roof, "stepping down" high-voltage to low-voltage (60 volts or less), while monitoring the power output to the heating element to assure optimal performance. The heating elements are available in widths of in 3, 6, 9, or 12 inches.
ProLine roof heating system designers are skilled professionals with years of experience designing systems for all types of roof de-icing applications and clients. ProLine roof heating systems can be easily tailored to meet the customer's specific needs – and budget. ProLine also provides free installation training for installers, as well as technical installation support. As a wholesale provider of radiant heat solutions, ProLine's customer support services are second to none. We make the process of installing roof de-icing systems easy for contractors and building professionals.
Pipe Tracing
ProLine is also fast becoming a favorite among contractors looking for large pipe tracing solutions. For customers searching for freeze prevention, ProLine offers some of the best systems in the industry.
For years, ProLine has been providing pipe freeze protection systems for a variety of customers, especially those in the industrial and oilfield applications. ProLine's self-regulating heat trace cable has become the favorite among commercial and industrial customers, and is the most recommended solution for protecting pipes during freezing weather. The parallel circuit cable provides one of the most trusted heat trace products available today. The cable has a service voltage of 110-120 V, 208-277 V, and carries a 10-year warranty. The heating cable approvals include: cULus, hazardous, CSA, ATEX, and IECEx.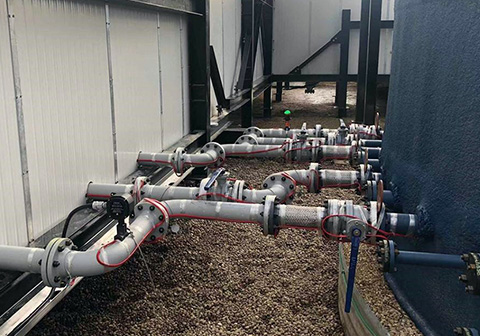 Like the roof de-icing heat cable, the pipe trace cable is also self-regulating, so it adjusts resistance according to ambient temperatures along the length of the pipe. When the temperature rises, electrical resistance increases, thereby decreasing the energy use. The self-regulating properties enhance the cable's efficiency and safety as it operates. Additionally, self-regulating heat cable does not burnout or overheat, even when it is touching or overlapping, further making ProLine cable an easy choice for contractors.
ProLine self-regulating heat cable is an ideal choice for commercial and industrial pipe trace applications. The systems are easy to customize and install, and are suitable for almost any type of piping. ProLine self-regulating heat cable can be installed to warm metal pipes, small plastic pipes, and even instrument tubing. Installation is as simple as running a cable along the length of the pipe to be heated.
Avoid the disaster of ruptured pipes, and keep your facility operating at peak efficiency with ProLine's self-regulating pipe trace systems. Backed by premier components and unmatched support services, ProLine makes it easy – and affordable – for customers looking for reliable pipe and heat trace solutions.
If you have any questions, or would like to learn more about ProLine's heat trace solutions and services, please call and speak with a radiant heat professional today, at 866-676-9276.