Every new year brings more opportunities to improve your business. But finding new ideas or products that can put your business above competitors can be difficult. Sometimes those "opportunities" are hidden, but other times they might be right in front of you, but you haven't noticed. Speaking of which, have you explored the options offered by ProLine? We offer wholesale radiant heat solutions that can benefit your customers and build your business.
ProLine has a variety of options that you can offer your customers during the winter months — or any time of year. One of the most popular products for construction businesses is a roof de-icing system from ProLine. Several custom options are available.
The roof is an integral part of the house that many homeowners forget needs protection and maintenance. Snow and ice buildup can cause costly damage and roof deterioration after a harsh winter. Don't let your customers neglect their roofs. There are de-icing options for every customer at ProLine.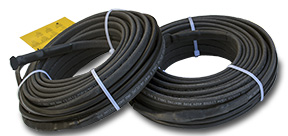 Whether working with residential or commercial customers, self-regulating heat cable is a proven option for any application. ProLine's self-regulating cable is perfect for installing on existing roofs, remodeling projects, or new construction. Self-regulating heat trace cable features advanced technology. An irradiated conductive core increases output as the temperature drops and decreases when the temperature rises. Self-regulation makes the cable extremely effective and energy efficient. A rugged fluoropolymer jacket that can withstand the elements protects the core and enhances the durability of the cable. Careful construction and advanced technology allow self-regulating heat cables to perform under virtually any condition. ProLine's cable is UL recognized and features a 10-year warranty, making it an attractive option for business and homeowners. Self-regulating heat cable is available in a variety of options. This includes a variety of self-regulating cable as well as pre-terminated cable with or without a ground-fault circuit interrupter, and constant wattage cable. Constant wattage cable comes ready to use, and can be quickly installed and plugged in.
Self-regulating heat systems from ProLine also make for easy installation. Popular installations include roof gutters or a zig-zag pattern along the roof edge. When installed in gutters, self-regulating heat cable will protect both gutters and downspouts from heavy ice buildup that causes damage. When placed along the roof edge, self-regulated heat cable prevents snow accumulation. Preventing snow buildup is vital. If snow is allowed to accumulate, ridges of ice can form. These ridges become ice dams. An ice dam traps pooled water behind it, and that water can seep into tiny cracks and ultimately threaten the integrity of the roof over time. Eventually, seepage can lead to hazardous water damage inside the home.
Self-regulating heat cable systems for commercial applications are also vital. When protecting commercial roofs, gutters, and downspouts, you're also protecting customers and employees. Heavy snow buildup can fall and injure customers, and so can icicles that form along the gutters. Roof de-icing systems can help to enhance safety for pedestrians below.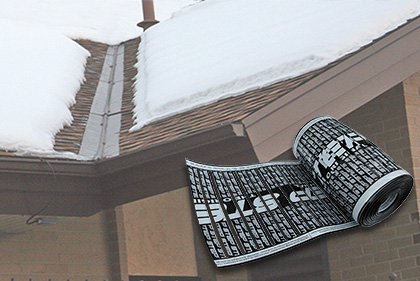 Another great roof de-icing product from ProLine to prevent ice dams is the low-voltage de-icing system. This state-of-the-art system has a semi-conductive polymer heating element that is extremely thin, (only 3/64 of an inch). The low-voltage system steps down from high to low voltage to ensure safety and efficiency. Construction of the low-voltage roof de-icing system makes it one of the most advanced and efficient systems available. To assure easy installation and convenience, heating elements are sold in rolls available in 3, 9, and 12-inch widths. The heating element can also be cut on-site and even nailed or stapled through. Installation can be done under shingles, metal roofs, or other roofing materials. Applications include rooftops, valleys, eaves, gutters, and trouble spots. ProLine's low-voltage roof de-icing system is reliable, safe, and popular in commercial and residential heating applications all over the country.
Self-regulating heat cable is also used for pipe tracing applications. For commercial customers, pipe tracing can be a lifesaver. Ruptured pipes can cause water damage and cost thousands of dollars to repair. ProLine has heat-tracing cable options for any business. Protect pipes, valves, flanges, or other areas easily with self-regulating heat cable. Self-regulation means these cables will never burn out and the cable can adjust the power output to the varying temperatures along the pipe. ProLine's cable is also suitable for hazardous and corrosive environments.
Whatever products you're looking at for your business, working with ProLine means top-notch customer service. Professionals are here to help you every step of the way. With ProLine this means professional system design. Every de-icing system includes a detailed AutoCAD that serves as a roadmap for the electrician and installers. Every AutoCAD has the system layout and all electrical information for installation. ProLine also includes free installation training and expert support throughout installation. ProLine's superior customer service and support are why professionals consistently choose ProLine for their business needs. Contact a professional at ProLine today for more information on our many custom roof de-icing solutions, at 866-676-9276.