Keeping track of maintenance for business and industrial facilities can be difficult, especially during the busy summer months. Oftentimes, building maintenance can fall to the wayside and result in problems when the weather starts to cool down. One area that is often overlooked is the pipes. Maintaining and protecting pipes during the cold winter is important for businesses and vital for industrial facilities. Pipes can freeze and rupture, leading to water damage and expensive clean-up. Water damage is a hassle to repair and can affect business for commercial facilities. For industrial facilities, ruptured pipes impact the very survival of the company. If you're considering the installation of a pipe trace system, then consider dealing with the experienced professionals at ProLine Radiant.
ProLine Radiant is a leading provider of pipe freeze protection systems, particularly for industrial and oilfield applications. ProLine's self-regulating heat trace cable is the most often recommended solution for protecting pipes during brutal winter cold spells. The UL listed, parallel circuit cable is one of the most trusted heat trace products available today, and has a service voltage of 110-120 V, 208-277 V. ProLine self-regulating cable carries a 10-year warranty, and approvals include: cULus, hazardous, CSA, ATEX, IECEx.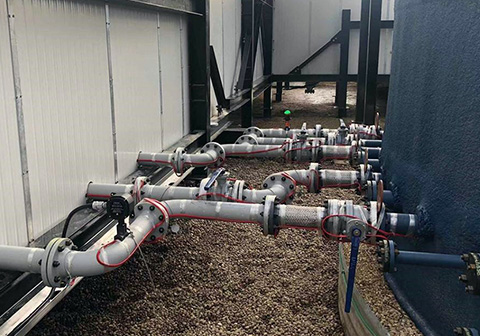 Because the pipe trace cable is self-regulating, it adjusts itself according to ambient temperatures along the length of the pipe. So, when the temperature rises, electrical resistance increases, decreasing energy use. Self-regulation makes the cable energy-efficient and safe when in operation. In addition, self-regulating heat cable does not burnout or overheat, even when it is touching or overlapping, further making ProLine cable an easy choice for contractors.
ProLine offers a variety of self-regulating pipe trace cable for hazardous (Class 1 Div 2) and non-hazardous environments. The cable's durable outer jacket protects it from abrasion and makes it resistant to watery and inorganic chemicals and other types of damage. Heat trace cable is also available with an optional outer jacket, ensuring resistance to watery and inorganic chemicals, and protecting it against abrasion and impact damage.
Self-regulating heat cable is a prudent choice for commercial and industrial businesses. Self-regulating pipe trace systems are easy to install and are suitable for almost any type of piping. The heat cable can be installed to safely warm metal pipes, small plastic pipes, or even instrument tubing. Installation is as simple as running a cable along the length of the pipe to be heated.
Pipe trace cable is available in spools of varying lengths. Affordable ProLine freeze prevention solutions can eliminate weeks of repairs and decreased revenue. During the winter months, outdoor pipes can unquestionably benefit from the added safety provided by ProLine pipe-trace systems – not to mention the added peace-of-mind they offer to facility managers.
ProLine pipe freeze protection also consists of pre-terminated, self-regulating heat trace cable. Pre-terminated heat cable provides customers with one of the most convenient pipe tracing solutions available. The cable's power connection, splice, tee, and end seal kit (if needed) reduces installation time and requires no special skills or tools.
Single-point connection, pre-terminated heat cable can be used for a wide range of industrial applications and environments, including hazardous, nonhazardous, and corrosive environments. The flame retardant thermoplastic outer jacket protects against certain inorganic chemical solutions, abrasions, and impact damage. The self-regulating heat cable is available in a variety of lengths, and includes the option of a 6-foot standard or GFCI power plug. This convenient heat trace solution is ideal for small trouble spots that need freeze protection.

ProLine's self-regulating pipe trace cable options offer versatile solutions, making it easy for you to provide custom solutions for any residential, commercial, or industrial customer. Whatever needs your customer has, ProLine can help you provide an efficient solution.
ProLine's team of customer service representatives, installation trainers, and professional designers give your business everything it needs for each application. Every system is custom designed and comes with a detailed layout of the pipe tracing system. This layout includes technical information, electrical information, and other necessary details needed by your installers.
Working with ProLine also gives customers access to free, industry-leading installation training. The training courses can be completed online with an instructor via video conference, and can be scheduled at your convenience. Technical specifications and information about self-regulating pipe tracing heat cable and installation are also available online. Throughout the installation process, ProLine is available to assist with any concerns or issues that may come up. ProLine is here to help contractors increase their business with high-quality products and top-tier customer service. If you're ready to add ProLine's self-regulating pipe trace cable to your business offerings, reach out to a ProLine expert today at 866-676-9276.