Winter can be a hazardous season, and it seems to be intent on overstaying its welcome this year. Dealing with winter safety issues can be difficult and time-consuming, especially for business owners. Whether you're dealing with iced-over sidewalks, falling snow or icicles, or snow build-up, running a large business can be overwhelming. Making sure employees and customers are safe is a priority for any business.
Maintenance of less visible or trafficked areas can often be overlooked. One overlooked but vital area can be piping. In an industrial or commercial business, it is essential that pipes are maintained. Winter can lead to frozen pipes, broken flanges, and extensive water damage that can destroy a business. Water damage is a serious problem and can take months to repair. Months of repair means lost income and frustration for business owners. Pipe tracing is one way that commercial or industrial facilities can avoid the hassle of water damage.
ProLine offers industry-leading pipe-tracing systems that are reliable and affordable for any facility. ProLine's state-of-the-art pipe-tracing systems feature self-regulating UL-listed parallel circuit heat cables. Self-regulating heat cable is the perfect choice for pipe tracing because of its ability to detect ambient temperature. As the temperature rises, the electrical resistance increases. The energy consumption then decreases, assuring each system provides energy-efficient, safe operation. Self-regulation also provides peace of mind, protecting the cable from burning out and overheating.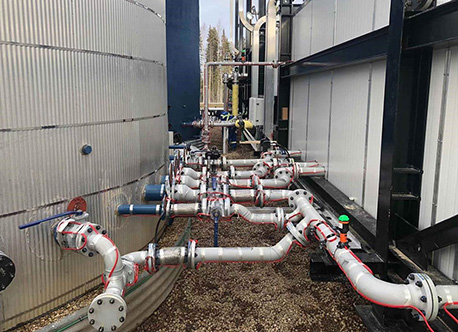 ProLine is a leading provider of pipe freeze protection systems across the country and has a variety of cables to meet any need. Constant wattage cable is a convenient, user-friendly, and affordable option designed for consistent heating performance. This cable comes pre-assembled and ready to install.
The most popular heat trace system features ProLine's pre-terminated 120-volt self-regulating heat cable. Self-regulating heat cable is available in 50, 75, 100, and 150-foot lengths (or custom lengths upon request), and is versatile and easy to install. Pre-terminated self-regulating heat cable also comes with an optional standard 6-foot power plug or a GFCI power plug, so you can choose the best solution for your project.
Self-regulating heat cable is suitable for almost any type of piping, plastic, metal, and even instrument tubing. ProLine self-regulating heat trace cable features a rugged outer jacket. This outer jacket makes it resistant to watery and inorganic chemicals and protects it from impact damage and abrasion. This can be especially important for industrial applications. Self-regulating heat cable ensures that all fluids flow properly through piping over any distance.
Heat trace cable will also effectively protect valves or flanges. Cable is also available for both hazardous, corrosive, and non-hazardous environments. In addition to pipe-freeze prevention, another option for industrial facilities is process temperature maintenance. With pipe tracing from ProLine, any industrial and commercial facility can be sure that they remain productive and profitable during the winter months. Facilities that have piping outside of heated areas are especially vulnerable. ProLine's heat cable will assure these pipes stay protected from freezing temperatures.
ProLine is a leading wholesale provider of trusted pipe-tracing products. Contractors and business owners who choose ProLine receive efficient products and unparalleled customer service. Every customer has access to ProLine's free installation training to make sure each system is installed appropriately. Training courses can be completed online with an instructor via video conference at your convenience. All technical specifications and product information are also available online for your convenience.
ProLine also has dedicated and knowledgeable customer service representatives. They will answer any questions you may have throughout the installation process, assuring everything goes smoothly. Contractors can be sure that working with ProLine is a wise choice for their business and customers. If you're ready to learn more about ProLine's self-regulating pipe tracing cable and all its benefits, reach out to a ProLine expert today at 866-676-9276.