ProLine Offers System Design, Installation Training and Technical Support
Professional builders are seeing an increase in demand for radiant heat installations nowadays. Consequently, construction professionals are stepping up and adding radiant heat installation to their list of service offerings. While adding new construction services can generate growth, adding unfamiliar services can also be intimidating for builders.
ProLine recognizes the challenges facing today's construction professionals, which is why we offer some of the industry's most comprehensive customer support services. Our goal is to not only offer the best wholesale pricing, but to make the installation of radiant heat systems as easy and hassle-free as possible. To achieve this, ProLine includes free installation training, technical support, and professional system design and layout services. Each custom design contains the detailed layout of the system, along with all the necessary electrical information for the electrician. We take care of the installation training and design of the system so you don't get bogged down in the technical aspects of the project. This frees you up so that you can continue to focus on what you do best.
Contractors understand that no two customers have the exact same needs. That's why it's important to work with professionals like those at ProLine. Our designers work closely with you to create the custom system layout that best meets the specific needs of your customer. ProLine system designers are experienced pros who have designed commercial, residential, and industrial radiant heat systems that are operating today throughout Northern America.
ProLine Radiant offers a wide variety of radiant heat solutions, including heated floors, roof de-icing systems, pipe trace solutions, and snow melting systems. A wide variety of snow melting system options are available. The systems are versatile and easy to customize.
Heated Driveways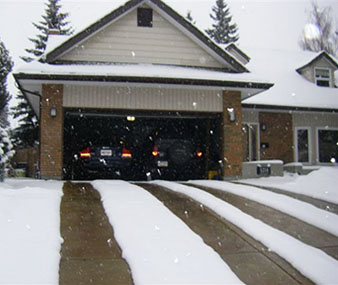 The most popular application for snow melting systems is that of heating driveways. Homeowners can customize their systems not only to best meet their snow melting needs, but to meet their budget. Some of the more popular options include:
HEAT TWO TIRE TRACKS: Instead of heating an entire driveway, many homeowners choose to heat two 24-inch wide tire tracks. ProLine heating mats heat an area 24-inches wide, so these mats can be easily laid out and installed in this configuration. Heated tire tracks also require less power to operate than systems heating the entire driveway area.
HEAT THE CENTER STRIP: Another popular option among homeowners is to heat an 8 to 10-foot-wide strip in the middle of the driveway. If you're not walking or driving on any other area of the driveway, this option makes sense for many homeowners.
HEAT SPECIFIC AREAS: For those on a budget, a good option is to only heat specific, problem areas, such as the driveway incline, or area that doesn't get any sunlight. Keep these areas free of snow and ice by installing heat cable only where you need it.
HEAT ENTIRE AREAS: Radiant heating cable can be installed under entire concrete, asphalt, or paver surfaces to keep driveways and other outdoor areas completely clear of snow and ice.
INSTALL CUSTOM APPLICATIONS: Radiant heat can be installed in an unlimited number of applications. Custom systems can be installed for dog kennels and dog runs, or to keep other outdoor pets comfortable as well. Whatever your needs, ProLine experts can design a system to meet your unique radiant snow melting needs.
Snow melting systems are very versatile. ProLine can customize your radiant snow melting system to meet virtually any driveway shape and application. For more detailed information about the many radiant heat options that are available, contact a friendly ProLine representative today, at 866-676-9276.