Radiant heated snow melting systems are a great way to separate yourself from your competitors and offer your customer products they can count on. Snow melting systems from ProLine Radiant are among the industry's best. The fully automated systems feature top of the line components, and add safety and reliability to any any area. While winter might not be the first thing in people's minds this time of year, now is the perfect time to help your customers prepare for the winter ahead.
Snow melting systems from ProLine include the heating element, activation device, and contactor panel/controller. These components work together to ensure each snow melting system is running efficiently. When the snow sensor detects precipitation and the temperature is below the set point it sends a signal to the controller, which sends power to the heating cable embedded under the surface, allowing your heated area to remain clear of dangerous snow and ice. ProLine heat cable is rugged and durable and is available on spools or pre-spaced in mats for quick, easy installation. When working with ProLine snow melting cable and other industry leading products, customers also benefit from the easy-to-customize nature of ProLine's snow melting systems. ProLine snow melting systems have been installed in different applications all over the country, making ProLine a great choice for any professional builder and business owner.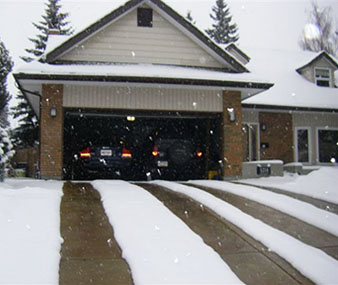 One of the most sought after applications for snow melting systems are driveways. Customers can heat the entire driveway, or customize exactly which area they want to heat. This could include heating an 8 foot strip in the middle, or perhaps two 24-inch wide tire tracks. Another option is to simply heat any spot that causes trouble, such as an incline, or areas that experience high traffic. High-traffic areas like sidewalks and stairs are also great places to heat, ensuring a safe, snow-free environment for those entering a home or business. ProLine snow melting systems have been installed in residential and commercial applications across the country. Radiant heat systems can be found in areas such as pedestrian bridges, ramps, bus stops, train platforms and more. ProLine has worked with metropolitan transit authorities across the nation.
Snow melting systems from ProLine are especially popular among contractors with commercial projects. These systems have been installed in and are a great option for outdoor shopping malls and heavily trafficked pedestrian areas to help keep customers safe during the winter. They can be installed in entryways, sidewalks, and parking areas, no matter the shape, size or demands of the application. Snow melting systems are also found in airports, and even ski resorts to keep customers traveling and vacationing comfortable and safe.
ProLine has also designed projects for industrial facilities and refineries. Installing a snow melting system in areas like these can be tricky, but with design professionals and top of line heating elements and components, ProLine can provide the ideal system for your needs. Whatever type of project your customer has in mind, ProLine snow melting systems are a reliable and efficient choice.
ProLine's industry leading products are also backed by the best services in the business. When purchasing snow melting products from ProLine, contractors and wholesalers can be assured that they will be receiving unparalleled customer service as well. Whether you or your customers have questions ProLine stands ready to help. Installation support is available from experienced professionals. ProLine has a dedicated staff of professionals with years of experience to assist customers during the installation process. Free installation training is also offered, so if you're new to radiant heat, there is no need to worry. ProLine will help you learn the ins and outs of snow melting system installations so you can provide product to your customer with confidence. The training courses cover everything you need to know about snow melting systems and their installation to help assure that your project runs efficiently and appropriately. Before installation, ProLine will provide you with a detailed design/layout for each system. These professional layouts include all the information needed prior to beginning the installation; including proper load calculations, a layout of where the heating cable and components will be placed, breaker sizes, the number of breakers, performance expectations, etc. All this information is prepared by a professional designer from ProLine, saving time and money in the long run, and making it easy for contractors and wholesalers to offer snow melting systems to their customers. With so many products available, combined with professional services, each system will be tailored exactly to the specifications and budget needed. Working with ProLine for your snow melting needs is a great way to increase your customer base, and your bottom line.
If you're interested in getting started with snow melting systems for your business or have any questions, call ProLine today at 866.676.9276.