ProLine supports contractors and the demands that come with running a profitable business. Trying to enhance and expand offerings during the winter season can be a tricky task, but ProLine may be able to help. Snow melting systems are wise investments for home and business owners. Knowing that driveways, walkways, or high-traffic areas will be cleared of snow each morning after a storm provides peace of mind. ProLine offers peace of mind for builders with advanced products and high-quality services to ensure that each system installation goes off without a hitch. ProLine knows that anticipating your customers' questions is important. Having answers to customer questions assuages fears while providing top-notch service. Here are a few commonly asked questions contractors may encounter when working with homeowners.
How do heated driveways work?
Heated driveways are fully automated and efficiently provide heat by activating only when weather conditions warrant. When an activation device (pavement-mounted snow sensor or aerial-mount sensor) detects precipitation and the temperature is below the set point, it will signal the system controller. The controller then sends power to the radiant heat cable, and the driveway will begin to heat. The heated area will prevent snow from accumulating. After the storm, the system remains on for a short time to dry the area, thus preventing slick black ice from forming.
What are my options? 
The options are endless when designing the layout of a ProLine snow melting system. ProLine offers multiple trusted radiant snow melting solutions. Customization is easy for homeowners with options to combine products to suit any need. ProLine's rugged heating cable is one of the most versatile products on the market. ProLine's snow melting cable can handle heating any medium, from pavers to concrete and even hot asphalt. With individual system configuration, a snow melting system is available for any area, no matter the shape or size. Heating porches, steps, walkways, or driveways is simple and easy. If the budget is limited, heating specific areas is also a popular option. Heating an 8-10 foot strip in the middle of a driveway, tire tracks, high traffic areas, inclines, or even a strip in the middle of a sidewalk are great ways to utilize radiant heat. Businesses can heat storefront walkways, loading docks, or ramps to keep workers safe during winter storms. ProLine's flexible products and professional designers allow any customer to enjoy the benefits of radiant heat.
What are the power requirements? 
For most snow melting systems, one 30-amp breaker provides enough power to heat a 170 square-foot area. That means to heat a 350 square-foot driveway, two 30-amp breakers, or one 60-amp breaker will be needed. Most homes have either a 100-amp or 200-amp breaker panel, which should be sufficient. ProLine always recommends having a qualified electrician check to make sure the home has insufficient power. To ensure the system's warranty remains valid, a qualified electrician must also wire the snow melting system.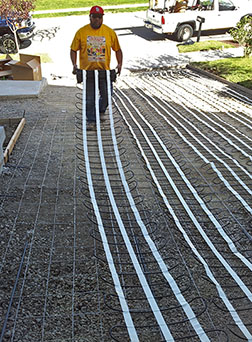 For homes with limited power, ProLine design professionals can use a technique called zoning. Zoning divides the heated area into separate zones. Available power is optimized by heating each zone individually. ProLine also offers an industry-leading sequencer that "bounces" power from zone to zone instead of heating zones one after another. This technique allows a larger area to be heated almost simultaneously with only a slight increase in melting time.
Is installation difficult? 
Snow melting systems are not difficult to install – especially with ProLine Radiant's superior customer support services. Proper installation of all components is stress-free with ProLine's free installation training and installation support. Experts are available to help at any point during the process. However, there are a few basic guidelines to follow for every installation.
Never cut or alter the heating element. While the mat backing can be cut to make turns, never cut the actual heating cable. Utilize extra cable by adjusting spacing (minimum spacing is 2-inches) or routing cable around the perimeter within the heated area. (Always maintain proper cable spacing.)
Heat cables should never touch. Touching cables will cause burnout due to excessive heat. (Minimum cable spacing is 2-inches.)
Cable or mats should never cross or pass through an expansion joint. Heat cable must be ¾ to 1-inch from the bottom of the control joint.
Be extra cautious when working around the heating cable. Tools such as rakes, trowels, or shovels can damage the cable's outer jacket. While the cable is durable, excessive walking on the cable should be avoided when possible.
When working with concrete, attach the cable to remesh with zip-ties or cable strapping. This step prevents the cable from being pushed down by the weight of the concrete pour.
What are the operating costs? 
ProLine's snow melting systems are designed specifically for the average temperature and snowfall of their location (according to ASHRAE standards). This assures optimum performance and cost efficiency. If a customer is looking for an approximation of the operating costs, use this formula.
Determine the square footage of the area to be heated.
Multiply the square footage by the heat required (usually 31 watts per square-foot for residential areas). This number is total watts per square-foot.
Divide this number by 1,000 to convert to kilowatts.
Look up the kilowatt-per-hour rate from the local utility company.
Multiply the kilowatts-per-square-foot number by the kilowatts-per-hour rate from the utility company. This number will be the approximate cost.
Keep in mind that snow melting system operating costs during a storm are typically lower than those associated with hiring a professional snow removal service. Snow melting systems can also extend the life of driveways by avoiding abrasive snow removal and chemicals. No chemicals also mean snow melting systems are environmentally friendly.
What support does ProLine Offer?
Unmatched customer support separates ProLine from competitors and ensures every system meets the need of any customer. Professional design services include a comprehensive AutoCAD® with layout, power requirements, performance expectations, and all information needed before installation. Installation training is also available online via video conference or in person. Instructors are professionals who will work closely with you to make sure all your questions get answered. You will feel confident and have all the knowledge needed for your specific installation. ProLine's combination of high-quality products and superior customer service make it the easy choice for any contractor.
If you have questions about snow melting systems for your business, speak with a ProLine professional today at 866-676-9276.