Versatile Snow Melting Systems
While many contractors have not installed or worked with radiant heat systems, those who have installed these systems have discovered the relative ease of installation and improvement to their bottom line. And whether you're installing a heated driveway, heated floors or a roof deicing system, these advanced systems can be easily customized to meet the specific needs of your project. And radiant snow melting heat cables can be installed in just about any medium, including concrete, hot asphalt, or under pavers.
Because of their versatility, radiant snow melting systems are not only ideal for new construction projects, but also for increasing the comfort, convenience and value of existing homes. ProLine can design systems that best meet the unique demands of your clients, whether it's a retrofit or new construction application.
ProLine snow melting systems are designed for use in a wide variety of mediums and applications, including concrete, asphalt and pavers. The snowmelt systems can be installed to accommodate budgets as well as custom layouts. Snow melting systems can be used to heat entire driveways, tire track layouts, steps, ramps, sidewalks or porches, etc.
Installing Radiant Heat in Asphalt
One of the most popular, affordable, and easy to install mediums for radiant heat is asphalt. Where asphalt gives and flexes according to a wide-range of seasonal temperature changes, the durable, specially designed ProLine heat cable ensures consistent performance to effectively keep driveways clear of snow and ice. The automated systems also feature manual override capability to deal with snow drifts of areas where water may have pooled and refrozen.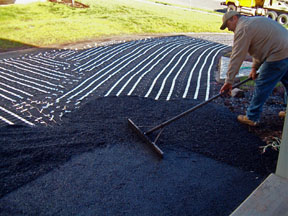 The cable's external jacket is designed specifically for installation in hot asphalt applications, so ProLine's asphalt heat cable is rated up to 460 degrees for up to 10 minutes. (For additional technical specs and installation information, please refer to the Snow Melting Cable and Mats Data Sheet or Installation Manual.)
ProLine snow melting heat cable is available off the spool or pre-spaced in mats. The mats can be rolled out for quick and easy placement over the area to be heated. Cable off the spool allows greater flexibility for custom shapes and hard-to-reach areas of snow melting systems. In the case of a retrofitting an asphalt driveway with radiant heat, the cable is simply laid out over the existing asphalt and then asphalt is applied over the cable. A compacted layer of 2 inches is recommended. For detailed installation and compacting instructions, please refer to the installation manual.
In addition to offering industry leading heat cable and system components, ProLine also includes unparalleled customer services, including free installation training, installation support, system design and layout, and a wealth of instructional resources online, including "how to" videos. Whatever your goals, you'll find a range of versatile, affordable radiant snow melting systems flexible enough to meet your goals.
A Few Helpful Installation Tips:
Heating cables should never touch, cross, overlap or get bunched up. Always allow 2 inches of spacing between each cable
For asphalt applications, check the maximum rated heat temperature of the heating cables before you apply hot asphalt and confirm that the asphalt does not exceed this temperature.
If you're installing mats, but need to make individual runs of heat cable, simply cut the tape backing of the cable mats and then layout the cable accordingly. BUT DO NOT CUT THE HEAT CABLE.
Manually pour small quantities of asphalt on the heating cables and spread it evenly around and over the cables. Repeatedly applying small quantities of asphalt on the heating cables during installation helps to prevent any potential damage to the cable.
Always handle heating cables with care—especially when using tools such as shovels, rakes and wheel barrels to avoid damaging the cables. When using wheelbarrows to dump asphalt, lay down sheets of plywood over the cable to avoid damaging the cable's outer jacket.
Using a Megger, repeatedly check the cable resistance during the various stages of the installation (as outlined in the installation manual).
A snow melting system is only as good as its installation; therefore, an understanding of the proper installation procedures and local laws, codes and regulations is vital. Call us toll-free at 866-676-9276 to learn more. Our professionals are always happy to answer any questions you may have.